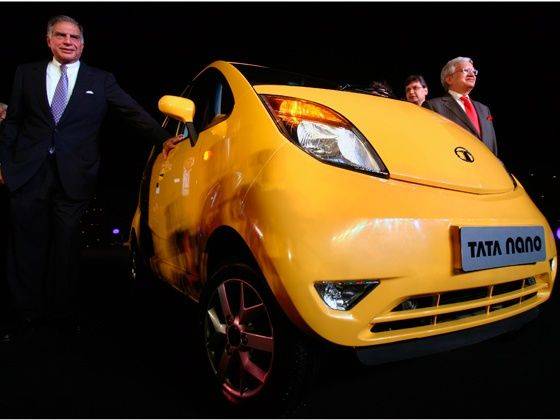 It goes without saying that Ratan Tata was too many things to many people and he would always be remembered for upholding the strong ethics and principles of the Tata Group laid down from founder Jamshedjee Tata's tenure from over a century ago. His single-minded ability to make the Tata Group flourish in a hostile and at times intemperate climate in the country marks him out as truly one of great modern day nation-builders the country has seen. Ever since the time he took over from his uncle, the late great J R D Tata in 1991, it had always been an uphill task for RNT for he was always compared – unfairly I think, to be just like his illustrious uncle.
Secondly, he had a vision which was to take the Tata Group into uncharted waters and that necessitated a major change in the way the group operated. He had to battle strife from outside and within the group but he did so admirably in his own soft-spoken but firm manner. Seeing off labour trouble in the Telco plant (as Tata Motors was earlier known) was his first baptism with automotive fire but this is what many should have learnt from – his absolute conviction in doing things the right way.
I first met him in mid-1992 if I remember correctly, at the roll-out of the Tata Sierra and Estate in the Pune plant and had my first interaction with him then. It was also a moment to cherish for he was there with J R D alongside him and there and then one could see at least one key aspect of the Tata way of doing business had been well passed on: the sheer humility with which he came across was something which has stayed intact to this day. From there on we met often on many an industry platform and also whenever there was a product launch. I remember his vision even in the early 1990s of making Tata Motors a complete car maker with a well rounded portfolio.
What the world sees of the Indica (the first all-Indian automobile ever), the Indigo, the Nano and what have you is only a minuscule aspect of his automotive dreams. The energy and the impetus he brought to bear on giving the country its very own indigenous automobile, the Indica, was magnificent and to say that the Indica achieved its objectives way over anything the millions of detractors wished for, was his way of just going about his business. The Nano might not have got the numbers, a failing on the marketing aspect and a positioning problem to boot, but there is no denying its rightful place in history as a very frugal and lean yet mighty effective design for the 21st century, something which has got the world's major OEMs hastening to build their own versions, albeit in suitably improved form for their respective markets.
I also remember his vision in the early 1990s when he thought about all Indian domestic car makers pooling together to set up an engine plant which could supply everyone with the basic engine that individual OEMs could then tune and tweak for their respective applications. He obviously had the PRV6 in mind which was a joint engine programme by Peugeot, Renault and Volvo and which helped all three massively.
He was way ahead in that thought process and while this was something the western world had already done, it had proven successful, economical and also very reliable. Sadly, so many of his peers laughed at the very thought and now two decades later there is again such talk, but now from those who were the disbelievers! Also talk about synergies of shared development and such he was in the forefront of trying to initiate this with such diverse auto makers as Peugeot-Citroen for executive mid-size sedans, even the VW Group for a range of all-monocoque vans and of course that joint venture with Honda which many vested interests within the industry and the powers that be didn't allow to take shape.
All these could have demoralised a lesser human being but through it all Ratan Tata never stopped trying, and in a certain way went ahead and re-invented the wheel, at great cost to self and group but which today is a solidly established business.
I used the word nation-builder in my opening remarks and it is in this light that I feel his legacy should be remembered. A principled man to the core, he never even once called me or pulled us up when we panned the original Indica for its shortcomings (and not its concept) when I headed Overdrive magazine, then part of Tata Infomedia Ltd, when the obvious Indian way to do things could have been just otherwise!
Maybe being an automobile aficionado had much to do with this as also his love for things mechanical as well as those associated with movement. His love of flying, his eye for artistry and his flair for technological brilliance were other aspects that impressed but more than that his idealistic nature never came in the way of his interactions across all segments of society. Never one for pomp or ceremony, Ratan N Tata merged old world values and tradition and made them relevant to revel in the present. To say he will be missed would be a massive understatement but I do believe, fervently at that, you can't keep a good man out and in his next innings I am sure we will hear even more of the great nation builder that he is!