Celebrating Independence With Triumph
---
What better way to celebrate independence, than riding a 2018 Tiger 800 XRx on open roads with the good folks from Triumph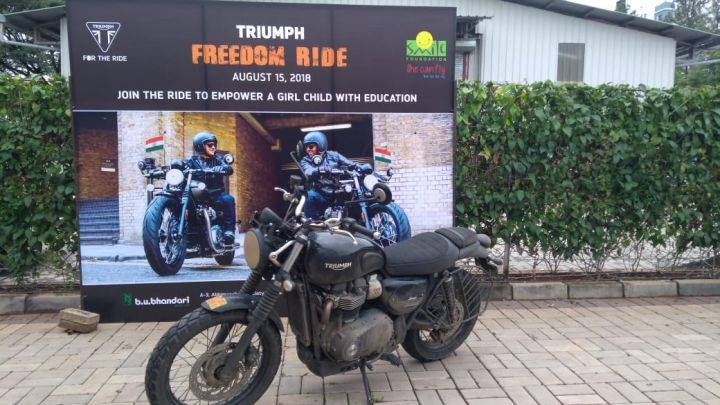 What does freedom mean to you? A lot of us motorcycle enthusiasts will say it means a blissful ride on a beautiful road. Guilty as charged, I can't deny the fact that I too get really intoxicated (in a good way) on the feeling every time I ride. Needless to say then, I grabbed the opportunity to ride with the good folks at Triumph, Pune, with both my hands. The icing on the cake? The new 2018 Triumph Tiger 800 XRx!
Excited, I reached the venue at 6am sharp. With barely two-three riders in sight, however, my over excitement resumed to normalcy. Eventually, though, with some interesting customised steeds coming down to the showroom, I was really looking forward to the day. The thunderous roars of the Street Twins (some with scrambler kits), Tigers, Bonnevilles, a few Street Triples and even Thunderbirds had me on the edge of my seat again. Our 4-hour journey to Thokarwadi Dam and back, was eventually flagged off at 7.40am.
My excitement took a hit after I thumbed the starter button though. The range readout displayed just 16km of travel distance. Luckily though, the nearest pump was 12km away and the dealership staff escorted me there to have it filled up. With fuel topped up and excitement levels on the high again, we finally proceeded towards our destination.
With moderate traffic to tackle till Kamshet, I throttled on with the scintillating sound of the three-cylinder whine that had me grinning from ear to ear. But I was even more excited for the trail ahead as we were about to tackle around 30km of rural road section.
Before that though, we had to traverse a section peppered with children attending Independence day events at schools. The kids went gaga over the thundering roar of multi-cylinder motorcycles. What happened next would certainly be etched in my memory forever. One of the kids looked at my Tiger, and hollered: "Tiger zinda hai!!" I had been waiting for this pun forever, and finally experienced it happening.
To my surprise, the serpentine roads became even more of a joy to ride with the rains and a dense mist enveloping the route. Many sections were riddled with small potholes. But the Tiger just glided over them effortlessly, while the others struggled a bit.
2 hours and 60-odd km later, we reached the destination. Thokarwadi is a gravity dam on Indrayani river, located about 30km north of Kamshet. Untouched by tourism and other phenomenon normally associated with popular weekend destinations, the dam is home to numerous waterfalls and lush green vegetation. Since we were on a tight schedule, we didn't get the chance to explore the place much, but took a bunch of pictures and headed back on the same route.
When you really wonder about it, 'freedom' essentially means the ability to do whatever we wish for. And with the Tiger 800 by my side, I got the freedom to ride through a route I wouldn't even dream of taking my ride to.
The moment you lay your eyes on such serene landscapes, it fills you with a sense of calm as pure as the flora itself, untouched, unadulterated by the cacophony of the urban jungle. Today, I am filled with even more pride and joy in being the citizen of a country, which is not only diverse in terms of religions and languages, but also in terms of the natural beauty it has to offer.