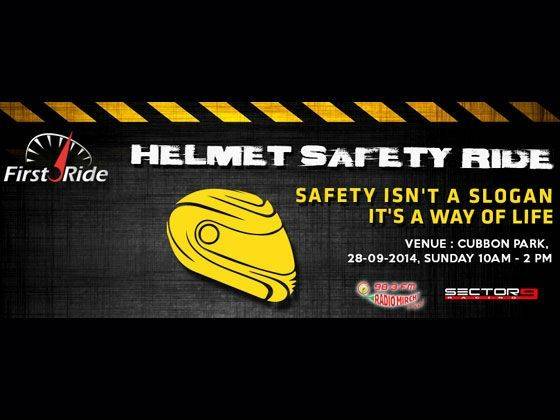 The event is being organized by FirstRide.in, a Bangalore-based company, in association with Radio Mirchi, a Times Group Company, National Road Safety Organization and over 30 biker clubs on September 28.
Titled the 'Helmet Safety Ride', the initiative is driven by the core message: 'Safety isn't a slogan, it's a way of life' and is being organized to assist the city's traffic police in its constant endeavour to make roads safer.
The event organizers are hoping that the 'Helmet Safety Ride' will find a place in the India Book of Records for getting the highest number of participants for a social cause. The current record is of 1,180 bikers participating in a rally which this event will try to break with 1,200 riders.
The chief guests at the event will be M.N.B.R. Prasad DCP East (Traffic), Ramesh Babu, the billionaire barber who owns a Rolls Royce, NRSO President Satya Paul and M Srinivas of Moto Port Seena. R Chakravarthy, veteran biker and senior member of RD350 club and Roshini Sharma, India's first female biker to have ridden solo from Kanyakumari to Leh on a motorbike, will join the event to show their support.