Ather 450 vs Vespa SXL 150 - Which Is Cheaper To Run?
---
We make a theoretical comparison to see whether going electric actually makes sense over a petrol-powered scooter in a similar price range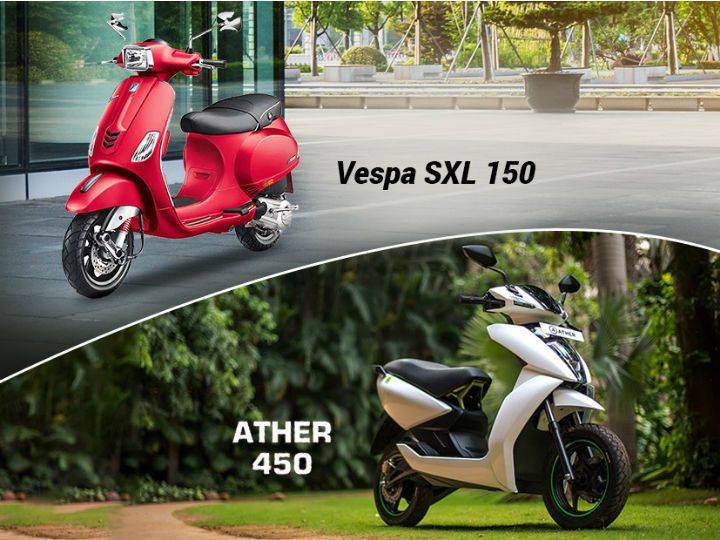 Ather Energy's maiden attempt at making an electric scooter is incredibly impressive, considering the amount of work that has gone in and the quality of the final product they've created. While there are many who would think that Ather's pricing seems a tad much, we believe it's actually quite reasonable, considering just what you get for your money's worth.
Now, Ather is offering two variants: the entry-level 340 that costs Rs 1,09,750 and the top-end 450, that'll set you back by Rs 1,24,750. Both prices are on-road Bengaluru, and also include a FAME subsidy of Rs 22,000, insurance, handling charges, GST, road tax, smart card fee and registration card.
However, the icing on the cake is that the on-road price includes a 1-year subscription to the Ather One plan, which amounts to Rs 9,912, inclusive of GST. So, what does the subscription cover?
The cost of charging the scooter is essentially nil when you use the Ather Grid. In case you charge your scooter at home, the Bengaluru-based startup says they will reimburse you the exact amount spent on electricity, based on your usage, via a wallet every three months.
The plan also includes the cost of service and maintenance schedule. It even includes labour costs, replacement of parts under regular maintenance including consumables like brake pads, for instance.
Furthermore, the subscription plan also covers data services for the on-board navigation system, diagnostics and over-the-air updates, as well as roadside assistance! This plan is as cost-effective and as versatile as it gets.
So, how does that compare to running a premium petrol-powered scooter? Here, we'll consider the Vespa SXL 150 which is the most expensive conventional scooter you can easily purchase in India at the moment. The SXL 150 costs Rs 1.12 lakh, on-road, Bengaluru.
In order to break down and compare electric and petrol running costs, we're going to assume a total commute of 40km a day, which is quite a reasonable assumption in most big cities, especially a sprawling metropolis like Bengaluru. It's a distance the petrol-powered Vespa can cover without breaking a sweat, and even the electric Ather shouldn't have a problem handling.
Vespa SXL 150 running costs:

Distance travelled in a year: 52 weeks x 6 days a week x 40km a day = 12,480km
Approximate fuel efficiency: 45kmpl
Fuel consumed in a year: 277.3 litres, rounded off to 277 litres
Approximate petrol price in Bengaluru: Rs 80 per litre
Estimated cost of fuel in a year: 80 x 277 = Rs 22,160
The Vespa's alternate services are free for the first two years. So the 1st, 3rd, 5th and 7th services are free, while the 2nd, 4th, 6th, 8th and 9th services are paid. The approximate cost for free service is Rs 350 (only consumables are chargeable) and the paid service costs Rs 430, both considering the scooter is being used normally, without any breakages or damages. The service interval is every three months or 3,000km. The 5th service comes in after a year/ 12,000km, where the engine oil, spark plug, rear brake shoe and rollers, and vacuum cock are changed compulsorily. This amounts to roughly Rs 2,500 in total for that particular service. Hence, the maintenance cost in a year is as follows:
1st service: Rs 350
2nd service: Rs 430
3rd service: Rs 350
4th service: Rs 430
5th service: Rs 2,500
Total service cost in a year comes to Rs 4,060. Add Rs 1,000 in case any normal part needs to be replaced because of regular wear and tear. So, you're looking at around Rs 5,000 in service and maintenance for the first year. Add the fuel cost to this, and you'll spend approximately Rs 27,000 a year (Rs 22,160 + Rs 5000).
Hence, in a year, a petrol-powered premium scooter will cost you Rs 27,000 to run, over and above the price of the scooter. In total, you will end up spending Rs 1,39,000 by the end of the first year. The yearly maintenance and running cost of the Vespa is variable and is likely to go up in the subsequent years owing to reasons like rising material costs and fuel prices.
Now, the Ather's top-end variant, the 450, costs Rs 1,24,750 (on-road Bengaluru), including a year's subscription to the Ather One service. This essentially means that the running cost of Ather, for the first year, at least, is essentially zero, thanks to the all-inclusive subscription that's worth Rs 9,912 a year. So already by the end of year one, you've saved over Rs 14,000 compared to the Vespa.

Even when you consider how things will go for the subsequent years, going electric with the Ather 450 feels quite reasonable. Even if the subscription fee was to go up by 10 per cent in the next year, to, say, roughly Rs 11,000, you're still looking at saving at least Rs 16,000 each year over the Vespa, and that's considering that the Vespa will cost exactly the same to maintain in year two, as it did in the first year. In reality, however, you'll have to shell out a lot more for service and maintenance for any petrol-powered scooter in its second year of use.

Making the deal even sweeter, you get self-cancelling indicators, standalone navigation, stats display and document storage as standard in the touchscreen display of the Ather! Whereas in the Vespa, information is limited to the run-of-the-mill data in the analogue-digital combo cluster. And we're not even talking about the environmental benefits that going electric is bringing with it, along with a comfortable perch on the moral high ground.
Sure, switching to electric over a conventional petrol scooter isn't going to be the easiest thing. Even with the Ather's impressive realistic range of 60-75km, range anxiety is a real thing if you want to venture off your regular route and add more kilometres. A certain amount of readjustment of the way you commute is required for sure, but at the end, we believe that the benefits are actually tangible and can outweigh the minor inconveniences that will come with using an electric scooter like the Ather 450 as a daily driver.
If you want a simple breakdown of what we discussed above, here's a quick reference table:
| | | |
| --- | --- | --- |
| Particulars | Vespa SXL 150 | Ather 450 |
| Price, on-road Bengaluru | Rs 1.12 lakh | Rs 1,24,750 |
| Fuel cost for a year* | Rs 22,160 | 0 |
| Maintenance cost for a year | Rs 5,000 | 0 |
| Total money spent in the first year | Rs 1.39 lakh | Rs 1,24,750 |
| Amount saved in the first year | - | Around Rs 14,000 |
*Assuming distance travelled in a day is 40km, for six days a week, in a year. Petrol cost per litre is assumed to be Rs 80, and mileage as 45kmpl.
More on Ather 450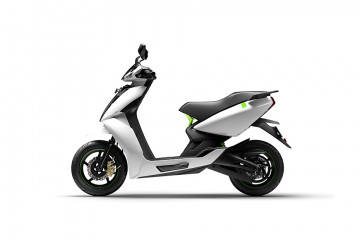 Rs. 1.13 Lakh Onwards
Ex-showroom, Delhi