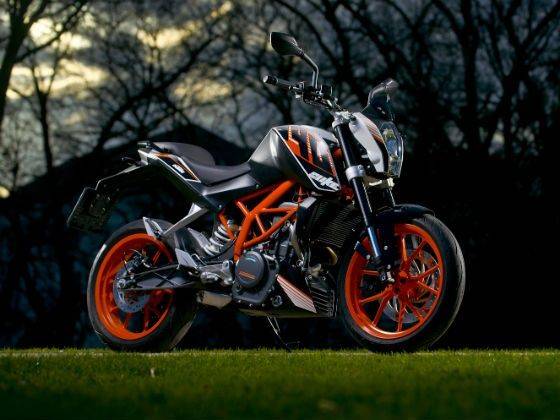 KTM 390 Duke
Resident ZigWheels' bike tester Varad More was fortunate enough to sample the new KTM 390 Duke in Austria last month, but for those of you who still don't know how mad that machine is, imagine the following. We know how fast the KTM 200 Duke can be so imagine a bike with double the cubic capacity, just the slightest increase in weight and a penchant for pulling wheelies so effortlessly that you'd think you're meditating in mid air. Add to that the legendary KTM brand appeal and a whole host of power parts to spice things up even more.
Then take all that and add a price tag that is not only sensible, but affordable for many biking enthusiasts in the country and you have a package that is irresistible indeed. The KTM 390 Duke has it all – 45 horses, a meaty growl, aggressive styling, customization options, road presence and above all the ability to invoke the stunt maniac within you even with the smallest of provocation. They say it will launch in June, which isn't really too far away really and that is really good news!
Related: Your Budget and bikes of 2013
Photo Credit: Thinkstock
Bajaj Pulsar 375
The 390 Duke may be the more premium of the two bikes, but platform sharing has brought its share of advantages to the Bajaj Pulsar as well. Like we've seen on the 200 NS, the new Pulsar 375 should also get a similar triple-spark head as well as a cheaper price tag than the KTM making it even more affordable than the Austrians promise with their bike. But there's something about the Pulsar that is even more exciting than its price tag.
Yes, this one's going to be faired and that is more exciting to Indians than an India-Pakistan cricket match! While most buyers will benefit from the added mass the bike promises to have, the more serious and informed buyers will simply revel in the humungous gains the Pulsar will bring in terms of wind deflection – a must if you've ever been touring on an open highway. That could also mean that the new Pulsar might end up topping its speedometer slightly higher than the KTM 390 Duke, but we'll have to wait for a proper road test for that. More waiting involved. Not fair.
Royal Enfield Continental GT
Royal Enfield is on a roll. First the Classic and Desert Storm followed by the new Thunderbird that showed the way forward for future models from the Chennai manufacturer and now the production version of the much-awaited café racer. So it may not be exactly like they showed off at the Auto Expo last year, but it still is going to be rather exciting. People have been converting their Royal Enfields into café racers for years now, but the Continental GT will give us a factory-made bike with all the bells and whistles. And then there's that legendary thump which, clubbed with the performance of the company's 500cc engine, should really be a hoot to ride!
Yamaha R250
The tuning forks logo has been dormant for a while now. Yamaha may have created quite the buzz with the R15 and the Fazer and then the SZ-R, but its been almost two years since we saw any sort of really exciting product from this Japanese manufacturer. And that is exactly why we can't wait to see what their rendition of a 250cc scorcher is going to be like.
One thing's clear though – judging by Yamaha's design capabilities, the R250 will definitely be the sharpest looking fully faired machine on our streets. Typically Yamaha characteristics will follow in as well, including a high revving liquid cooled 250cc mill with a six-speed gearbox. These are of course guesses, but one thing we know for sure is that if this bike does make it here soon, it will offer a great alternative to the Kawasaki Ninja 300.
Honda CB400 range
Honda's been concentrating on the commuter segment for a while now and the last really exciting bit of news that came from the winged logo brand was when they launched the CBR250R. And then we got wind of a 500cc powerplant followed by an even more relevant 400cc powerplant. This seems to be the buzz engine capacity at the moment and for good reason too. With a great mix of affordability and power, the 400cc machines will be great bikes for emerging markets like India.
More importantly, Honda's 400cc offerings will come wrapped in two if not three body styles. The most preferred one will obviously be the fully faired version, followed closely by the naked. Personally though, we'd love to have Honda get the on-off road version as well. That will make for the perfect touring bike in India – power, affordability and the capability to handle varying types of terrain as well. We've got our fingers crossed.
Harley-Davidson 500
Not everyone is a big fan of cruisers, but you've got to admit, when one rolls off with the Harley-Davidson logo emblazoned on it, it's got to be special. So when news came out that the all-American motorcycle maker was going to develop a bike specifically for markets like India, we sure were excited. The bike will most likely be modeled along the lines of the very popular Sportster range and should be assembled in India as well, which will also make it pretty affordable. All those who ever dreamed of owning a Harley-Davidson, this could just be your chance!