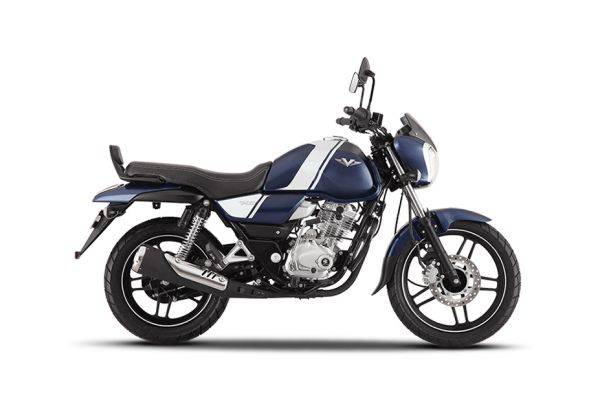 Bajaj V15 Power Up
Rs. 60,000 - 66,739
Discontinued Model since 1 Jun 2019
---
About Bajaj V15
The Bajaj V15 could be your option, if you want to stand out in the clutter of the 150cc commuter motorcycles. Its flamboyant styling surely makes heads turn and Bajaj's cut-throat pricing makes it a great bargain in its segment. For that tempting price tag you have to compromise on engineering finesse and performance. But what you get is a real-world fuel economy of close to 55 kmpl, good ride quality, and a proud piece of Indian history in the form of the INS Vikrant's metal.
Bajaj V15 Overview
Bajaj will soon be launching the V15 Power Up. This new model makes 13PS and 13Nm of torque which is 1PS and 0.3Nm more than the current V15. While mechanically the rest of the bike remains unchanged, it gets new and larger graphics.The Bajaj V15 has been positioned as a 150cc commuter offering and the fuel tank has been crafted using metal from INS Vikrant, the country's first aircraft carrier.
It has a 149cc air cooled motor that makes 12PS and 12.7Nm of torque. The bike comes with a dual cradle frame and has 33mm front forks and dual rear gas charged shock absorbers. It gets 18-inch front and 16-inch rear alloy wheels fitted with tubeless tyres. Braking is via a 240mm front disc and 130mm rear drum. We expect Bajaj to launch the V15 with a single channel ABS soon.
The V15 will compete with the Honda Unicorn 150 and Hero Achiever 150.
Bajaj V15 Power Up Colours
V15 Power Up Alternatives
Must Read Questions & Answers Before Buying V15 Power Up
Q. The engine is jammed of Bajaj V15 Power Up. What is the reason?
The issue could be anything. We would suggest you to visit the nearest service center and get your bike inspected as they would be the better people who can assist you in this case. You can click on the following link to see the details of the nearest service center and selecting your city accordingly - Service Center.
You should check your bike condition more often. engine stall is serious issue and doesn't happen in a day. The engine oil levels would have dropped down significantly in the course of time. Regular checkups and service is the best solution.
Regular check up and service should be done.
Q. How to purchase spare parts for Bajaj V15 Power Up?
Here, we would suggest you to contact the nearest authorized service center as there would be better people to assist you regarding the availability and price of spare parts. Check out authorised dealership details.
Spare parts is very cheap but now situation is you have to place the order and confirm.
Spare parts of BAJAJ is so cheap at the official BAJAJ sservice center so you can relay on it
View More Questions
Q. Is it comfortable for long rides, like 100 KMs non stop? And how is gear shifting? I have heard some problems in 2 or 3 gear - V15?
HI Vinayak! Yes it is very comfortable for a long ride with a wide seating and handle bar angle which you can adjust accordingly based on your preference. Gear shifting is slipping sometimes. Stuck in free position. But that's normal if you push the gear lightly. Just make sure you use specified engine oil as recommended by the factory or of better quality. Just remember the bike is for leisure ride at 100km/hr normal speed, and can go to 110km/hr in short period for overtaking. If you intent to drive it at higher speed, just be prepared to spend some money for modification. Engine oil circulation to the top section of the engine block is very poor. Thats all I can say for now.
Actually It is very comfortable for any of the long rides without a pillion seat. with pillion it may feel heavy and exhausting after a quite a time. Gear shifter feels sometimes twitchy in heavy traffic. The gear ratios for this motorcycle have been kept small by bajaj, so we have to shift gears at lower speeds. we can not stretch or rev too much for any of the gear. it's best to shift gears in shorter speed ranges and speed up in fourth and fifth gears.
Honestly I suggest for city commutes. As comfort in this vehicle is not bad I have driven 130km a single stretch, But I never received comfortable ride on this. Gears Bajaj has a s****d mechanism 40% of time it goes false netural, gear range very very low after 60kmph vehicle starts crying out loud of an extra gear. But vehicle harshly reved never notices that cry for the extra gear.2nd to 3rd gear never felt any major issues gliding there
View All Answers
Q. WHY SHOULD I BUY BAJAJ V15?
Wow dude, did you buy your bike at some duplicate China shop? I have been riding my V15 for over 3 yrs and never faced any of the problems you have listed. I too travel at 100 kmph+ when I am on long trips. I have done multiple such trips each over 200km with my wife as a pillion, yet never faced any of the issues you have mentioned
Wow dude, did you buy your bike from a Chinese shop? I use V15 for 3 yrs now, never had to do any of the things you have listed. I too ride at 100 KMPH + and have taken multiple long trips along with my wife on my bike
If you are tired of living happily and peacefully and want to torture yourself mentally because of incompetent customer service and want to get treated as if they did a favour by selling you the motorcycle, you should buy bajaj v15.If you want to get the experience of how it feels wasting a ton of money you should buy bajaj v15.If you want to get an experience of riding a second hand bike for five times the money you should buy v15.If you want to feel cheated without being in a relationship buy bajaj v15.If you want to feel the stress of going to a service center almost every month after buying a bike buy bajaj v15.If you want to get hit buy a speeding vehicle because your bajaj v15 stalled suddenly in the middle of the road while riding you should buy bajaj v15.I hope you'll buy this bike and experience how cruel life is. Rather how cruel it is made to be by people who talked all nice and sweet while selling the bike to you (The people at executive Bajaj malad showroom).
View All Answers
Q. I like V15 model and design and planning to purchase it. But my friend say that engine is not much powerful as 150 should have. Is it right. Please comment on it.
Well, then tell your friend that he should stop confusing people without knowledge. V15 has one of the most balanced and fuel efficient engine in the 150 CC segment. Add to it the low maintenance in comparison to other brands. I am using this bike for over 3 years and I would strongly recommend this to anyone unless they fall into one of the following category: 1) Overweight riders will experience handle vibration because of a flaw in design, normal wight people won't realise this. 2) Riders who want to ride at persistent speeds on 105 and above. Around 105, the engine starts showing signs of stress. I personally never had any problems riding with a pillion at a persistent speed between 95 - 100 for over an hour. Hope this helps...
I purchased the bike due to the same reason as yours even though my wife strongly objected to it because she knows of my riding attitude. The key here is the pricing compared to other models with the same cc which costs much higher. If I need to replace the engine with a more powerful one as told by your friend, the total cost would be cheaper. Else I would have bought Yamaha R15 or R25.
Don't purchase i did this mistake its not a power full bike
View All Answers
View More Questions
All V15 Power Up Questions and Answers
V15 Power Up User Reviews
3.0

Theek hai but bahut kharchalu.Service center very poor.Lootere baithe hain vhan.Ek sal to theek tha but uske sound bhut hi bekar tha.

2.6

After 50kph speed bike r so much vibrating not comfortable maybe bike r need tobe increase some modifications

5.0

Superb bike.Good mileage.Good and low cost maintenance.Good out look.Then pickup is super.

5.0

Everything is good.I like the look and performance of this bike.But i don't understand why this vehicle didn't capture market.

4.2

Its a nice bike for daily commute, I usually travel 50kms on a daily basis and have got decent performance from it.
All User Reviews
3.0

nice bike but meanwhile after 2 years maintainence cost getting high spending more than 30k for maintainece where I bought bike for 72k.. it's awesome for ride look very stylish.. where I using daily travelling minimum 30 km to 40 in a day. its usual when I travel too much most problem you can face like chainpacket.. some time you cant able to recognise petrol meters.. usual bike got normal pickup not too much impressive and m not keen to run so speed very very moment i tried maximum speed whwhich is 80. bike will shake when you cross above 80 it will take max 100 if you keep moving.. road grip is quite low where I faced fearistic moment when I crossing in the curves in little high speed .. some times experienced back pain who sits behind now I have changed and altered seat which is quite ok.. overall it's good bike if you use for office to home... rough use no problem but it will increase maintenance cost.

3.8

Every bike gives us a memory, and the memories that your first bike marked in your head, it's an amazing feeling. well that's my first bike, so overall everything is good.prosgood mileageexcellent look , specially the black with red stripes.good performance.engine was top class.constire grip is an issue for sometimewill rate 2.8 to the seat comfort.

4.6

Bajaj V15 is wonderful daily commuter bike. I love riding it because of its agility and manoeuvrability. It has a good road presence and attraction. I"ve done some rigorous and hard-core interstate rides like Kaza, Himachal to Delhi via Shimla in 24 hours continuously and my bike still runs well. I keep riding around for long tours and it has not created any problem as such. However there"s a little minor pickup lag due to its heavy rear tyre and heavy fuel tank with a capacity of 13 litres. The gear does creates some problem while down shifting which can be minimised with proper chain adjustments.

3.0

It generates optimum Noise only on a medium speed of 55-60 Km. per hour. It appears that Engine is doing a1very very hard work to reach a speed of only 55 to 60 km. per hour. How poor performance of Engine after a1huge expensive Advertisement. It is really Shameful to Team engaged in Programming such worthless product.

3.0

Bike is hardy and here are the pros and cons based on my 2yrs of experience:-Pros----------- Great cafe racer looks- Hardy body- No performance trouble in long trips. I have gone non stop at 126 kms between 95 and 105 KMPH- Strong engine- Good grunt.Cons---------- Extreme vibration at 3rd gear for heavy riders as front gets lighter than the rear.- Uncomfortable seat for long drives- Mileage is around 40kmpl against the company claim of 60kmpl- No gear indicator is a problem- Fuel indicator is unreliable
All User Reviews
Bajaj V15 Power Up Expert Reviews

Bajaj's second offering in its 'V' Series is a smaller 125cc commuter. Here's what it feels like to ride
January 17, 2017
By Benjamin Gracias Photography: Vikrant Date

Can the new Bajaj V15 which has been positioned by Bajaj as a premium commuter bike upstage the premium variant of the highest selling 125cc motorcycle in India?
June 7, 2016
By Arun Mohan Nadar Photography: Eshan Shetty

Bajaj got the marketing spot on with the new V15 motorcycle. But can the new 150cc motorcycle deliver similar performance on the tarmac?
March 2, 2016
By Arun Mohan Nadar Photography: Eshan Shetty
Bajaj V15 Power Up Images & Videos