Mahindra Gusto: 4,000km Long Term Review
Feb 22, 2016
Views : 51135
---
Since my teammate Ravi, got upgraded to Yamaha R3, as he went ahead for the India Bike Week 2016, his trusted Mahindra Gusto 110cc scooter came under my care for the next few months. Here's my detailed user review of the Mahindra Gusto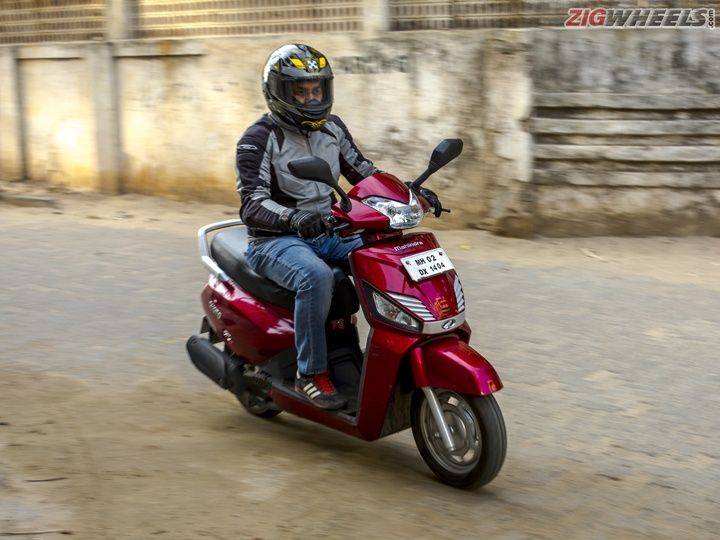 I absolutely love motorcycles. But from the the time I got my hands on Mahindra Gusto 110cc scoter, it has become my obvious pick for office commute and regular chores and I seem to be using it more often than my KTM Duke 390. Simply because a scooter offers way too much convenience.
Mahindra Gusto boasts of plenty of features; and adjustable seat and storage pocket near the instrument console are a few of them. However and i speak from experience, I find that both are not really usefull. While riding, if I lower the seat, it not only becomes too low, but the rider geometry goes for a toss because the seat's angle drops to a steep incline. Having said that, the seat is pretty large and remains supremely comfortable through my daily commute of 42km to office and back.

And as for the storage pocket, loose change creates a clatter and things like mobile phones tend to bounce about, let alone the threat of being picked up by thugs. This apart, keeping the storage pocket clean is also quite a challenge in itself.

With regular usage over the last few months, the premium 3D 'Mahindra' badging now has a missing letter, which seems to have fallen off while riding, or perhaps my over zealous cleaner is to be blamed.
The only feature I use a lot is the 'Find Me Lamps', which makes the Mahindra Gusto's lights blink and beep if the buttons on the flip-key are pressed. Very useful when searching for the scooter in a packed parking lot.

For a feature rich scooter, the Gusto should have had at least a semi digital instrument console. The full analogue one currently used on the scooter looks dated and too plain Jane.
As reported in our earlier Long Term reports, the seat has hinges at the back, which makes it open from the front, unlike other scooters. Once open, there is a locking mechanism which holds the seat in the position so that one can go about his/her business of refuelling or accessing the under-seat cavity with ease.

Sadly, the storage space is rather small and cannot even accommodate open-face helmets. If you do manage to stuff a tiny helmet in, the seat does not lock and the visor can be damaged by the seat height adjusting mechanism.
Strapped with a 110cc air-cooled petrol engine, the Mahindra Gusto churns out 8.2PS of power and 9Nm of torque. It's a refined motor with reasonable power on tap for basic city commute. But it's not spirited enough for quick overtaking manoeuvres. And with so many add-on features and overall design, the scooter tips the scale on the heavier side; which further adds to the engine's woe.

Starting from a traffic signal, for instance, the motor takes a while to gain momentum till it reaches the sweet spot of mid-range, and soon enough loses steam once it crosses 65-75kmph. So while riding, I need to plan the over-taking way in advance, because being a CVT equipped scooter, there is no option of shifting a gear down. Times when I miss my motorcycle.

But since there are no gears to be changed, the Mahindra Gusto makes an effortless commute to office and back home. Moreover, the weight, chassis and suspension setup makes the scooter very sure footed. The Gusto's suspension can cope easily over undulated roads. The tyres further aid this cause and keeps the scooter glued to the road. However, with two adults on board, the suspension tends to bottom out.
So far, the mileage of Mahindra Gusto has been not up to my expectation. The best I have managed in Mumbai's traffic is 39kmpl, which is lower than what other scooters in the segment return in real world condition.

Our next report will be after we give the Mahindra Gusto some much needed TLC, as a proper service and oil change is on the calling.
Date acquired: June 2015
Total km till date: 4,031km
Overall fuel efficiency: 39kmpl
Cheers: Large seat, supple ride quality, Find Me Lamp and linear power delivery.
Sneers: Bland performance, unimpressive fuel efficiency and heavy weight.