Mahindra Gusto: 3,500km Long Term Report
---
We tell you how the Mahindra Gusto has held up after five months and 3,500km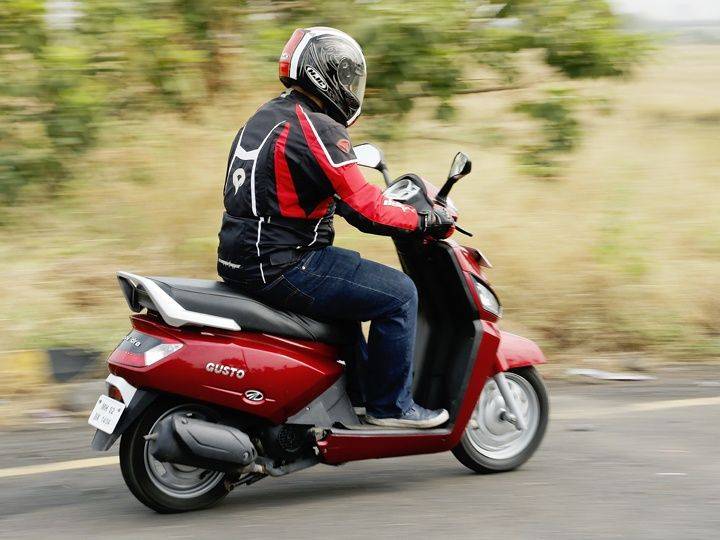 Scooters spoil you rotten. You end up riding them even to the market knowing pretty well that it will take the same time for you to cover the distance on foot. That has been my story with the Mahindra Gusto. There is no denying the convenience that scooters have on offer, but features like the seat height adjuster make things that much easier. Talking about easy, the remote smart key is another one of those features. The LED light incorporated in the key makes it convenient to find the key hole when the scooter is parked in a dark parking lot.
One of the most fun features of the Gusto has to be the Find-Me Lamps. For those who hate strangers leaning against your scooter, the buzzing alarm catches them unaware and can sometime be quite a funny sight.
What the Mahindra Gusto gains in terms of features, it loses out in its performance. The 110cc unit despite making power and torque at par with its competition feels a bit sluggish mainly due to its 120kg weight. The scooter isn't quick off the line, but once in its mid-range, it does gain speed with relative ease. Moreover, the Gusto can comfortably maintain speeds close to 70kmph pretty comfortably. Mahindra claims an efficiency of over 61kmpl for the Gusto but in the past few months I have never really managed to achieve the feat. The best that I could extract from the Gusto was about 43.2kmpl. What I found to be really impressive was its brakes. Despite its weight, the scooter has quite some bite and stops sooner than you would expect it to.
Like I said at the beginning, in these past five months the Gusto has spoilt me rotten, but now I have to bid adieu to it as I hand over the keys to Alshaar. On the brighter side of things, I will walk a bit more now and get fitter.
Date acquired: June 2015
Total km till date: 3,567km
Overall fuel efficiency: 43.2kmpl
Cheers: smart key, height adjustable seats, brakes
Sneers: efficiency, weight