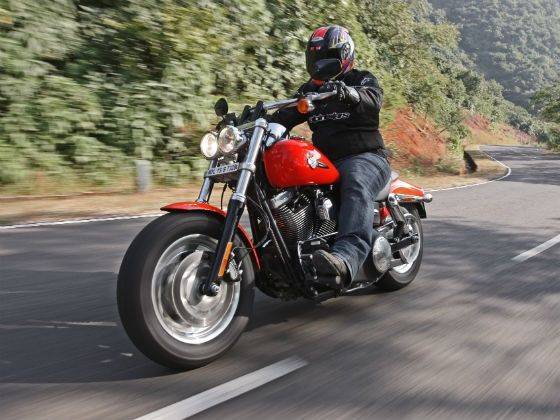 Let me just begin with a confession. Harley-Davidson motorcycles are not exactly my weakness. Least I possess common traits of ardent Harley fanatics, like overgrown beard, long hair or not a chance in hell do I possess tattoo donning big arms. Honestly the only thing that is common between Harley lovers and me is the thirst for open road and good beer. I am the typical speed fanatic, corner-carving junkie who seldom takes to cruising a'la Easy Rider style. So when the job of bringing the newly launched Harley-Davidson Fat Bob from Mumbai to Pune was assigned to me, I was a bit sceptical but took a shot at it just to see what the buzz is surrounding these big burly motorcycles which date back over a century! (This year the American manufacturer celebrates 110th anniversary! Wow!)
As I started towards Pune riding through the traffic clogged streets of Mumbai city during the peak hours of the day it was startling to know that this beast weighing over 320kg was weaving through tightly packed cars and buses with surprising agility and least effort from my end. The cushy large saddle pampering my behind hinted clearly at the bike's ability to gulp down miles without aching the rider over the long hauls. Although, built for the lanky Yankees, the ergonomics took time getting used to for my 5'5" frame, especially when riding at crawling speeds in traffic. And I really think the guys at Harley-Davidson India should reconsider the ergonomic geometry for Indian physiques in order to make sure that the not-so-tall Indian bikers too get to enjoy these lavish luxury cruisers in their best form.
Once I was out of Mumbai and positioned to hit the open NH4 highway leading to Pune that is when I really got to unravel the mystery surround the Harley-Davidson motorcycles. And helping me do that in the best way possible was the pre-winter season in this part of the country offering excellent landscapes all around and a perfect weather for a motorcycle ride complete with soft sunlight, cool breeze and smooth tarmac. Through the city I found the ride ability on the Harley-Davidson Fat Bob to be a bit troubling having to go through the gearbox to keep the torque rolling in, but on the highway it was a perfect setting as I found out later.
Slotted in sixth gear, the vehicle effortlessly cruised at triple digit figures and nowhere did it feel slacking when a snappy overtake had to be made. But more importantly, the way the experience unfolds as one rides on these burly beauties on the open stretches of tarmac is the key to the Harley-Davidson lineage. I mean they haven't survived 110 years on voodoo! The experience of sitting on a massive 1,585cc Vee-twin engine pumping out 126Nm of torque and capable of reaching 100km/h from naught in just 5.9 seconds as well as the charm of having a gorgeously crafted, intricately detailed motorcycle between your legs is indeed an addiction. Especially, a machine like the Fat Bob which is eager to throw heaps of power to the rear wheel at the slightest twist of the right wrist, resulting in a solid thrust pushing the rider deeper into the saddle as he sits looking stupid and flaunting a mile-wide grin inside the helmet.
Couple that to the laidback, feet-forward couch-like seating posture of the Harley and what you get is one pleasurable ride keeping it all simple and casual allowing the rider to celebrate in the open road. This train of thought hit me as I stopped for a tea break in Lonavla (sort of midway point in the Mumbai-Pune journey), known for its scenic locales. Getting off the saddle it was noticeable that there was no aching butt or fatigue from the ride so far. And while I was soaking in this new form of joy that comes with Harleys and them only, which I had not known until now, another strike took place. Even before I could get to the first sip of the tea, I was showered with questions from a mass of crowd which gathered around the FatBob in such intensity that it would shame any celebrity.
Among the zillion questions that I got asked in my rather brief stop, not once did I encounter the perennial 'kitna deti hai?" enquiry and that told me a lot about the Harley-Davidson brand and its machines. Reaching Pune I took a good look at the Fat Bob and it put things in perspective furthermore. A machine so tastefully designed and craftily finished, it is rich and grand in every possible way. There is no sign of tacky work and the world class level of paint finishing from start to end complimented by liberal use of chrome stems opulence in its purest form.
Twin headlights upfront, neat and tidy chrome-finished instrument console on the burly bright red fuel tank that sits atop the large Vee-twin Twin Cam engine, it's hard to not notice the expertise of detailing on the Fat Bob or any Harley-Davidson motorcycle for that matter. The sculpted seat with a rather small saddle for the pillion too gets stylishly done design cues and contours which provide comfort without looking dull or bland. Now that is not exactly easy to achieve, especially on a motorcycle.
But Harley-Davidson has mastered this art over a really long period of time and their motorcycles have evolved without compromising the classic retro edge which really sets them apart from the rest of the motorcycle brigade. If only Harley-Davidson India could make small amends to the ergonomics to suit Indian rider physiques and work out a better pricing for its beauties in India as well as a larger dealer network, there is a sizable chunk of cruiser lovers in the country today who would jump on the opportunity of owning a Harley-Davidson motorcycle. For now though, those with deep pockets certainly have a variety of Harley-Davidson models to choose from and the one who wants a hot-rod powerful bobber from Harley's Dyna family (which is brought in as a CKD and assembled at Harley-Davidson's plant at Bawal in Haryana), the Fat Bob is the most fitting option at Rs. 12.8 lakh (ex-showroom, Delhi).
Specifications:
Engine

1,585cc, air-cooled, Vee-twin, Twin Cam

Power

Torque

126Nm @ 3,500rpm

Transmission

6-speed manual

Suspension

Front: Non-adjustable 49mm telescopic forks

Rear: Adjustable coil-over monoshock

Brakes

Front: Disc with 4-piston caliper

Rear: Disc with 2-piston caliper

Weight

325kg

Price

12.8lakhs (ex-showroom, Delhi)
Performance Figures:
Acceleration: 0-100km/h

5.93s

Top speed

190.8km/h

Braking: 80-0km/h

29.56metres / 3.13secs

Roll-ons

4th Gear (50-90km/h) – 7.08sec

5th Gear (50-90km/h) – 7.85sec

Fuel Economy

City: 18kmpl
Highway: 30kmpl
Overall: 21kmpl