Custom choppers from TNT Motorcycles
---
Meet Delhi-based custom motorcycle firm TNT Motorcycles and their creations - Shunya, Zeena and Raasta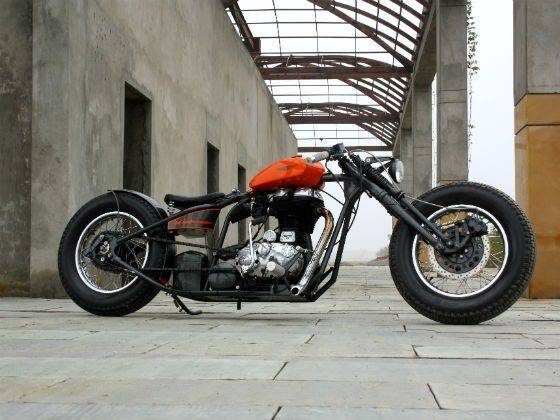 Shunya - Sanskrit for Zero – that's the name Delhi-based custom motorcycle builders Naveen and Nitin chose for their maiden build. That's because, zero, or Shunya, in this case, is essentially the beginning of their story of building bikes…
What started off as a passion while studying automobile engineering in college, transformed into a Royal Enfield 350 based chopper which has indeed grabbed attention in every bike fest it has been displayed across the country. College followed jobs, and jobs followed responsibilities in product development and accessory design and most importantly, no time to speak of.

But the idea of building motorcycles never left these young engineers. A brand new Royal Enfield was procured and dismantled by the builders themselves with a deadline to try and showcase the bike in the India Bike Week 2014. Countless hours designing, fabricating, machining and welding over weekends saw the birth of Shunya – TNT Motorcycles' first chopper. And the designers themselves have done most of the work on Shunya, save for the paint job and a few minor fixes.

Shunya, in a sense, was a blank canvas for the builders. There was no client brief, and no boundaries. And that's what is apparent the very first time you look at this chopper. It definitely attracts attention, and from any angle you look at, it is a handsome chopper, quite unique and radical, if you will, considering its low-slung appearance, and inspired by the Digger style of choppers. A long, spread out chassis, single shock front forks and hard tail rear made Shunya a hit at the IBW 2014 and this inspired the builder duo to take up building custom motorcycles full time.
What followed next was Zeena, a chopper build for a client based on a Royal Enfield Classic 500. Zeena follows similar styling cues as Shunya but is more conservatively designed and also follows a more practical design approach. Zeena also adopts a stretched out chopper chassis but suspension is practical and traditional - borrowed from the KTM Duke 390, with a spacer in the rear monoshock for a more hard tail feel.

Shunya's exhibit at IBW 2014 and other bike fests drew critical acclaim for the builders and soon, orders for minor custom jobs started pouring in, not from Royal Enfield owners, but more so from a group of Harley-Davidson riders in north India.
Raasta, a Harley-Davidson Forty-Eight, is the builder duo's third project. Raasta features a custom fuel tank, a spoked fatter rear wheel customized out of an alloy wheel, modifications to the rear fender, and a spaced out taller handlebar, with the speedo placed on the side of the bike. It's not as radical as Shunya, but that's what the owner wanted – minimal changes to the basic structure of the bike.

So, how are these choppers to ride? For the most part, engines on Shunya and Zeena are familiar Royal Enfield units, but breathe freer, thanks to the free flow exhausts and K&N air filters. Like all choppers, on a straight road, both bikes have similar handling characteristics; of course the 500cc mill on Zeena provides more grunt than the 350cc unit on Shunya.
But you have to be careful managing undulations or speed breakers, more so on Shunya, with its limited ground clearance. Give it a dose of curves, and the long chassis makes its length felt, alarmingly so. As someone aptly put it: "You only look good taking a curve on a chopper." But on a straight road, it handles as good as any other, er, chopper.

With in house machining equipment, from building original chasses and fabricating custom parts, quality control is given a keen eye at TNT Motorcycles. But building such a chopper doesn't come cheap. With a complete chassis and other components to be built from scratch, one build usually costs between Rs 4-6 lakh, excluding the cost of the original motorcycle.
With several builds underway, including an old school Bobber for IBW 2015 Bike Build Off, the guys at TNT Motorcycles have their hands full. It's only just the beginning, and now the builder duo has plans to extend their build shop to the parts market as well as produce limited line production motorcycles. Come February, they will unveil their latest creation at the India Bike Week Bike Build Off in Goa.