Benelli Leoncino 250 Real-World Review feat. KTM 250 Duke
Nov 27, 2019
Views : 11996
---
Does the Leoncino 250 do enough to win hearts in a segment where decisions are made from the head?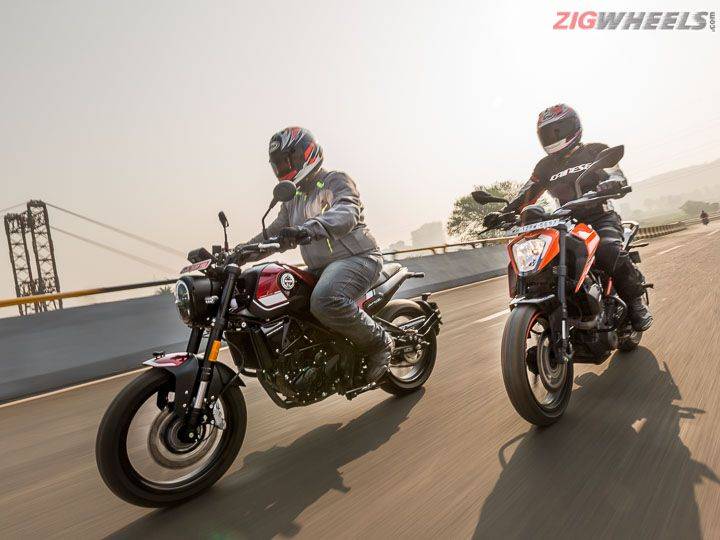 Benelli insists on calling the Leoncino a "Scrambler". But let's be honest, what it is, is a proper neo-retro motorcycle. This certainly isn't a segment that packs mass appeal, but there's no denying the coolness associated with these bikes. Bikes that hit us with a wave of nostalgia through their modern interpretation of classic design. Here, outright performance isn't high on the priority list. It's all about that perfect balance -- something the Leoncino 500 nailed to the T, and we absolutely loved it for this. The question, then, is can the baby, er, baby lion replicate that balance in a class where sensibility rules over style?

Design
At first glance, you'd be mistaken for believing so, as there's not too much to tell them apart. The scrambler-style stance is nearly identical, and the macro details such as the shape of the fuel tank and the short tail section match too. In fact, the 250 looks like a scaled-down version of the 500, running more reasonably sized components (single front disc instead of twin rotors, slimmer forks, skinnier swingarm, smaller tank) and tyres. At the micro level, there are some interesting differences, such as the now oval headlight with its semi-circular DRL and rectangular (instead of pod-like) instrument cluster. Even the twin-port exhaust is proportionally larger on the 250, and we actually prefer its more angular shape over the 500's rounder one.

Quality
So while there's no denying the Leoncino 250 is a good looking motorcycle, the same can't be said about its build quality. Now there's nothing particularly off about the way this lion cub is put together, but it doesn't feel as solid as the 500. The overall fit and finish is pretty acceptable, but the grade of plastic seems like it comes from a commuter motorcycle, with slightly inconsistent panel gaps to boot. And with the engine running at speed, you can hear a bit of plastic rattle as well.

Class wars
The Leoncino 500's unique proposition is made even more so by the fact that it doesn't have any real competition in its class. Unfortunately, this is not the case with the smaller Leoncino. While 250s aren't prolific in the Indian market, the few that exist manage to tread the line rather wonderfully between performance and practicality. And this is perhaps best exemplified by the KTM 250 Duke, which packs everything that makes the Duke family of motorcycles so exciting in a package that is easy to live with (we'd even say the easiest amongst all of KTM India's offerings).

| | | |
| --- | --- | --- |
| | Benelli Leoncino 250 | KTM 250 Duke |
| Engine | 249cc liquid-cooled, single-cylinder | 248.8cc liquid-cooled, single-cylinder |
| Bore x Stroke | 72 x 61.2 mm | 72 x 61.1 mm |
| Power | 25.8PS @ 9250rpm | 29.91PS @ 9000rpm |
| Torque | 21Nm @ 8000rpm | 24Nm @ 7250rpm |
| Kerb Weight | 162kg | 161kg |
| Price (ex-showroom Delhi) | Rs 2.50 lakh | Rs 1.97 lakh |
On paper, it looks like it might be interesting to pit the KTM against the Benelli. But dare we say that this is a slightly unfair comparison. You see, the Duke is manufactured in India, at Bajaj-KTM's plant in Chakan. The Leoncino 250, on the other hand, is just assembled here (CKD), with barely any localisation to speak of. Of course, that doesn't explain the performance difference. Both motors have a nearly identical bore and stroke configuration, but they couldn't be more different in the way they behave. The 250 Duke's motor is a bored-out version of the 200 Duke's, and as such offers peaky power delivery. The Leoncino, on the other hand, gets its motor from the often problematic TNT 25, albeit in a lower state of tune, making it a lot more tractable.

| | | |
| --- | --- | --- |
| | Benelli Leoncino 250 | KTM 250 Duke |
| Acceleration 0-60kmph | 4.08 seconds | 3.51 seconds |
| Acceleration 0-100kmph | 10.89 seconds | 8.49 seconds |
| 30-70kmph in 3rd gear | 4.69 seconds | 4.35 seconds |
| 40-80kmph in 4th gear | 6.59 seconds | 6.09 seconds |
| Braking 100-0kmph | 54.82m | 51.38m |
| Braking 80-0kmph | 34.80m | 33.95m |
| City Efficiency | 37.38kmpl | 41kmpl |
| Highway Efficiency | 36.14kmpl | 35.66kmpl |
At the end of the day, the Duke makes 3Nm and over 4PS more than the Leoncino, and the bike is one kilo lighter as well. So it just trounces the Benelli in all performance tests -- half a second quicker to 60kmph and 2.4 seconds quicker to 100kmph. With more torque and a faster revving engine, the KTM also comes out ahead of the Benelli in roll-on acceleration figures. That said, the Benelli can carry much lower speeds in higher gears, so it manages better fuel efficiency in the city. But again, when it comes to stopping power, with the larger front brake setup, the KTM also outbrakes the Benelli, although the difference from 80kmph isn't huge. What is really odd is that even with a sportier focus, the Duke manages to be more comfortable than this Leoncino, but we'll address that a little further in.

However, the biggest issue with the Benelli is its price. Aside from falling behind the KTM in most measurable (and some immeasurable) aspects, the Leoncino is over half a lakh Rupees more expensive. And when you factor in other 250s, this discrepancy becomes even wider. The Suzuki Gixxer 250 for example, probably the best balanced bike in this segment, not only beats the Leoncino 250 in all performance aspects, but also ends up being over Rs 90,000 cheaper. So then is there any merit to this baby Benelli at all?

City
Well, it turns out, there are a few, the massive tractability of the motor being one. At city speeds, the Leoncino 250 feels extremely comfortable and can easily pull from about 2,500-3,000rpm onwards. This allows it to carry speeds as low as 35kmph in 5th gear and 42-43kmph in 6th without any lugging. And that means, unless you're in absolute stop-go traffic, you'll find yourself in the top three gears most of the time. This also results in pretty good fuel efficiency of 37.38kmpl. Even if you do have to change gears, the 6-speed gearbox provides adequately smooth shifts, although it doesn't have the same precision or clickiness of a Honda or a KTM transmission. To make things even better in the city, the wide handlebar provides plenty of leverage for easy maneuvering through crowded streets.
There aren't too many vibrations at city speeds either, with the motor feeling generally smooth enough between 3,000 and 6,000rpm. It does hit a slight resonance between 4,000 and 4,500rpm where you hear a plastic buzz, but unless you keep the engine spinning at that exact rpm, it comes and goes before it becomes annoying. This is easily masked by the exhaust note and booming intake roar, which actually sounds quite endearing with short bursts of the throttle. Overall, this Leoncino provides a very relaxed riding experience in the urban jungle.
Ride quality
The other noteworthy strength of the bike is its ride quality. It is still set up a little on the firmer side, and with 125mm at the front and 51mm at the rear, the suspension travel isn't too much. So you do feel sharp bumps and the occasional super sharp bump might see the rear end bottom out, but the way it handles large bumps and speed breakers is just brilliant. These are dealt with in one smooth motion, with no secondary movement (bobbing or wallowing) preceding it. And its 170mm of ground clearance is nothing to shake a stick at either.

Handling
What's rather surprising is that for a bike that appears so diminutive (many have likened it to the Honda Navi), it actually sports the longest wheelbase in class - 1380mm. That, along with the H-rated Metzeler M5 Sportec tyres (the same that you get on the KTM 390 Duke - 110/70R17 at the front and 150/60R17 at the rear) makes this Leoncino 250 plenty stable at speed in a straight line, and even when you tip it into a corner. The way it steers isn't bad either, with the wide handlebar cutting down on the effort required to tip the bike into turns. If you find yourself on a winding mountain road on this bike, you will end up having a fairly fun experience.

Brakes
What might hold you back from having a great time in the twisties are the brakes. Though the braking distances of 54.82m from 100kmph and 34.80m from 80kmph are the weakest in the class, they're not off by that much. The bigger concern is that the front brake has absolutely no feel, and the behaviour is extremely inconsistent. At times, the lever feels wooden, at times it feels spongy, which makes it impossible to judge exactly how much brake you're applying at any given time. Even the rear brake lever has too much travel before the brake starts actuating. To make matters worse, the intervention from the ABS is unpredictable as well.
Highway
While the overall performance of the Leoncino 250 is nothing to write home about, it does feel reasonably comfortable at highway speeds of 90 to 100kmph. In fact, at 100kmph in sixth gear, the motor is ticking a little over 6000rpm, and at this point, there aren't many vibes to speak of. At this point, it even packs enough grunt to make overtakes without the need to downshift. However, if you start riding faster, then the motor does start to feel buzzy, with vibes creeping prominently in the footpegs past 7000rpm. What might also bother you here is the sound from the exhaust and intake. At high revs, the droning can get tiring really quickly. So the Leoncino manages easy highway riding just fine. But it's when you start riding long distances that things start going downhill.

Ergonomics
And that's because spending long hours in the saddle will be quite difficult. While upper body posture is actually quite good, with the wide, tallish bars set at the right distance away from the rider to make for an upright riding position, your lower body is generally quite cramped. The footpegs are too high- and rear-set, which pulls your heels very close to your thighs. Even with my slightly above 5'9" height, my legs were feeling severely cramped in just over an hour of riding. Taller riders will have an even more difficult time in this saddle. And it's not like shorties will have it any easier, as the 810mm seat height isn't the most accessible. Then there's the seat itself, which is really narrow and hard in places making your nether regions hurt in no time. Sliding back in the seat alleviates the issue to a certain extent, but then you end up sitting on the sloping part of the seat, which makes for more awkwardness. As for the pillion seat, it's even smaller than the rider's seat. Good luck finding a normal sized person who'll be willing to ride pillion on the Leoncino 250.

Verdict
The Leoncino 250 is far from a perfect motorcycle, but it is a very likeable one, even with all its shortcomings. The one flaw you can't really overlook though is the price, which will leave you feeling short changed. At Rs 2.50 lakh (ex-showroom Delhi), it's priced nearly identically to the KTM 390 Duke and the Royal Enfield Interceptor 650. Both these bikes have a lot more to offer in terms of performance, usability and character. And even if you consider the CKD factor, you have the Honda CB300R -- a pukka neo-retro motorcycle that is objectively better than the Leoncino and is assembled in India as well. In fact, the Honda is priced a hair lower than the Benelli as well.
No matter how we spin the merits of the Leoncino 250, there's no getting around the fact that Benelli has overshot the pricing for this bike, and that too by a large margin. As things stand, no matter how likeable it is, it's very difficult to recommend it at its current price point. And that makes me just a little bit sad.
More on Benelli Leoncino 250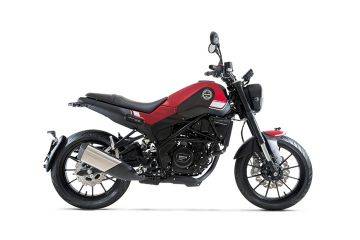 Rs. 2.50 lakh Onwards
Ex-showroom, Delhi
Get Loan starting @6%
View On Road Price
Add Your Comments

Benelli Leoncino 250 Video Review