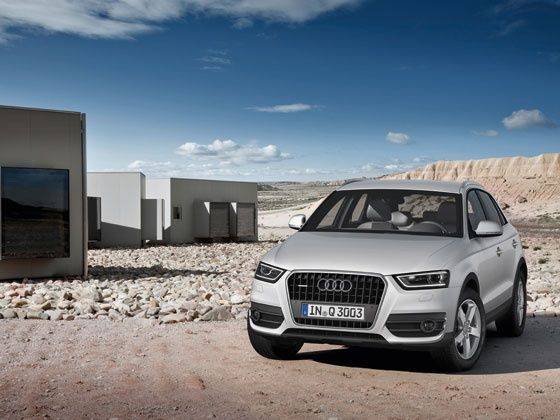 500 bookings within just five days of launch in June last year was indeed a very warm welcome for Audi's Q3 diesel model, which till date has been well accepted in the market and more importantly has attracted younger customers to a more affordable compact luxury SUV segment.
With the addition of a petrol model, Audi now offers Q3 buyers a chance to pick from a cheaper yet more powerful 2.0 TFSI model or the more efficient 2.0 TDI diesel version. The Audi Q3 2.0 TFSI model packs in a neat 211PS and reaches a maximum torque of 300Nm between 1,800 and 4,900 rpm. Just like the diesel model, the new petrol version will also offer Audi's 'quattro' permanent all-wheel-drive system as standard.
In combination with a seven-speed S-tronic gearbox, the four-cylinder petrol unit accelerates the Audi Q3 2.0 TFSI from 0 to 100 km/h in 6.9 seconds with a top speed of 230 km/h. Despite its performance gains over the diesel model, the start-stop system on the 2.0 TFSI model does improve efficiency, and at 11.72 kmpl it is very close if not identical to the TDI version.
Speaking at the launch of the Audi Q3 TFSI Michael Perschke, Head, Audi India said, "I am confident that the addition of this powerful 2.0 TFSI engine will further delight the Audi enthusiast who is constantly looking for more power and an even more exhilarating drive."
The new Audi Q3 2.0 TFSI is priced Rs 27.37 lakh (ex-showroom Maharashtra) onwards, and for easier access to its Indian customers, Audi plans to expand its network to 34 dealerships by the end of 2013 from its existing 25 centres.
Incidentally, Audi's proprietary 2.0 TFSI engine has been voted the 'International Engine of the Year' in its category for 5 consecutive years, by a jury of leading motoring journalists from around the world.