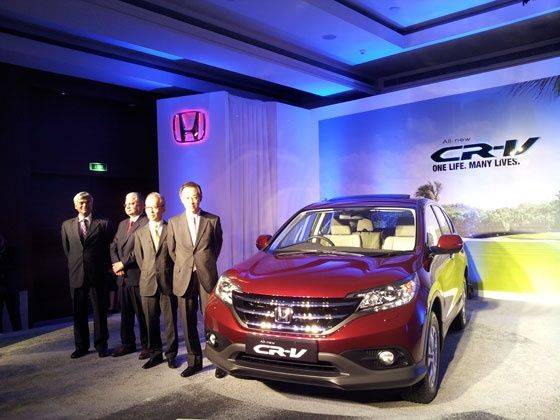 Selling in India since 2003, the Honda CR-V, which began its stint as the country's first ever premium soft roader has over the years lost some of its sheen to more evolved and budget friendly competitors. An upgrade was a long time coming and Honda has finally decided to up the CR-V ante here in India with the launch of its fourth-generation model at a starting price of Rs 19.95 lakh (ex-showroom Delhi).
What you see here isn't just a more sophisticated looking CR-V with larger HID projector headlights that flank the new chrome grille, but overall a far more purposeful SUV that packs in more space, more gadgetry and offers better performance and efficiency levels as compared to its predecessor (Read : New Honda CR-V First Drive).
The 2013 model now available pan India will be offered with two engine choices. More efficient of the two is a 2.0 litre SOHC i-VTEC engine that produces 156PS @ 6500rpm, while the more powerful 2.4 litre DOHC i-VTEC offers 190PS on tap at 7000rpm. The 2.0 litre unit comes mated to either a 5-speed automatic transmission or a 6 speed manual, while the 2.4 litre offers the auto box as a standard fitment.
As per mileage figures shared by ARAI, the 2.0 litre manages about 13.7 kmpl, while the 2.4 litre unit isn't too far behind at 12 kmpl. Interestingly enough for fuel consumption conscious buyers in particular Honda has included an ECON mode on the new CR-V that both electronically and through visual cues assists the driver in achieving the best mileage possible from the vehicle.
The refreshed model also packs in a long list of creature comforts that includes an AVN system with a large 6.1 inch touch screen with an in-built navigation system, DVD/CD player with iPod and Bluetooth connectivity as well as rear camera display.
For the safety of its driver and co-passengers the CR-V is now equipped with vehicle stability assist (VSA), ABS, EBD, Brake Assist, 6 airbags, advance compatibility engineering (ACE), hill start assist (HSA), occupant position detection system (OPDS) as well as advanced suspension settings and motion adaptive electronic power steering.
Starting at a price of Rs 19.95 lakh (ex-showroom Delhi) for the base 2.0 litre 2WD model all the way up to Rs 23.85 lakh (ex-showroom Delhi) for the top end 2.4 litre 4WD version with iMid and AVN equipment, the 2013 Honda CR-V is now a far more competitively priced product (cheaper by 2.5 lakhs) despite its added equipment levels owing to the fact that it will now be coming in as a CKD unit. While there is talk about a 1.5 diesel coming in for their smaller cars, Honda has not made any commitments for a larger engine for the Accord or the CR-V.
2013 Honda CR-V model pricing
2.0 litre 2WD MT – Rs 19.95 lakh (ex-showroom Delhi)
2.0 litre 2WD AT - Rs 20.85 lakh (ex-showroom Delhi)
2.4 litre 4WD AT – Rs 22.40 lakh (ex-showroom Delhi)
2.4 litre 4WD AT – Rs 23.85 lakh (ex-showroom Delhi)
(Audio Video Navigation)