VW Group, Ford Likely To Join Forces For EVs
---
Both automakers have already announced a partnership for CVs, with collaboration for joint development of new cars likely to follow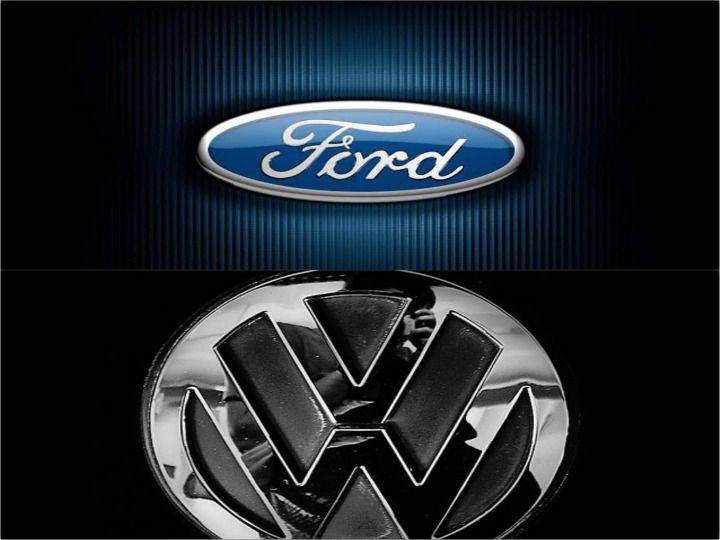 Ford and VW likely to collaborate for development of EVs and autonomous tech
Speculation rife on the deal since the two signed an MoU in June 2018
VW to invest around Rs 3.6 trillion for EV development by 2023
Volkswagen AG and Ford Motor Company, two of the largest carmakers in the world, are planning to enter into strategic partnerships for development of autonomous and electric vehicles globally.

At its annual board meeting press conference held recently, VW management officially announced the development of commercial vehicles (CV) in collaboration with Ford, while also hinting at the "potential collaboration" for electric and autonomous mobility.

Speculation has been rife for long about the two carmakers joining hands, after a Memorandum of Understanding (MoU) signed by Ford and Volkswagen in June this year laid the foundations of a strategic partnership between them.

According to a statement released then, VW CEO Herbert Diess had said that both companies complement each other very well in terms of both products and regions. And while the joint development and manufacture of a range of light commercial vehicles is at the core of the envisaged cooperation, it is likely to encompass the passenger vehicle (PV) segment as well.

"Volkswagen expects significant synergy effects from the potential to lower costs or increase performance via scales. Ford and Volkswagen will nevertheless remain competitors, as the proposed cooperation does in no way concern commercial, marketing or pricing strategies," VW had earlier said.

The partnership with Ford is likely to further boost VW's electric mobility plans for the future. Earlier, the German automotive giant had announced that it will invest €44 billion (about ₹3.6 trillion) by 2023 for developing future, green mobility. This would be around a third of the car maker's total expenditure for the period. Of that sum, €30 billion will be put into electric mobility, including everything from platform and powertrain development to infrastructure investment, as VW ramps up efforts to shake off the cobwebs of the infamous Dieselgate scandal.

The group, whose brands range from luxury Porsche and Audi to the budget-conscious Skoda and Seat, has set itself the ambitious target of offering more than 50 electric cars by 2025.

The partnership between VW and Ford is also a rather crucial one for Ford as unlike most of its competition and its potential partner, the Detroit based carmaker is yet to formulate a significant green roadmap for its future cars.

Ford currently has just one EV option in the form of the Focus electric, while VW boasts of an entire lineup that includes an electric Golf, A3 e-Tron and the Passat GTe, to name a few. VW is also developing the next generation Modular-Electrification Toolkit (MEB) platform, which would underpin most upcoming cars based on the I.D, I.D Crozz and I.D Vizzon concepts.


Meanwhile, Audi and Porsche are also collaborating on the Premium Platform Electric (PPE) for the premium segment. Since it is still early days, we are not sure if Ford would share platforms with VW for its own future EV lineup or not. But such a possibility cannot be denied.
Closer to home in India, Ford has already entered into a strategic partnership with Mahindra for sharing BSVI engines and development of connected car solutions. However, recent reports have also pointed towards significant collaborations between the two for electric vehicle development as well. Where Ford would provide vehicle platforms for the upcoming cars, Mahindra Electric will design all the powertrain and charging components.


As it is evident now, the global mobility landscape is evolving at a significant rate and with the influx of electric and connected cars from non conventional players such as Tesla, the global automotive giants now seem to find teaming up a much better way to handle the disruption. However, it would be interesting to see how these synergies pan out in terms of future products? We hope to see a lot of interesting new cars and SUVs to come to fore as a result for sure.
Add Your Comments