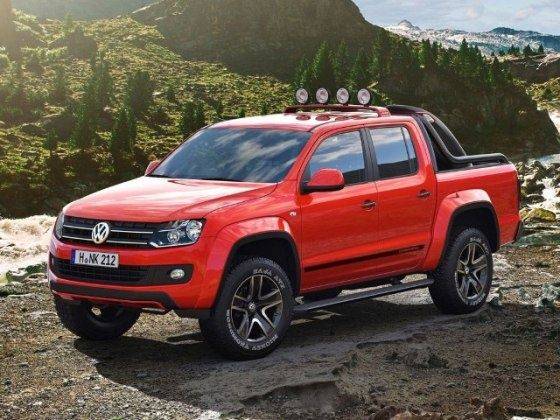 The Volkswagen Amarok Canyon Concept has been specially configured for the freestyle kayaking sport. All aspects of the concept have been designed to meet the sport's requirements – from its running gear to its cargo box. "We are using this extreme concept to illustrate one of the many diverse uses of the Amarok. By tuning its design to an extreme sport, we are bringing the original DNA of the Amarok into focus," emphasises Dr Wolfgang Schreiber, spokesperson for the Board of Management for the Volkswagen Brand and Head of Development at Volkswagen Commercial Vehicles.
The Amarok Canyon Concept is taller and wider than the standard Amarok production model. The concept vehicle has been raised by 40mm with a body lift kit, and the new wheels and tyres further increase its height to 85mm over the regular production model. The wheel arches have been widened by 35mm to accommodate bigger wheels and tyres.
The truck also gets auxiliary headlights mounted on its roof, smoked taillights and colour-contrasting underbody protection. The Amarok Canyon Concept is painted 'Baladi Orange' to add to its unique appeal, and the three layers of paint make the truck standout. The pick-up truck concept has electric tread plates that are deployed for easy ingress and egress. The tread plates retract when the vehicle is on the move to maintain the vehicle's high ground clearance.
Two carbon-fibre kayaks are mounted on formed cut outs with soft padding on the cargo floor of the Amarok Canyon Concept along with white-water helmets, flotation devices and rafting shoes. The helmets are stored in nets on the front wall of the cargo bed while the rest of the equipment is locked in smaller boxes with watertight lids.
The interiors of the Amarok Canyon Concept are dual tone with orange inserts on door panels, seats, steering wheel and gear knob. Housed in a cowl in the cockpit are three auxiliary instruments. They show the climbing and tilt angles of the Amarok.
The Volkswagen Amarok Canyon Concept vehicle is powered by a 2.0-litre bi-turbo diesel engine generating 180PS of power and 400Nm of torque. The pick-up truck comes with a 4MOTION all-wheel-drive system with a reduction gearbox and lockable rear differential.