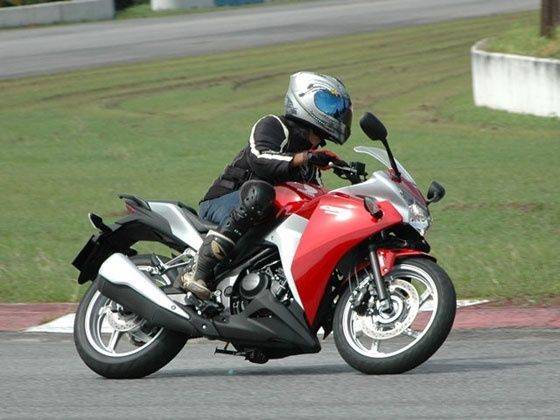 Honda CBR250R
No. 5) Honda CBR250R : Mileage - 28.1kmpl
The single-cylinder liquid-cooled CBR250R is an internationally successful machine that combines torquey power delivery of 23.2PS with a very decent city average of 26.5kmpl and highway average of 33.24kmpl that adds up to an overall average of 28.1kmpl. Its fuel tank tops up at 12 litres which gives it a range of 337.2 km. These numbers when matched to performance figures like its 0-60km/h sprint time of 3.48s and a top speed of 152 km/h make it an all round brilliant machine. Price being slightly on the higher side, it retails at Rs 1.43 lakh ex-showroom, Delhi.
KTM Duke 200
No. 4) KTM Duke 200 : Mileage - 33 kmpl
The newest and quite arguably the best street bike our nation has seen is here and now. The 199.50cc Duke puts out 25PS of power from its crisp single cylinder engine. The Duke will do 100km/h in just about 8 seconds (claimed) and will hit a top speed of 136km/h (claimed). The KTM 200 Duke will deliver an overall average of 33kmpl with a tank capacity of 11 litres and will do 363km on a full tank of petrol. The Duke currently retails at an introductory price of Rs 1.17 lakh ex-showroom, Delhi.


No. 3) Hero Karizma ZMR : Mileage - 39 kmpl
India's ultimate sports tourer, the Hero Karizma ZMR is still one of the finest affordable performance machines available in India dishing out 17.8PS of power from its 223cc fuel-injected engine that helps it touch 0-60km/h in 3.6 seconds. On the highway, the ZMR delivers 43kmpl and in city 35kmpl giving it an overall average of 39kmpl. The fuel tank capacity is 16 litres and its range is 630km to a full tank. Touching a top speed of 126km/h, the ZMR retails at Rs 95,000 ex-showroom, Delhi.


No. 2) Bajaj Avenger 220 : Mileage - 44.5 kmpl
The only cruiser in this affordable price bracket comparison definitely makes it unique. What we like about the Avenger 220 is the fact that it is incredibly comfortable to ride with enough grunt for highway blasts. The Avenger fetches 40kmpl in the city and 49kmpl on the highway, which adds up to an overall 44.5 kmpl -- very good figures for a bike that big. The 0-60km/h sprint will be executed in 4.5 seconds and it will touch a top speed of 123km/h. With a 14 litre fuel tank the Bajaj Avenger's range is 675km. It is a good buy at Rs 75,000 ex-showroom, Delhi.


No. 1) Bajaj Pulsar 220F/220N : Mileage - 51kmpl
The winner of this battle, the Pulsar 220 plays a big part when it comes to performance biking in the hearts of enthusiast in our nation, delivering good performance along with fuel efficiency, dishing out 51kmpl overall. You can travel 765km with a full tank of petrol with this bike. With a 0-60km/h figure of just 3.8 sec for the quarter faired version and 3.6 sec for the naked version, the Pulsar retails at Rs 82,500 ex-showroom, Delhi.
: