Top 5 Electric Two-wheelers At EICMA 2019
---
Milan was abuzz with some very interesting electric two-wheelers this year.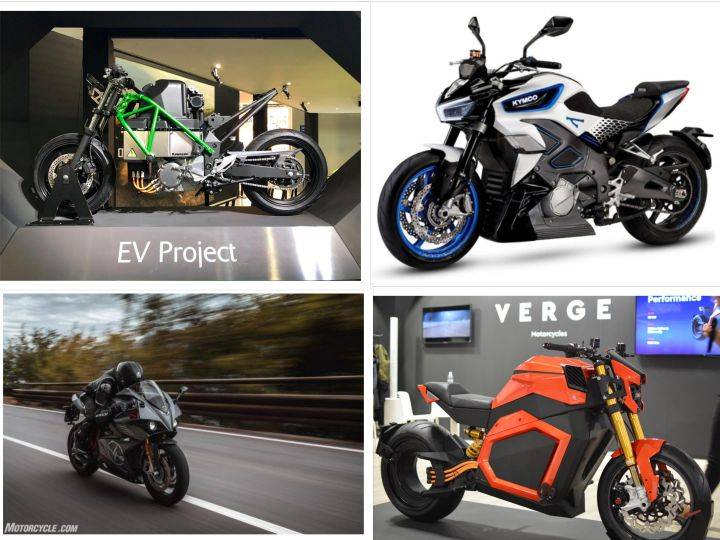 Like it or not, the world is going electric, and two-wheelers are no exception. Proof of this is borne out by the number of electric two-wheelers shown at EICMA this year. These weren't just small start-ups either; even American behemoth Harley-Davidson had some electrics to show off in Milan. So let's dive in and take a look at the 5 best electric two-wheelers shown at EICMA this year:
2020 Energica Ego

This bug-eyed beauty has been updated for 2020, and it isn't just a stickering exercise. The Ego's lithium-polymer battery pack has grown by a whole 60 per cent over the outgoing model, with capacity rising from 13.4kW to 21.5kW. It goes without saying, then, that the range has consequently increased as well.

Energica claims a mammoth 400km range in urban conditions, which is more than many petrol-powered motorcycles out there. Highway range is also a very respectable 180km. What makes this even more remarkable is that Energica has simultaneously lowered overall weight by 5 per cent. These huge leaps have come as a result of the brand's involvement with the recently introduced MotoE World Championship. With technology progressing at such a breakneck pace, it will be very interesting to see what the future holds in store.
KYMCO RevoNEX

One of the most eagerly awaited electrics at EICMA was unveiled when KYMCO pulled the wraps off its RevoNEX electric motorcycle. It is designed to be a high-performance model, and though KYMCO hasn't revealed any output figures, it claims the RevoNEX will do 0-100 in just 3.9 seconds. This is comparable to middleweight nakeds like the Kawasaki Z900. Unusually for an electric, the bike also sports a 6-speed gearbox.

The RevoNEX sports naked streetfighter looks and comes equipped with traction control, launch control and 4 riding modes. It can attain a claimed top speed of 205kmph, so while its acceleration might be more akin to a middleweight, it isn't quite on par when it comes to top speed.
Verge TS

We don't blame you if you don't recognise this name. You see, up until recently, Verge was known as RMK, and the TS model name was unveiled only a few hours before the bike was shown at EICMA in production form. It is a tribute to the bike's original designer, Teemu Saukkio.

But this isn't what makes the TS interesting. What will really blow you away is the mind-bending 1000Nm torque figure from the hubless rear-wheel electric motor. Yep, read that again. There are three zeros, I assure you. Equally mind-blowing is the motorcycle's space-age design: it looks like something straight from the sets of Tron.

The motor produces 109PS and while acceleration figures haven't been revealed by Verge, the manufacturer is confident of a sub-4 second 0-100 time. More importantly, range figures have been disclosed, and the TS will manage 300km in the city and 200km on the highway on a full charge. Pre-orders are already being accepted, and production is expected to begin in mid-2020. It won't be long before you see one of these on the streets in Europe, and when you do, rest assured you will be completely blown away.
Image Source - Electrek
Kawasaki EV Project

It seems that not all of Kawasaki's engineers are working on superchargers. Some of them have been toiling away on the manufacturer's EV project. This electric bike was displayed at EICMA and Kawasaki has also released footage of a prototype testing on track. It appears to be similar in dimensions and design to the Ninja 300 --you know, aside from the ginormous battery pack.

We uncovered this motorcycle in patent images some time ago and Kawasaki seems to be developing the bike at a rapid pace. We are curious to see what the finished product will look like, all the while hoping that Kawasaki doesn't impose its recent design language upon this bike, because it deserves a unique identity of its own.
Harley-Davidson E-Bikes

No, we're not talking about the LiveWire. We're referring to the three unnamed electric bicycles displayed by the Milwaukee brand at EICMA this year. All 3 prototypes featured H-D's proprietary mid-drive motor connected via belt-drive to an internally geared rear hub. One of the prototypes even sported an automatic shifting Enviolo continuously variable transmission, a component exclusively found on premium electric bicycles.

All three Harley-Davidson electric bicycles also feature high-end hydraulic disc brakes clamping down on what appears to be massive 203 mm rotors. Once again, this sort of hardware is usually seen on high-end mountain bikes. This isn't surprising, since Harley plans to price these e-bikes in the $2500-$5000 range (roughly Rs 1.77 lakh - 3.55 lakh). The bikes featured an openable battery case which indicates a removable battery. The size, or lack of it, of the battery cases is especially noteworthy.

Add Your Comments