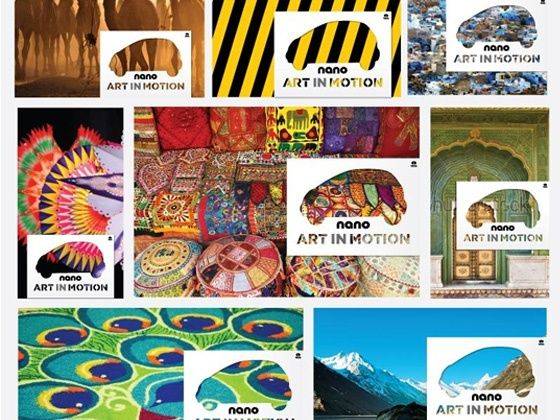 The Tata Nano more than being labeled as just a common mans commuter has pretty much become a cult vehicle here in India. While not in the same veins as the iconic VW Beetle or the Mini, the little Nano definitely has its share of fans. Taking things further for the little car is the launch of the 'Nano: Art in Motion', for all Tata Nano fans, in association with well-known artists. Being designed to celebrate life, creativity, freedom and the spread of culture; Nano: Art in Motion will feature the Tata Nano as its canvas, with the inaugural Art Car being painted by renowned artist, Ms. Sangeeta Babani. A self-taught artist from Mumbai, Ms. Sangeeta Babani, will start transforming the car from September 14 -16, 2012, at the Palladium Courtyard of the High Street Phoenix, Mumbai.

Excited about painting on the Tata Nano, Ms Sangeeta Babani plans to interpret the theme of celebration using her signature blend of realism and abstractionism, set to the vibrant color palette for which her art is known to follow. She will be assisted by Mr. Anil Dingankar, a young and upcoming artist. Once painted, the colourful Tata Nano will tour the city during the upcoming Ganesh Chaturthi festivity, visiting pandals and popular Mumbai destinations. Besides the pandals, the colorful Nano will also visit orphanage homes and children's schools to spread happiness.
All Tata Nano fans can participate in this celebration by registering in the contest "Catch the Art Nano" where keen observers of the Art Nano can upload their photos of the car, taken during its tour of the city, to a special Facebook application on the Nano's FB fan page. The fan with the best shot of the Art Nano will be selected for a special visit by the car. All art lovers and Nano fans can follow Nano: Art in Motion on www.tatanano.com/nanoartinmotion, which will be live from 14th September. For further details on the first Nano Art Car, including special photos, film footage of the car's creation and an interview with Ms. Sangeeta Babani. Fans can return to this site throughout the Art Nano series.