Skoda Scala Interior Unveiled, Shows Understated But Likeable Design
---
New design language showcased in the Scala will feature on every new Skoda car launched, including the ones headed to India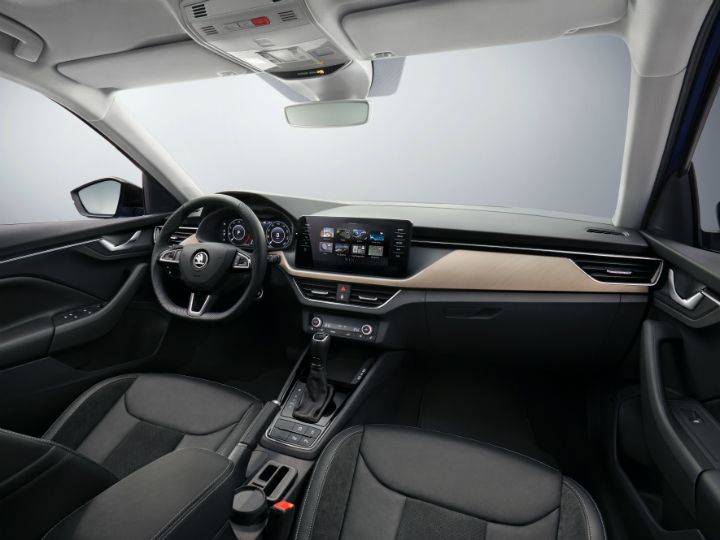 Skoda has revealed the Scala hatchback's interior design about a week before its official unveiling.
A floating infotainment display which can be as large as 9.2 inches, minimal buttons on the dashboard, and the Virtual Cockpit instrument cluster take centre stage.
Subtle grained wood trim adds a bit of excitement in the otherwise understated and functional design.
Two weeks after teasing the interior design of the upcoming Scala hatchback, Skoda has now released photos of the same. The new photos show that the sketches shown earlier were not some fantasy drawing, and it actually looks as cool as we thought it would. More importantly, the new images show an interior which is functional but has subtle flairs that make it exciting to be in.
The highlights, of course, are the twin-digital screens - these will become standard on all future Skoda cars, including the ones headed to India. The all-digital Virtual Cockpit display is not all new; the Skoda Octavia is now offered with the multi-function, high-definition display now. But the new free-standing touchscreen infotainment system, which can be as large as 9.2 inches, is definitely eye-catching.
While the cabin is all-black, the plastics around the cabin look high-quality, and the part-leather, part-Alcantara seats have big bolsters. The only bit of colour on the dashboard is a wide sculpted piece of faux wood which livens up the whole place. Not only does it look stylish in the way it tucks under the central display, but it also forms a natural wrist rest for operating the touchscreen!
The side A/C vents extend into the doors, making the cabin feel a bit wider than it is. Also noticeable are the knurled finish on the vent controls. The stylish door lock handles are large and the recess they are placed in has a textured look. A chrome line extends from the handles on the door pads, adding more character to the interior.
The A/C control unit is a rather simple affair mostly. The knurled effect on the control dials add a bit of flair and also make them easy to use on the go.
As mentioned before, the Skoda Scala will not be launched in India. It will be a forebearer to future products which will come to our shores though. It previews the exterior and interior design themes which will be used on Indian products and is also based on the same MQB-A0 platform which they will be built upon.
The Skoda Scala will be unveiled to the world at a special event in Tel Aviv, Israel, on 6 December 2018. Stay tuned to ZigWheels for the live coverage.
Add Your Comments