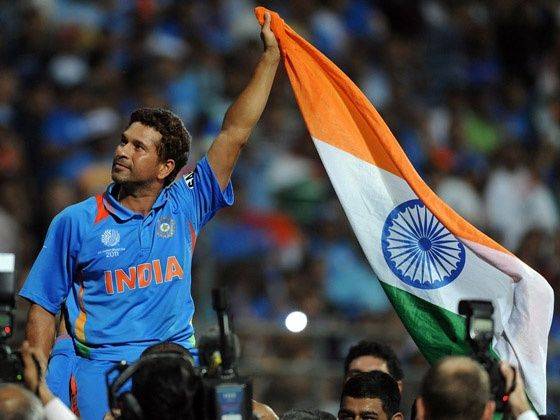 Watching the winning moments of the 2011 World Cup amongst a billion 'cricket crazy' Indians, one of the most moving moments for me was hearing Virat Kohli's opening statement at being asked how it felt carrying Sachin on their shoulders after India had won the World Cup final against Sri Lanka. He simply said, "Sachin has been carrying the burden of this country for the past 21 years, it's time we carry him on our shoulders." Not to mention Yuvraj Singh, Harbhajan Singh, Yusuf Pathan and all the other members of the Indian squad confessing their satisfaction at having done their bit for bringing home the World Cup for Sachin.

Winning the 2011 World Cup was not just a victory for the entire nation, but a 'wish granted' to a legend, who after toiling his way through six World Cups in his 21 year long career finally managed to achieve his dream at the eve of his retirement from international cricket.
Since, most of you Sachin fans may already be knowing about his Ferrari 360 Modena presented to him by 7 time Formula One Champion Michael Shumacher, and all his other fancy cars that include the stylish Mercedes E63 AMG and the plush BMW 7 Series, we decided to take Sachin's passion for cars to a slightly different level, and put together a list of super hot, mind bogglingly fast cars that Sachin wouldn't mind taking out for a long drive or a late night spin in Mumbai.
New BMW 650i Convertible


BMW 650i
This beautiful BMW convertible is back in all new avatar, sporting crispier lines and a far more stylish look that is powered by a 4.4 litre V8 petrol unit with TwinTurbo technology, and is capable of generating 407 horse power between 5500 to 6400 rpm and unleashing a maximum torque of 600Nm between 1750 to 4500 rpm. Shooting to 100km/h in just 5 seconds, this gorgeous open top beamer would be the ideal transporation for Sachin both in the city and out on the open road, where its streamline body allows it to cruise at a top speed of 250 km/h, which is by far more than enough for open road motoring.
Ferrari 458 Italia


Ferrari 458 Italia
Designed to fulfill the passion and zest of most sports car lovers on the face of this earth, the Ferrari 458 Italia is one of the finest pieces of engineering from the Italian stables. Delivering optimum race car performance with its mid engine mounted V8 muscle, this super sports car hits the 100 km/hr mark in just 3.4 seconds. Matted to a 7-speed F1 gearbox the 458 Italia can take Sachin to a top speed of 325 km/hr, something unheard of even in the elitist of sportscars of the current generation. Being a modern day sports car with superlative performance capabilities, the 458 Italia would be the perfect replacement for Sachin's 360 Modena, which he recently gave away.
Mercedes SLS AMG


Mercedes SLS AMG
Well what can I say about this three pointed Superstar, whose 6.2 liter V8 Muscle just awakens with an angry yelp. The quintessential hyper sportscar of the modern day, the SLS AMG is the finest example of what outstanding performance cars that look 'class apart' are all about, and knowing that Sachin did get his hands on this tar burning beauty on a recent visit to London, we cannot help but wonder how far Sachin would let that speedometer needle glide before breaking into a sweat of sorts.
The New Bentley Continental GT
Bentley Continental GT
The royalty of British automobiles goes back a long way, and lets just say in the case of luxury car maker Bentley, practice makes perfect. While, Bentley maybe amongst the few exclusive luxury car manufacturers operating here in India, its global reputation has far superseded the exorbitant price range of its cars, that include fine specimens like the Conitnental GT, the Flying Spur and the Arnage here in India One of the latest modern marvels to hit Indian shores from the Bentley stables in recent times is the all new Bentley Continental GT, which is powered by Bentley's acclaimed 6-litre, 12-cylinder, twin-turbocharged engine giving it an increased power and torque output as compared to the 2003 model. This is a car that is sure to catch Sachin's fancy and to make him feel at home, Bentley has plonked in a 30GB touch screen infotainment system that introduces advanced satellite navigation with dynamic route guidance, seven-digit postcode entry and Google Map compatibility.
Maserati Gran Turismo S

Maserati Gran TurismoS
I never knew cars could look this beautiful until I gazed upon the Maserati Gran Turismo. Now available in India, along with its two other siblings the Gran Cabrio and the Quattroporte, the Maserati Gran Turismo is the king of the pack. The sensual Pininfarina-designed GranTurismo coupe, is available in both 400PS 4.2-litre V8 and a 430-440PS 4.7-litre V8 options, and would make any cricketer of Sachin's caliber and high pedigree look like a million bucks.
Audi R8 Spyder
Audi R8 5.2 FSI Spyder
Personally, my favourite pick! It was a great hard top, and now it's a blissful looking convertible. The all new Audi A8 V10 Spyder is a heartbeat stopper that just begs to be accelerated with its massive 500 hp engine that takes its 1720 kg mass from 0-100 km/hr in just 4.1 seconds. Now I am sure that's something Sachin would love to put to the test.

Sachin's love for cars is timeless, as is the passion that drives us to work each day. Though these cars demand a price that is for many an earning of a lifetime, their presence and on-road capabilities are every bit as exciting as watching Sachin hit the cricket ball out of the park or score a double hundred for the very first time in one day international cricketing history. We wish him a very happy birthday and a great and even more successful career ahead.