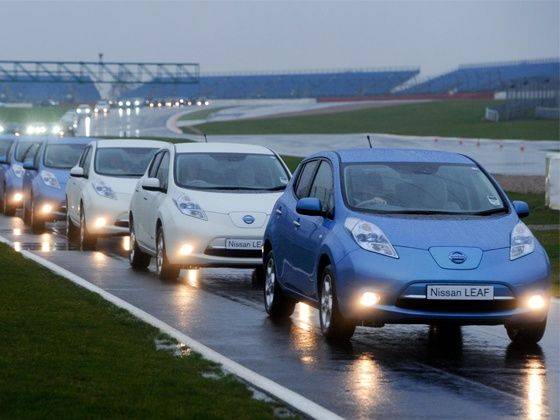 Earlier this year the Nissan's electric vehicle, the Leaf drove into the record books for clocking the quickest time of 1 minute and 37.02 seconds over a measured mile in reverse at the Goodwood Festival of Speed.
The Nissan Leaf has once again driven into the Guinness Book of World Records, this time for the 'largest parade of electric vehicles', after 225 Nissan Leaf cars from across the UK gathered at the Silverstone race circuit on November 24, 2012 to parade around the track.
Paul O'Neill, Nissan's product manager for the Leaf said, "It was great to see so many Leafs on the track at the same time. We are delighted to have broken the Guinness world record and want to thank all the owners who helped us achieve this. We couldn't have done it without them."
The event brought Leaf owners together to share their ownership experiences and to gather information about how they use their cars.
The Nissan Leaf is powered by lithium ion batteries that allow the car's electric motor to generate 108PS of power and 280Nm of torque. The five-door, five-seater hatchback has won several awards that include the 2011 European Car of the Year and the 2011 World Car of the Year.
Also read: Nissan Leaf: First Drive