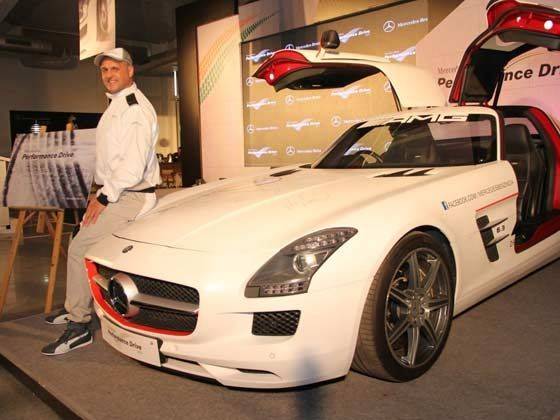 It's safe to say that Mercedes-Benz has over the years has taken a lot of effort to make its cars more reachable to Indian customers. Even if not in terms of a more favourable pricing strategy, it most certainly has encouraged newer and younger buyers to come forward and experience its products first hand.
The luxury car maker's Star Drive experience program in India is probably the most well known initiative on this front, but has in a sense left enthusiasts craving for something more engaging and comprehensive.
Addressing this need the Three Pointed Star has just come forward with its broader 'Mercedes-Benz Performance Drive' platform, which will now ensure that people with different expectations and skill levels can engage themselves with the brand in a more focused manner.
The Mercedes -Benz Performance Drive platform is built on six key pillars that address the need to nurture the country's younger motorsport talent and educate SUV buyers on correct off-roading techniques among other initiatives.
Special track events organized at the Buddh International Circuit (BIC) for corporates and international driving experience in some exotic locations are also part of this unique platform, details of which are available on www.mercedesbenzperformancedrive.in
Speaking at the launch of the new 'Mercedes-Benz Performance Drive' platform, Eberhard Kern, Managing Director & CEO, Mercedes-Benz India said, "Mercedes-Benz has been a performance brand and committed to performance driving since the beginning of motorsports. Being a performance brand our engagements are not limited to race drivers alone but encompass motoring enthusiasts as well.
In India, the 'Mercedes-Benz Performance Drive' will address people across interest levels and skill sets through multitude of engagement opportunities and further the spirit of motoring and performance driving. One may be an enthusiast desiring an adrenalin-fix or seeking to experience the best of modern automobile technology; one may be a high flying corporate with the attitude best defined by "Fast Life Fast Cars".
Mercedes-Benz Performance Drive programs:
1. Young Star Driver Program: To nurture and launch young stars in the Formula 1 and DTM racing circuit.
2. Star Off-Road Experience: Demonstrations at a specially created off road test-track
3. Track Day Experience: Drive a range of Mercedes-Benz models at the Buddh international Circuit
4. International Driving experiences: Enthusiasts from India get an opportunity to drive in exotic locations through this route.
5. AMG Driving Academy: Experience the thrill of driving AMG tuned Mercedes-Benz cars under professional supervision
6. Star Drive experience: Experience the capabilities of Mercedes-Benz cars through artifically created driving situations.