Maruti Suzuki Desert Storm Rally flags off its 14th edition from Noida
by

Saeed Akhtar

Apr 4, 2016
Views : 4090
---
With a record participation of over 200 motorsport enthusiasts, the 14th edition of the Maruti Suzuki Desert Edition flagged off on Sunday from Noida and heads to the deserts of Rajasthan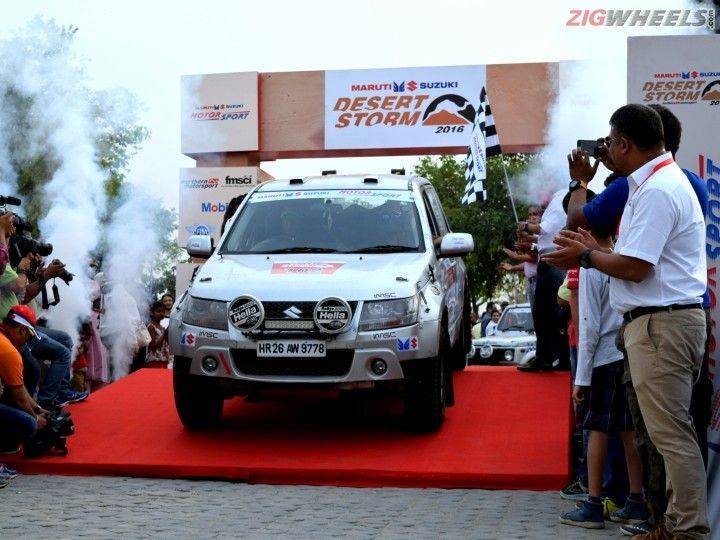 Rallying, one of the most wild and exciting forms of motorsport, is rapidly gaining its league of enthusiasts in India. This was evident at the 2016 edition of the Maruti Suzuki Desert Storm when over 200 motorsport fanatics turned up, the highest ever for the rally that is now in its 14th edition. Spanning four categories, the racers, from veterans to first-timers to international professionals, were flagged off with fanfare from the Great India Place Mall in Noida on Sunday afternoon, 3rd April.
From Noida, the rally will head for the sand dunes and rocky terrains of Hanumanagarh, Bikaner, Jaisalmer and Jaipur in Rajasthan. The last leg of the rally will conclude in the sandy expanse of Jodhpur on April 10th with a prize distribution ceremony. Throughout, the course of the rally the racers, hailing from various cities across India like Jaipur, Mumbai, Delhi, Gurgaon, Chandigarh and Bangalore, will cover a course of 2,000 kilometres in total.
The six-day rally is being held in four categories - XTreme, NDure, XPlore & Moto. With an aim to make the rallies even more exciting and fun, this year's event will follow flexi-route format in the Xplore category (Delhi to Jaisalmer (Xplore Dawn) and from Jaisalmer to Jodhpur (Xplore Dusk). Both these legs will run for 3 days and will run independent of each other. The objective of such a format is to provide short length rally exposure and encourage bigger participation.
A night leg of the rally covering 200 kms is planned for the second day in the Bikaner to Jaisalmer section to enhance excitement for the participants as well as the spectators and the media. Some of the most prominent participants this time round include Suresh Rana, Sandeep Sharma, C S Santosh and Karthick Maruthi. Bani Yadav and her navigator, Sukhbans Mann, past 3-time winners of Desert Storm, will be one of the 6 women teams participating in the rally this year.
Winner of Desert Storm 2010 and 2015, Aabhishek Mishra, from Jaipur will be seen driving the Maruti Suzuki Vitara and Karthick Maruthi will be driving the new Vitara Brezza. This marks the debut of Maruti Suzuki's Vitara Brezza in motorsport circles.
Speaking at the flag-off, Mr RS Kalsi Executive Director (M&S), Maruti Suzuki India said, "Maruti Suzuki Desert Storm rally is a true test of endurance, it pushes man and machine to extreme limits as they navigate across the barren arid and sandy dunes of Rajasthan. Introduced in 2002, the rally fulfils the objective of providing the thrill of off-road rallying to motorsport enthusiasts."
Below is the schedule for the 14th edition of Maruti Suzuki Desert Storm.
Date

Event

Highlight

2nd and3rd April 2016

Scrutiny

3rd April 2016

Ceremonial Flag off from Noida

Rally to travel from Noida to Hanumangarh

4th April 2016

Leg 1

Hanumangarh to Bikaner with two competitive sections enroute.

5th and 6th April 2016

Leg 2

Bikaner to Jaisalmer

Toughest day of the rally. 187 kms of competition distance.

7th April 2016

Leg 3

Rally starts in the wee morning hours at Jaisalmer.

Prize distribution for the Xplore Dawn category

8th April 2016

Leg 4

Two stages plus a night leg

Start of Xplore Dusk

9th April 2016

Leg 5

Rally travels to Jodhpur

10th April 2016

Prize Distribution