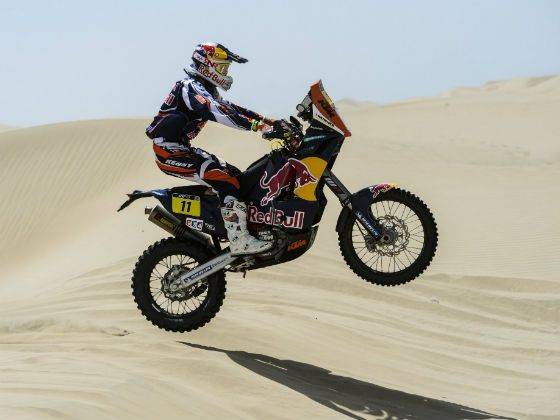 After the successful completion of the opening stage of Dakar 2013 which was largely a ceremonial and formal affair serious action kicked off in the second day of the rally. The second day's timed special stage was a difficult one for riders as they had to tackle the tricky dunes on Peru's desert coast around Pisco. Participants rode 85km out of Pisco on the liaison stretch before doubling back over 242km totally.
KTM riders Ruben Faria and Joan Pedrero completed the stage in 2nd and 3rd positions respectively. The KTM riders are astride the KTM 450 rally bike. Red Bull KTM title defender Cyril Despres was 5th overall.
Faria said, "This is Peru and I like it. I started seventh this morning but at KM 40 I had some problems finding a waypoint and I set off with Frans Verhoeven, who I then overtook. I then caught up with Cyril (Despres) and we tackled the last big dunes together."
Pedrero said that it had been a tough and gruelling stage after starting in 43rd place. "I had to overtake a lot of people and stay focused but I found the motivation to do it."
Despres opted for a detour around a formidable dune which cost him time and he trails the overall leader by eight minutes. Stage one winner Chaleco Lopez (KTM) of Chile did the same and is in 20th position.
Alex Doringer, KTM Factory team manager commented, "It was a very strong result today for our two support riders Ruben Faria and Joan Pedrero and we were also very happy with Caselli.. Cyril is not only a great rider but also a great tactician and there are many kilometres ahead of us in this year's edition."
On day three the stages get more difficult from Pisco to Nazca, which is home to the UN heritage site of the Nazca Lines in the Peruvian Desert. The total distance of the stage is 343km of which 100km is liaison and 243km is a timed special.