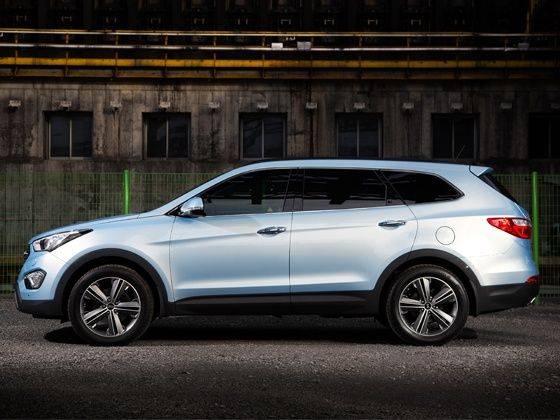 Hyundai plans to showcase its new flagship SUV, the Grand Santa Fe at the upcoming 2013 Geneva Motor Show. The Grand Santa Fe is essentially a long wheelbase version of the Santa Fe that will hit European markets soon based on demand from customers in the region.
The Korean car maker first showcased the Grand Santa Fe at the 2012 New York Auto Show, Hyundai has now tuned the drive dynamics for a more damped and responsive drive to suit the demands of European buyers.
The Grand Santa Fe is taller by 10mm, wider by 5mm, longer by 225mm and the wheelbase has been stretched by 100mm over the standard Santa Fe while also offering 607 litres of boot space for enhanced passenger comfort as well as more spacious interiors. The Grand Santa Fe will be made available in Europe in a six seater version as well as a seven seater version.
The Hyundai Grand Santa Fe has been differentiated from the current generation Santa Fe in Europe by its re-styled front grille, front bumper, fog lamps and a larger re-styled rear quarter window. New 18 inch alloys will be on offer with the option of 19 inch wheels.
Hyundai's Grand Santa Fe will be powered by the company's Euro 5 compliant 2.2 litre four cylinder common rail diesel engine developing 197PS of power. The engine is mated to a six-speed automatic transmission.
To add to the vehicle's premium appeal Hyundai has equipped the Grand Santa Fe with a 4,3-inch TFT supervision cluster, a vehicle-length panoramic sunroof with no centre beam and the company's triple mode Flex Steer system with Comfort, Normal and Sport settings.
Allan Rushforth, Senior Vice President and COO at Hyundai Motor Europe, commented, "The addition of Grand Santa Fe to the Hyundai portfolio will help meet the rising demand for E-segment SUV models in Europe. Grand Santa Fe upholds the company's tradition of offering high levels of quality and standard specification, without the premium price. A powerful-yet-efficient engine, European-tuned chassis and the ability to accommodate people and luggage makes Grand Santa Fe the ideal choice for large families."
The Hyundai Grand Santa Fe indeed makes tremendous sense for the Indian market as well with its large cabin and seven seat option this SUV could be a success here too.
Also read: Hyundai HCD-14 Genesis concept makes world debut