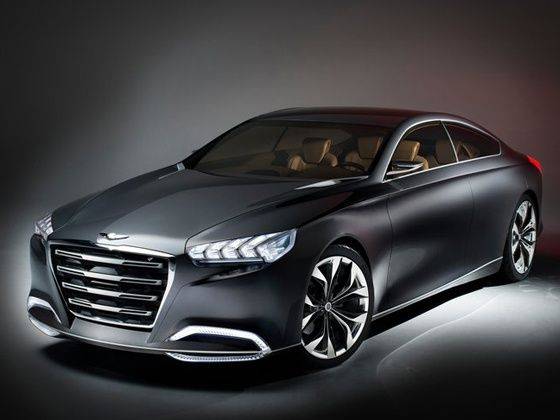 The world debut of the HCD-14 Genesis has given Hyundai a whole new niche. Hyundai does have luxury offerings in its line-up and while the HCD-14 Genesis is a luxury product, it also features a 5.0-litre direct injection V8 petrol engine and has been designed with driver focus in mind.
Hyundai asserts that the HCD-14 Genesis is a luxury performance car with technology to ensure a lively experience behind the wheel.
"We instilled HCD-14 Genesis with a premium-sport 4-door coupe road presence," said Christopher Chapman, chief designer, Hyundai Design North America. "Its sleek and lightweight silhouette does not punish the wind, but uses fluidic precision with dramatic surfacing that conveys natural restraint. Inside, a driver-centric cockpit prioritises dramatic sculpture over infotainment button overload. Laminated and milled-wood detailing delivers a fresh, topographical map-like visual interest throughout the cabin-length centre console."
With its fluidic design, short overhangs, large diameter wheels and sharply tapered greenhouse, the Hyundai HCD-14 Genesis' performance oriented intentions are clear. Its rear hinged rear doors that open backwards allow more comfortable ingress and egress to enhance the luxury aspect of the vehicle.
Inside the cabin, there are four well padded bucket seats with a centre console separating the two sides of the performance luxury sedan. The driver focused dashboard has an asymmetrical layout that separates driving functions from passenger comfort functions.
Hyundai has gone to great lengths to make the driving experience of the HCD-14 Genesis uninterrupted by anything but the job of driving. A clever state-of-the-art driver eye-tracking and 3-D hand gesture recognition system is used to control vehicle features such as navigation, infotainment, audio, HVAC, and even smartphone connectivity functions, once a specific feature is selected via eye-tracking on a head-up display, thumb controls or gesture recognition can be used to select various settings and functions. As a result the driver never has to take his eyes off the road and his hands off the wheel.
With driver distraction out of the way, Hyundai has used high tensile steel in the construction of the chassis of the HCD-14 Genesis concept which coupled with the vehicle's rear-wheel drive architecture has been designed to inspire driver confidence. The five-link front and rear suspension reduces suspension travel changes to camber and toe for consistent grip out of bends.
Hyundai has also given the concept car a multi-mode power steering for enhancing road feel and feedback for enhancing driver confidence. The multi-mode steering combined with the low profile tyres have been designed for accurate turn-in response, mid-corner grip, and road feel. The HCD-14 Genesis concept also features a sophisticated yaw control system for multiple driving modes depending on driver preference and road conditions.
Even the exhaust system is ceramic-lined and is tuned for minimal backpressure, maximum revvs, and a deep baritone note, with cooling fins integrated into ultra-wide exhaust tips for dealing with the engines high power output.
It's a good thing that Hyundai has loaded the HCD-14 Genesis concept with all the sophisticated gadgetry and a performance oriented set-up as firepower comes from Hyundai's 5.0-litre Tao® V8 that features direct injection, variable valve control to deliver optimal performance and efficiency. The engine is mated to an eight-speed automatic gearbox with paddle shifters behind the wheel for manual over-ride.
Hyundai's mass market product portfolio has done very well in both emerging and developing markets due to their quality, equipment and value for money vehicles. Their ranges of luxury vehicles have been posting significant growth rates, especially in the USA. Now with the HCD-14 Genesis concept, Hyundai is looking to enter the niche performance luxury segment which is dominated by some rather established makes.
The Hyundai HCD-14 Genesis concept's powerful engine, performance oriented suspension and steering settings along with clever driver oriented technology aims it squarely at a new era of tech savvy performance luxury cars.