The Harley-Davidson Electric Scooter Draws Closer To Production
by Gaurav
Jan 17, 2020
Views : 8294
---
Features a number of design and mechanical changes to make it road legal
The electric scooter is part of the brand's More Roads to Harley-Davidson vision.
It gets a removable battery and a belt-driven powertrain.
Harley may tap into the e-scooter rental business in the near future.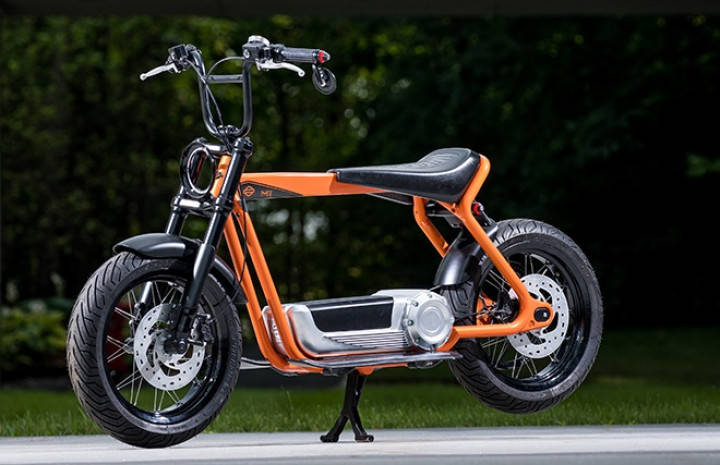 Remember the rad-looking electric scooter concept Harley-Davidson teased early last year? It's back, and a lot closer to its production form. Yes, the trail did go cold for a while but recent patent images showcase a number of changes the scooter has been through to make it road legal, from a new frame and licence plate holders to a new battery and redesigned motor housing.

To start things off, the upcoming electric scooter looks a lot cleaner in design than before. At first glance, you'll notice the frame which has been altered from its original squarish design to a tubular one and now painted bright orange. The front USD fork now features fork covers, presumably to stay clear of dust and grime. Its spoked wheels and disc brakes have been redesigned as well.
Also Read: Most Affordable Harley-Davidson Set To Hit Production Line Soon!

The most prominent difference can be seen in the battery pack and powertrain design. Gone is the boring box-type design. Instead, Harley has come up with a sleek design where the motor seems to share a metal housing with the battery, possibly made from cast aluminium. The small battery pack also features a handle on top, hinting as its portability aspect. There's also a small button placed on the right-hand-side of the housing which may be used to eject the contraption. A nifty solution for customers who'd like to charge the pack at home or at work. And in typical Harley fashion, the motor drives the rear wheel via a belt drive.
Also Read: V-twin Power Meets Terrain-taming Dynamics: Harley's ADV Is Here!

Other notable updates can be seen in the form of front and rear fenders, an arched production-ready seat and a different handlebar. Another notable change is the floorboard design which appears to be more in tune with the overall design. The Halo headlight, on the other hand, remains intact. Though the actual image has them all, the drawings seem to be missing components like brakes, throttle, and mirrors.
This electric scooter is part of the 'More Roads to Harley-Davidson' vision. It essentially outlines the company's plan to branch out into new segments. As mentioned earlier, Harley-Davidson intends to attract a young target audience that's new to riding and curious about the brand. The platform will also help the manufacturer tap into the e-scooter rental business in the near future.
'IF' Harley manages to price the e-scooter right, it'll spark interest in the next generation of riders who will eventually climb up the ladder to bigger, more powerful bikes. Expect the electric scooter to be launched between 2021-2022.
Image Courtesy: Motorcycle.com
Add Your Comments