The Ford Bronco Is Set To Make A Comeback Real Soon!
---
The iconic nameplate, which is making a comeback after more than two decades, will be offered in various body styles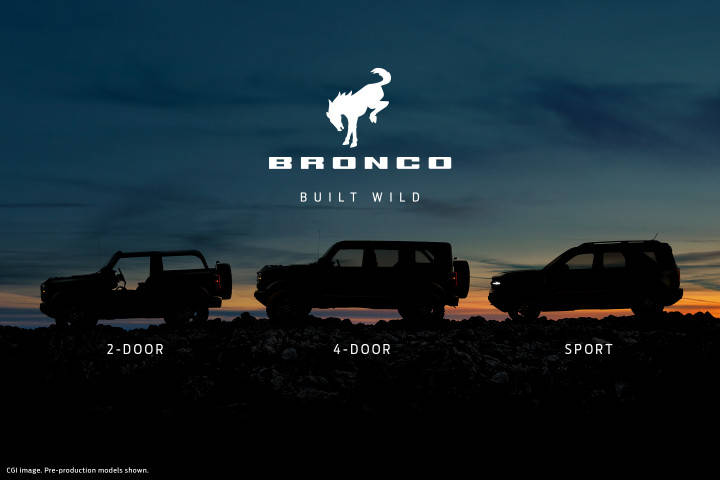 The first Ford Bronco debuted in 1966.
New Ford Bronco will be offered in three body styles.
All three versions will have distinct styling to help them stand out.
Expect it to be a proper off-roader just like its predecessor.
Likely to be offered with Ford's EcoBoost engine options.
The Ford Bronco is as iconic a nameplate as the Ford Mustang, and it is set to make a comeback real soon. To know more about its roots, head here. Multiple renders from digital artists all over the world have kept us guessing on what the final production version of the all-new Bronco would look like. Fortunately, we won't have to keep guessing for a lot longer as Ford has announced that the new Bronco will make its global premiere on July 13. Ford has even teased the new SUV, or rather SUVs as the new Bronco will be available in three unique body styles. That's right! The teaser contains silhouettes of three versions: the Bronco 2-door, Bronco 4-door and the Bronco Sport.

All three Broncos get their own identity thanks to their distinct body styles. But Ford has maintained the Bronco's old-school charm by giving the new SUVs an upright body and classic design elements. All three will feature the illuminated Bronco grille flanked by round LED headlamps with snazzy DRLs. We also like the fact that the Bronco 2-door and 4-door get a tailgate-mounted spare wheel like SUVs from the past. Images of all three variants have already been leaked on the web and you can have a look at them here.
Naturally, the new Bronco takes roots from its predecessor which was known for its off-road capability. An official teaser shows the new Bronco being thrown around in the wilderness. We expect it to have the same tough-as-nails feel as its rival, the Jeep Wrangler.
Ford is yet to reveal the interior of the new Bronco. That said, expect it to come loaded with the same set of technology and features found in the 2021 Ford F-150. One can expect Ford's latest Sync 4 infotainment system, connected car suite, a premium sound system and a host of driver-assists as well.

In terms of engine options, the Bronco 2-door and 4-door could be offered with a 270PS 2.3-litre turbo-petrol engine from the Ranger. The smaller Bronco Sport, on the other hand, could be offered with a 150PS 1.5-litre EcoBoost engine or a more powerful 2.0-litre EcoBoost engine options. All three variants are likely to be limited to Ford's 10-speed automatic transmission.
So will the Bronco come to India? There's no word on it yet. But it could be offered as a halo product just like the Ford Mustang. If launched, it could take on the Jeep Wrangler and the Land Rover Defender.
Add Your Comments