Take two for an F1 season that is far from run of the mill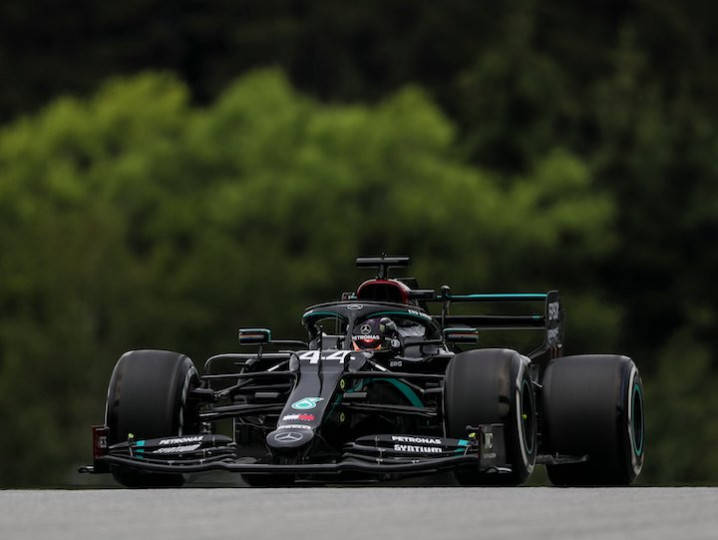 Treading on eggshells would be an appropriate way to describe the world's approach to do anything other than stay at home and make the odd short trip out of the house to get supplies. F1 is no different as it attempts to start the 2020 season today despite a global pandemic that shows no signs of slowing down yet.
A window of opportunity has been found to hold eight races in Europe, albeit behind closed doors with no fans, far fewer personnel and only select media present. Eight races will make the season official even if it is not possible to hold any more events.
The much anticipated overhaul of F1's technical regulations have been postponed to 2022 to ease the pain of lost revenue due to global lockdowns. A further cost saving measure is to freeze car development in 2021 while introducing a 145 million dollar budget cap. So the pressure is on the teams to get it right for 2020.
F1 even found time to stir up a couple of storms with Ferrari showing Sebastian Vettel the door and a game of musical chairs ensuing between Renault, McLaren and Ferrari. Speculation on where Vettel may end up next year, or even retire got everyone talking as did a potential return by Fernando Alonso. All those are what-if scenarios, though. What's important is that ten teams and twenty drivers are finally ready to get the 2020 F1 season underway.
And as an added bonus, we got famed racing driver coach Rob Wilson to give his take on each driver on the grid. Wilson has worked with pretty much every driver on the grid at some time or another in his career.

So here you are, your primer for the F1 season before qualifying on July 4.
Mercedes

The six-time defending champions were fast in pre-season testing, but some reliability concerns with the engine made people wonder if there was a window of opportunity for their rivals. News of the champs bringing updates won't be encouraging for the rest of the teams. One update, on the other hand, has been positively received. The change in Mercedes's livery to support the fight to end racism has the grid united.
Rob Wilson rates:

Lewis Hamilton - Unquestionably the fastest driver of the recent past. Restless, he needs constant activity and has complained of feeling groggy during the lockdown. He will be on full alert this weekend! His rock star status allows him to be a major campaigner for Black Lives Matter. It will be interesting to see if he can persuade the other drivers to "take the knee".
Valtteri Bottas - Massively determined to match and beat Hamilton, which he has achieved on a number of occasions. Must keep it up for the full season if he is to retain a top line drive. I have worked with Bottas quite a bit and know how fast he can be. This season is make or break.
Ferrari

The oldest and most successful team on the F1 grid has gone from talking itself up at the start of every season to being brutally realistic. They have readily admitted that the car they were going to start the season with in March is not fast enough to compete with Mercedes. Even worse for their loyal fans, they won't introduce any updates until the third round in Hungary on July 19. Jettisoning - for lack of a better word - Sebastian Vettel is sure to create an interesting dynamic between their drivers.
Rob Wilson rates:

Charles Leclerc - Instigated a whirlwind through Ferrari to the point that full support from Maranello for his World Championship hopes has been granted. Charming but ruthless, he has the speed but Ferrari must provide a constantly competitive steed.
Sebastian Vettel - Undermined by Leclerc in 2019 (as he was by Ricciardo at Red Bull), Vettel is a first class driver. One doesn't win four word titles on the trot by accident - but he must watch the knee jerk reaction he sometimes demonstrates when irked by a fellow competitor. We will be watching to see how he responds to his "demotion " by Ferrari and hoping for the top class response he is so capable of.
Red Bull Racing-Honda

The fears of Red Bull Racing inheriting the same reliability issues that McLaren did with its partnership with Honda were emphatically laid to rest last year. Max Verstappen's three wins were won on merit, particularly in Brazil, and pre-season testing revealed a car that is quick over a single lap and over a race distance too.
Rob Wilson rates:

Max Verstappen - Possibly Hamilton's biggest threat as a driver in terms of speed. A lot will depend on how competitive his car is. The chassis should do the job. Has Honda continued to improve? Probably, so we should be in for a good scrap.
Alexander Albon - A talented performer who has impressed Red Bull with his ability. He will need to seriously challenge team mate Verstappen or beat him, as happened with Ricciardo. This will be a very tough job.
McLaren-Renault

A solid fourth place finish in the 2019 constructors' championship gave McLaren Formula 1's unofficial 'best of the rest' title. Due to money talking the most in F1, no team can yet challenge Mercedes, Ferrari or Red Bull for a top three spot. This may just change from 2022 onwards, but for now McLaren will need to pull out all the stops to prevent Racing Point and Renault from stealing that 'best of the rest' crown.
Rob Wilson rates:

Carlos Sainz Jr. - Has matured into a rock solid performer and would be an asset to any team - Ferrari obviously agree! Very much a lover of the traditional geometric racing lines (think Mika Hakkinen and Gerhard Berger), he has maximised what he has been given to drive. Next season at Ferrari will be his ultimate test.
Lando Norris - An encouraging first season in 2019. Out performed by the more experienced Sainz but capable of excellent lap times, especially during qualifying. Needs to turn that speed into hard results, particularly with Ricciardo showing up as his team mate next year.
Renault

The French works team must be feeling under siege. Their tough talk on the performance of their engine has not correlated with mediocre results on the track. They backed themselves for fourth place in last year's constructors' championship but were beaten to it by McLaren. To add insult to injury, McLaren were using the same engine but were clearly ahead in the chassis and the driver department. A returning and hungry Esteban Ocon will pair with Daniel Ricciardo, but McLaren have successfully poached the Aussie for 2021. When will Renault catch a break?
Rob Wilson rates:

Daniel Ricciardo - Has found the Renault tough, but he is a true racer of exceptional ability. Had hoped for the Ferrari drive in 2021, but ended up at McLaren. You always shoot for the stars. If you land on the moon, well that's not too bad.
Esteban Ocon - Gave Perez as good as he got when they were teammates, at least in terms of speed and aggression. He will find Ricciardo a tough nut to crack, though. Hugely talented with charm to go with it. Having worked with all three of these drivers, Esteban is the least experienced but deserves his place amongst them.
Alpha Tauri-Honda

It will take some time to get used to this new identity for what used to be Scuderia Toro Rosso. Rebranded in order to promote Red Bull's fashion brand, it is Red Bull Racing's junior team. Drivers want to get there to prove themselves for a Red Bull drive and do not want to get 'demoted' back to it if they don't live up to expectations. That is the situation that both Pierre Gasly and Daniil Kvyat find themselves in, however. And yet, both produced some great drives last year.
Rob Wison rates:

Pierre Gasly - Has been shunted up and down the Red Bull ladder. Another Max Verstappen team mate victim. Hopefully a good, mature 2020 will keep him in the good books of Red Bull Racing's senior management.
Daniil Kvyat - The very likeable Russian has taken some hard knocks on the chin and rebounded with aplomb. Fast and likes to strike while the iron is hot when in traffic. Kvyat deserves a secure future in Formula 1.
Racing Point-BWT Mercedes

This team has been through many name changes but have consistently been one of the best midfield teams since 2017. Their new car has been dubbed the 'Pink Mercedes.' And the reasons are clear as it bears a lot of resemblance to the 2019 title winning Mercedes car. With a development freeze set to come into place for 2021, Racing Point could end up with that 'best of the rest' title for two consecutive years.
Rob Wilson rates:

Sergio Perez - A truly hardened performer who has been responsible for some serious results. The Racing Point appears to have made a real step forward. Enough to allow Perez to challenge at the sharp end? He has been very good at conserving his tyres so the results should continue.
Lance Stroll - I think Lance should be in for his best season. He is maturing nicely and in the work we have done is showing more speed than ever. Having a hard edged team mate like Perez will test him thoroughly. I think he is up to it.
Alfa Romeo Racing-Ferrari

Formerly Alfa Romeo Sauber F1, but now fully incorporated into Ferrari's F1 program. Alfa Romeo is to Ferrari what Alpha Tauri is to Red Bull Racing. The final finishing school where the crop from the Ferrari Driver Academy are groomed for a potential step up to the team in scarlet. Charles Leclerc's promotion to Ferrari in just his second F1 season was proof of Ferrari's new approach.
Rob Wilson rates:

Kimi Raikkonen - Probably F1's most popular driver, and a former world champion to boot. F1's second most experienced driver ever, his fire has not dimmed although the Alfa Romeo is not the most competitive package. With Kimi on the starting grid, there is always a chance of a good result.
Antonio Giovinazzi - After a shaky start to his F1 career, Antonio has looked much better of late. He has been getting the better of Raikkonen in qualifying often. With the Ferrari Driver Academy packed with coming talent he will, like all drivers be under pressure to perform. His place in the top category has looked more assured recently.
Haas-Ferrari

The only American team on the grid has looked a shadow of its 2018 self, when it finished fifth in the constructors' championship in only its third year in F1. However, of late, the team has become more famous for its sweary team principal thanks to Netflix rather than solid midfield results. Haas F1 appears to be biding its time and trying to stay afloat until the 2022 regulations come into force.
Rob Wilson rates:

Kevin Magnussen - The absolute determination and self belief of this driver is a wonder to behold. A true racer in the traditional sense, he would have been a popular and successful driver during the 1970s as he is in the 2020s.
Romain Grosjean - Something of an enigma. Brilliantly quick on occasion but also prone to silly lock ups and moments that have cost him results. Needs a mature, mistake-free season to earn the points his natural talent deserves.
Williams-Mercedes

It's hard to think of anything to say about Williams except that they are unlikely to have as bad a season as they did in 2019. A lucky 10th place finish for Robert Kubica in Germany saved the third most successful F1 team of all time from finishing with zero points. Now they have lost their title sponsor and are being forced to put the team up for sale. But unlike last season, they actually made it to pre-season testing on time and had much fewer reliability issues.
Rob Wilson Rates:

George Russell - Similar in style and talent to Ocon, Russell dominated within Williams last season and has a terrific future ahead of him. Whether that comes with a Williams revival is a big question. Very aware of how to handle himself in public, Russell is a positive force both in and out of the car.

Nicholas Lafiti - The Canadian newcomer has it all to prove this season. After a steady rise through F2 he joins an under-performing Williams with George Russell as an established and popular team leader. It will be tough for him, but with enough self belief, it could be the making of him.
Add Your Comments