This Dodge SUV Makes A Bonkers 710PS And Does 0-100 kmph in 3.5s!
---
Claimed to be the most powerful SUV ever, the 710PS muscle SUV is the third Dodge alongside the Charger and the Challenger to get the demonic Hellcat treatment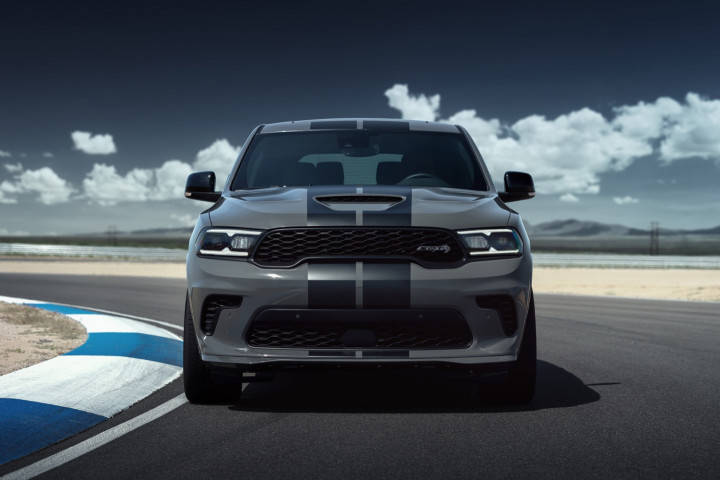 The Durango SRT Hellcat goes from 0-96 kmph in just 3.5s.

It is powered by a supercharged 6.2-litre HEMI Hellcat V8 engine paired to an 8-speed automatic transmission.

The Hellcat SUV will only be available for a year.

Fiat Chrysler Automobiles (FCA) owns Dodge.
Hell, when imagined, can be pictured with flames and demons. But what about a cat from hell that can seat your entire family while you rip across the seats in your 710PS beast? The 2021 Dodge Durango SRT Hellcat will ensure you have the time of your life while your family's cheeks flap with the G-force.

The 2021 Durango gets an aggressive cosmetic update. One quick look at the forward-leaning profile, and some resemblance to the Charger Widebody is visible. The new fascia, revised grille, rear spoiler, dual exhaust system, and LED DRLs are reminiscent of the Widebody design.
With a beast of an engine, this Hellcat SUV gets a performance-based interior setup. Feature highlights include a new driver-oriented cockpit which gets a revised instrument panel, new door panels, and a centre console. Another highlight is the 10.1-inch touchscreen infotainment unit running FCA's latest UConnect 5 system.

The Durango SRT gets a supercharged 6.2-litre HEMI Hellcat V8 which puts out 710PS and 875Nm. Drive to all four wheels is provided by an 8-speed automatic transmission. The third addition to the Hellcat lineup, the three-row muscle SUV will be part of the Hellcat lineup alongside the Charger and the Challenger.

As amazing as this news is, the Durango will only be available in Hellcat form for the 2021 year model. Dodge claims it is the most powerful SUV ever. Another claim is that no other three-row car can tow more or carry more with a faster quarter-mile time than the Durango SRT Hellcat. A notable point is that these claims are backed by the figures and will mostly go undisputed. Sadly, Dodge doesn't sell its cars in India and we would never be able to get the Durango or its muscle car siblings officially here. The only muscle car that is on sale in India is the Ford Mustang.
Add Your Comments