Ethanol Or Electric: The Alternative Fuel Source For India?
Jul 16, 2019
Views : 5054
---
Is biofuel going to be helpful in long-term sustenance of the internal combustion engine or are electric motors going to be your next driving force?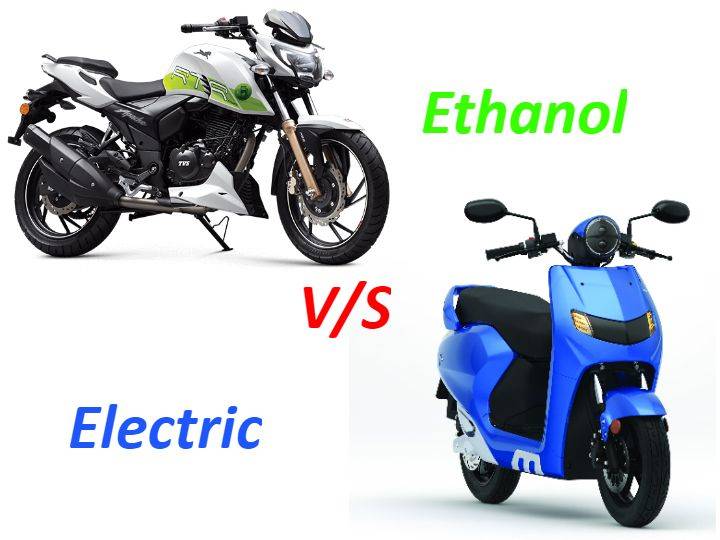 Scores of reports on global warming and visible changes on the surface of the Earth have made the masses realise that there is just about enough time to save the planet. Limited reserves of fossil fuels and a rise in carbon footprint has made us realise the need to find alternative sources of energy. While electricity seems to be taking the lead as far as propelling our vehicles are concerned, manufacturers like TVS believe that ethanol could also be an alternative fuel source to gasoline. The Hosur-based manufacturer even launched India's first ethanol-powered motorcycle, the Apache RTR 200 4V E100, recently. This begs the question: Which is the way forward for India - Ethanol or Electricity?
Ethanol might be a fairly new concept in India, but it has been propelling automobiles for nearly a decade now, with countries like Brazil, the US and several other European nations have adopting this cleaner biofuel to power their cars and motorcycles. However, petrol-powered internal combustion engines require a few modifications to run on ethanol.

The advantage of using ethanol over gasoline is that there is absolutely no particulate matter that is released into the atmosphere. The only gases that are emitted are carbon dioxide, carbon monoxide, water (yes H2O) and formaldehydes. In the US, the exhaust gases are oxygenated on their way out to reduce carbon monoxide emissions. However, studies carried out in Brazil as well as in the US have found that while it is cleaner than gasoline, ethanol is not really helping the atmosphere. According to a study conducted by scientists from Stanford University, there is a 9 per cent increase in risk of deaths related to air pollution when compared to gasoline. Significant increase of harmful ozone levels too causes adverse atmospheric changes, increasing the chances of asthma.
Then there is the problem of availability. Since ethanol is an end product of a fermentation process of sugar, there is lots of scope for the production of biofuels in India. In fact, India was the seventh largest producer of ethanol in 2009. Although the exact usage of ethanol in India could primarily be for alcohol (i.e. alcoholic beverages), producing ethanol as a source of fuel is virtually non-existent.

This makes electric propulsion seem like the logical choice. Not only are there are no emissions involved with electric vehicles, As each day passes, the technology for charging electric vehicles seem to be getting quicker too. Range anxiety solutions are being cleverly dealt with by companies like 22Kymco and Revolt Motors, which brought swappable battery technology to the country. Further, the taxation on electric vehicles has reduced significantly with the government's FAME-II scheme providing manufacturers subsidies for future-ready products.
Not to be a cynic, there are challenges with regards to electric mobility too. With electric vehicles set to become more popular in the coming years, the reliance on power grids will eventually increase. This poses yet another challenge as most of the power produced in the country come from coal power plants that are major sources of atmospheric pollution. Could an alternative solution be found for generation of electricity that would not only increase our outputs but also lower our reliance on conventional energy sources?

A more pressing matter would be getting the battery infrastructure in place. Most electric vehicles sold in the country are powered by lithium-ion batteries. And since India doesn't have vast quantities of lithium, manufacturing these batteries here to reduce costs and increase the adoption rate would require us to rely on countries like China. This could lead to a significant dent in our forex reserves. There's also the matter of finding an efficient way of disposing these batteries without polluting the environment.
With several countries aiming to end the use of internal combustion engines for automobiles from 2030, electric vehicles are definitely the way forward. This means Indian manufacturers need to get on board with electrification as quickly as possible as stop-gap solutions like ethanol are not economically or environmentally viable. But with electrification set to become the fuel source of the future, larger issues take precedence than just the actual product.
TVS Apache RTR 200 Fi E100 Video Review
TVS Apache RTR 200 Fi E100 Alternatives