Enzo Ferrari: The Man Behind The Machines
Feb 19, 2019
Views : 4025
---
On the 121st birth anniversary of one of, if not the most, iconic names in the history of cars and racing - we take a look at the man who was Enzo Ferrari.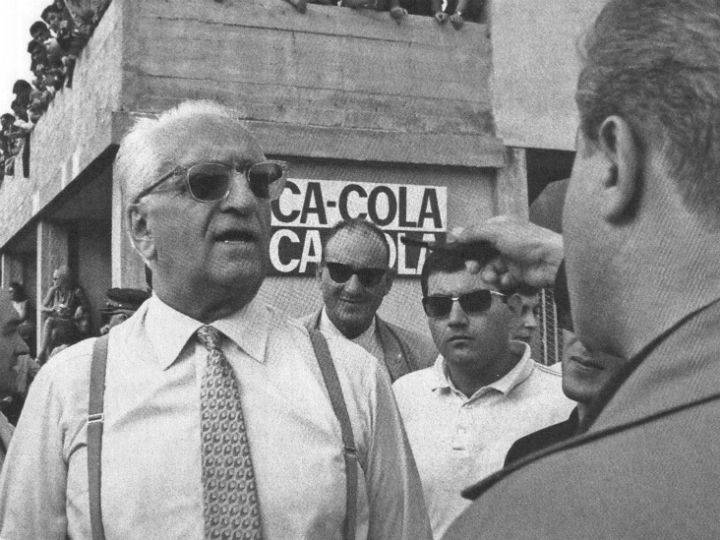 When was Enzo Ferrari born?

Official records show he was born on 20 February 1898, though he was actually born on 18 February 1898. His father, Alfredo Ferrari, had to wait two days to report the birth of his second son to the authorities as his home in Modena was blocked in due to a snowstorm.

He had a brother?

Alfredo Ferrari Junior. Also affectionately known as 'Dino' by his family.

What did Enzo Ferrari dream of?


In the years leading up to the War (the first one), he had toyed with the idea of becoming an opera singer, a sportswriter and also a racing driver.

What did he do then?

Before becoming the founder of one of the most iconic car manufacturers of our times? At the age of 10, he dreamt of becoming a racing driver after watching racer Felice Nazzaro win the treacherous 528km-long 1908 Circuito di Bologna race.

Got enlisted during World War I in the Italian Army. Lost his father and brother to a flu outbreak in the country in 1916. Nearly lost his life in another flu pandemic in 1918, was discharged from the Army. His family's business was in tatters and a 21-year-old Enzo set out to look for a job in Italy's thriving car industry.

Applied to car manufacturers, including Fiat, to become a car driver/tester/racer/anything. CMW, a relatively small but talent-filled car company in Milan offered him a job as a test driver at first and a full-time racecar driver later.


Alfa Romeo took him in as a racecar driver in 1920, and he finally achieved a victory at the 1924 Coppa Acerbo. Enzo was a good driver but he did not want to continue racing. The death of the famous Antonio Ascari made him fearful of the sport. He married Laura Dominica Garello in 1923 and the birth of his son Alfredo (named in remembrance of Enzo's late brother, also fondly called Dino) in 1932 finally made him quit driving racecars altogether.

Enzo was put in charge of Alfa Romeo racing division, developing the cars and managing the drivers.

He learnt the ropes and began Scuderia Ferrari on his own then?

No. Scuderia Ferrari was a racing team run by Enzo Ferrari using Alfa Romeo machinery. It had the best drivers and great cars - a combination which made Enzo famous.

The now-famous prancing horse began appearing on the Scuderia Ferrari cars around the 1930s, it was the family crest of Francesco Baracca, an Italian fighter pilot who was shot down in 1918.

How did the real Scuderia Ferrari come about, then?


Ferrari was a taskmaster, manipulator and very, very stubborn. Alfa Romeo decided to shut down Enzo's team and asked him to handle their factory racing team called Alfa Corse. There were disagreements on how the team was to be handled and Enzo left the company in 1939.

Technically, according to the clause he signed while leaving Alfa Romeo, he could not design or manufacture cars till 1943 - but that didn't stop him from setting up his own company and develop racecars for the 1940 Mille Miglia. The Auto-Avio Costruzioni lasted just over a year when the dictator Benito Mussolini forced him to use his factory for Italy's war effort during World War II. His factory in Modena was bombed by Allied forces and he moved to Maranello.

So he had finally achieved his dream

Yes, and no. He set up Ferrari S.p.A. in 1947 but he dreamt of making the best racing machines possible - a lifelong mission.

Grudge matches and intense rivalries were part and parcel of Enzo's life. The first few years after setting up his own manufacturing setup and a racing team were spent in an effort to beat Alfa Romeo.


The Ferrari 166 Inter began the company's road car business, which would fuel Enzo's desire interest in dominating racing series around the world. That is not to say he did not take interest in the company's road cars, he was as meticulous, as demanding and as proud of them as his racing machines.

His management style would force some of his best staff to walk out of the company in what is called 'The Great Walkout' of 1962. His handling of customers took a particularly nasty turn when one of them went to setup Lamborghini. His tie-up with Ford ended at the 11th hour when he realised he was not going to be heading the company's racing division after the takeover. Not only did the move put Ferrari in a tight spot regarding finances, but it also led to one of the most public feuds in racing history as Ford went all in on the GT40 program to end Ferrari's domination at Le Mans.

The Great Old Man had a good life then


Yes, he did live on his own terms. Sometimes it may have hurt him, like the moments when he refused to work on a car's aerodynamics because he believed that great engines were enough to win races and it was up to the driver to exploit the limits. The Ferrari F1 team was one of the last ones to adopt turbocharged engines, which hurt their chances a lot. With Fiat's takeover of the company in 1971, Enzo's role in the company slowly decreased.

Personal tragedies continued to haunt his life, Alfredo 'Dino' Ferrari was set to replace Enzo in the company but fell ill and succumbed to Duchenne muscular dystrophy in 1956. He was only 24 years old. Laura passed away in 1978 but he had his mistress Lina Lardi and second son Piero Ferrari for company. Ferrari continued working till the end, which came on 14 August 1988 - he was 90 years old.
Add Your Comments