So Vehicles Can Communicate With Each Other Now? Ducati, Audi And Ford Think So
by Gaurav
Jan 10, 2019
Views : 530
---
First, we got self-driving cars. Now we have cars and bikes talking to each other! Is this how Skynet takes over the human race?
Ducati, Audi, Ford and Qualcomm Technologies Inc. come together at CES 2019 to showcase car-to-bike safety tech.
Essentially, ConVeX (Connected Vehicle to Everything) enables vehicles (cars and bikes) to talk to each other, road infrastructure and pedestrians.
ConVeX doesn't need a cellular network to function.
Ducati intends to incorporate this tech into its adaptive cruise control system.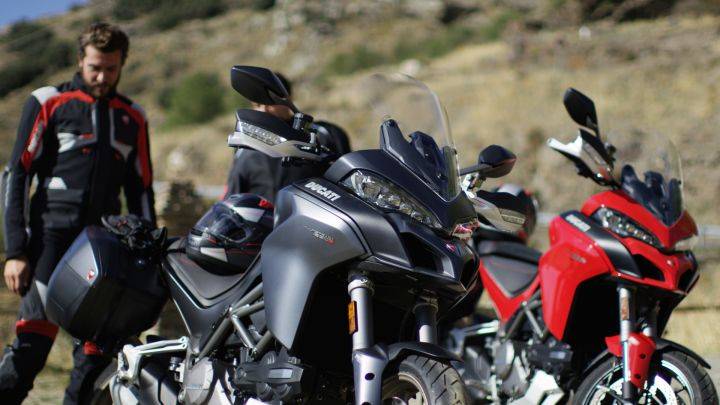 More often than not, cars and bikes meet with an accident, which usually ends up in a fatality since the former failed to spot the latter, or vice versa. Can smart technology take over where humans seem to falter? Manufacturers like Ducati, Audi, Ford and Qualcomm Technologies Inc. surely seem to think so. The result is the birth of ConVeX (Connected Vehicle to Everything), an integral part of Ducati's "Safety Road Map 2025". Getting cars and bikes to communicate with each other will undoubtedly make roads a lot safer.
So what exactly is ConVex? Let's delve into the details, shall we? Firstly, rest assured that 'ConVeX' isn't an alias for the machine race. Rather, it's been developed as a rider aid. What it basically does is, it talks to other bikes or cars, and even infrastructure within its vicinity, without the use of a cellular network. For instance, if a particular vehicle comes across a problem on the road, it can relay an alert back to the subsequent car or bike warning them about the issue. Essentially, an alert pops up on the vehicle's screen warning the driver or the rider.
Also Read: Ducati Motorcycles To Get Radar
Similarly, Ducati makes use of its Advanced Rider Assistance Systems (ARAS) which has multiple sensors positioned around the bike that detect threats ahead of time. Additionally, the bike can automatically adjust throttle and brake input to get the bike to a stop. It's also expected to work in tandem with ConVex, which communicates with other vehicles and smartphones to make itself more aware of its surroundings. Ducati says it intends to incorporate this technology into its adaptive cruise control system.
Also Read: KTM Developing Sensor-Based Active Safety Technology


"This demonstration is showing use cases in which advanced technologies can significantly improve the safety of motorcycle users," said Pierluigi Zampieri, vehicle innovation manager at Ducati Motor Holding. Anupam Malhotra, director, Connected Vehicles & Data at Audi of America, Inc. added that "The four-way stop use case provides a glimpse of how cooperative driving will be possible with C-V2X in the future. Besides additional safety, C-V2X is designed to also improve comfort and efficiency, which can be applied to both current and future autonomous driving."
Also Read: BMW Motorrad Unveils Self-Riding Motorcycle Concept
Multiple on-road scenarios were demonstrated at CES this year, including pedestrian and cyclists crossing the road, a four-way intersection, blind spots and how the system reacted to these scenarios.
"Imagine a person suddenly steps into the street from out of view and your vehicle stops because it was alerted by that person's smartphone," said Don Butler, executive director, Ford Connected Vehicle Platform and Product.
Also Read: Bosch Wants To Put Rockets On Your Motorcycle…
Ducati has been working on making its bikes safer ever since 2016, and the Italian bike manufacturer's claims of making cornering ABS standard on every model should hold some merit to this testament. In fact, the company states that we can expect a radar-equipped bike (most likely the Multistrada) as early as 2020. This will be followed by a C-V2X equipped model, which should make it to the roads before 2025. The future of motorcycling sure seems promising and we can't wait to see first hand how these safety systems work.
Add Your Comments