The Bugatti Bolide Takes Racetrack Thrills To The Next Level
---
Bugatti also boasts mind boggling claims that should have LMP1 and F1 cars looking nervously at their rearview mirrors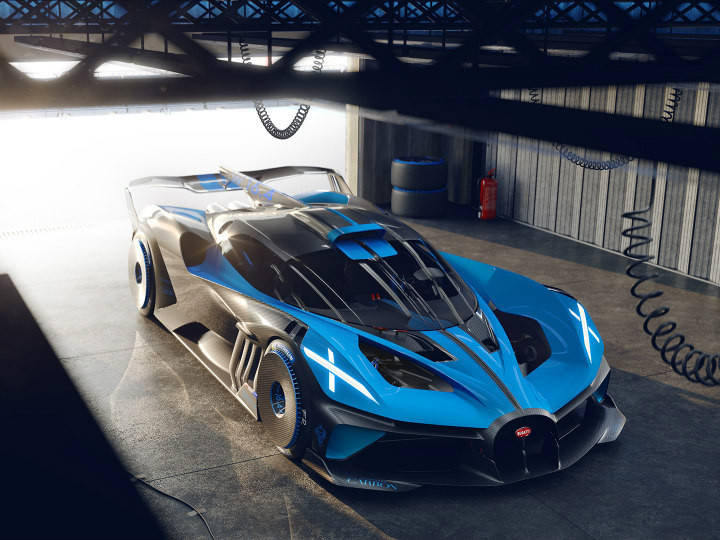 A featherweight 1,240kg helps the hypercar achieve a 0-100kmph sprint in 2.1 seconds and a claimed top speed over 500kmph.

Claims to lap the LeMans 24 Hrs circuit layout in just 3.07 minutes and the Nurburgring in 5.23 minutes.

It boasts a super aggressive design with emphasis on aerodynamics to produce 2,600kg of downforce at 320kmph.

Cabin gets a driver-centric layout with race seats, digital display and a race-spec steering wheel.

Carbon-fibre monocoque helps meet FIA safety standards.

Yet to go into production, but expect a sky-high price tag and extremely limited units. Obviously.
After Bugatti teased the rear silhouette of a mysterious new model and a test mule was spotted at the Paul Ricard circuit in France, the carmaker has finally taken the wraps off its latest creation. It's called the "Bolide" and it pays homage to the Type 35 race car. And the track-focused hypercar certainly does that while also trashing the notion that modern Bugatti models are only known for straight-line speeds.

Powering this track monster is the carmaker's massive quad-turbo 8.0-litre W16 from the Chiron. It makes a whooping 1600PS on regular fuel and 1850PS and 1850Nm of torque on high octane fuel. That's a mind-boggling 350PS more than the Chiron. Not only that, it's actually a featherweight at 1,240kg (only around 100kg more than a VW Polo!), which helps give the Bolide a weight-to-power ratio of just 0.67kg/PS. All this plus a 7-speed DSG gearbox and all-wheel-drive gives it a 0-100kmph sprint time of just 2.1 seconds. Top speed? Well, it's claimed to be over 500kmph!

The insanity doesn't stop there as the carmaker has put out bonkers claims over its on-track prowess. Simulations suggest that the Bolide can lap the LeMans 24 Hrs circuit layout in just 3.07 minutes and the Nurburgring in 5.23 minutes. That's seven seconds faster than the LMP1 Toyota TS050 Hybrid at LeMans and within the ballpark of the Porsche 919 Evo's Nurburgring record. Might wanna hold your horses on that, though, as those are claimed figures and there's yet to be a real attempt.

On the outside, the Bolide looks like something out of this world. Up front you get a low-slung nose, with a traditional grille, but a lot smaller in comparison to modern Bugatti models. Aside from that, the rest of the front end is flanked by massive air intakes, swanky headlights, ventilated hood and a prominent roof scoop that serves an aerodynamic purpose. Other highlights include more air intakes with Michelin slick tyres wrapped around a massive set of 18-inch wheels.

Heading towards the rear, you're treated to a large diffuser, a quad exhaust setup, X-shaped taillights that seem to have come from a sci-fi flick, and a large rear wing with a shark fin. All this translates to the Bolide generating an earth-shattering 2,600kg of downforce at 320kmph. The cabin is pretty race-worthy with the carbon-fibre monocoque meeting FIA safety standards. It gets a driver-focused cockpit layout with racing seats, a digital display and a race-spec steering wheel.

There's currently no price tag for the Bugatti Bolide, as the carmaker has yet to decide whether it will be put into production. Even if it does, it will be a track-only hypercar with a very limited production run and a sky high price tag.

What do you think of this track-focused beast? Can it really achieve the insane claims Bugatti is making? Let us know in the comments below.