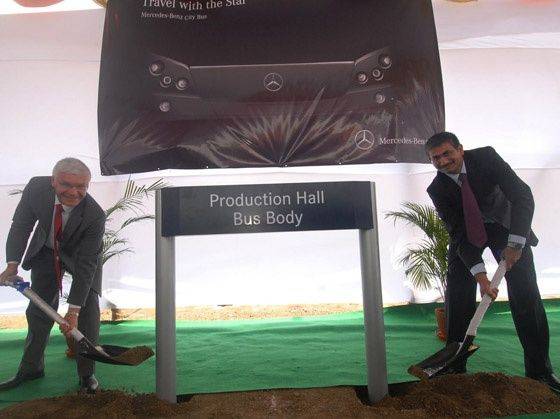 A German auto-car maker more synonymous with its fast cars and exquisite luxury sedans all over the world, Mercedes Benz has now been in India for one and a half decades. Today its cars on sale here in India are not too far away from matching up to its international product offerings. This is in fact an indication of the brands growing presence in the country, which we could say has a lot to do with its well built cars across different genres, offering not just superior technology but value for money, well a lot of it if I may add.
However, the fact of the matter is that in a country like India swanky sedans and stylish coupe's can reach into the pockets of a very small percentage of the country 1.2 billion population. For most driving a Mercedes is a dream that spawns at a movie theatre and ends precisely when the credits appear on the screen. So what does a luxury car maker do when more than half of a country's population chooses to travel by bus, which we all know works out cheaper than driving your own car?? Well, you make buses for them, that's what you do.
Mercedes-Benz recently inaugurated the construction of its new facility for the body building of its City buses housed within their already existing Chakan Plant in Pune. The foundation stone of the new facility was laid by Dr. Wilfried Aulbur, Managing Director and CEO of Mercedes-Benz India along with Piyush Arora (Director, Technical, Mercedes-Benz India) & Srinivas Chilukuri, General Manager, Bus Sales & Marketing, Mercedes-Benz India.
Announcement of this new set-up comes up within a short time-span of announcing the foray into the city bus segment in June 2010. Mercedes-Benz has already handed over the keys to two of its buses to the Karnataka govt earlier this month, and with production of the new plant expected to begin around the second half of 2011, Mercedes-Benz will now seek further alliances with the State governments and private bus travel agents to further expand its business in the bus public transportation business in India.
Dr. Wilfried Aulbur, Managing Director & CEO, Mercedes-Benz India said: "We would now like to expand into the city buses segment, making luxury travel affordable for public transport users of the urban population. We have partnered with MCV I am confident that this new facility will enable us further consolidate our position in the commercial vehicle market by efficiently catering to our growing demand."
With improving infrastructure and growing urban vehicle population, the need for safe, reliable and robust mass transit system is imminent in India. Mercedes-Benz city buses with their superior quality, dynamic design, robust build, star comfort will be targeted to satisfy such needs of urban mobility.