Audi AI:ME Concept Unveiled At Auto Shanghai 2019
Apr 16, 2019
Views : 2523
---
Autonomous car from the future with compact dimensions ideal for megacities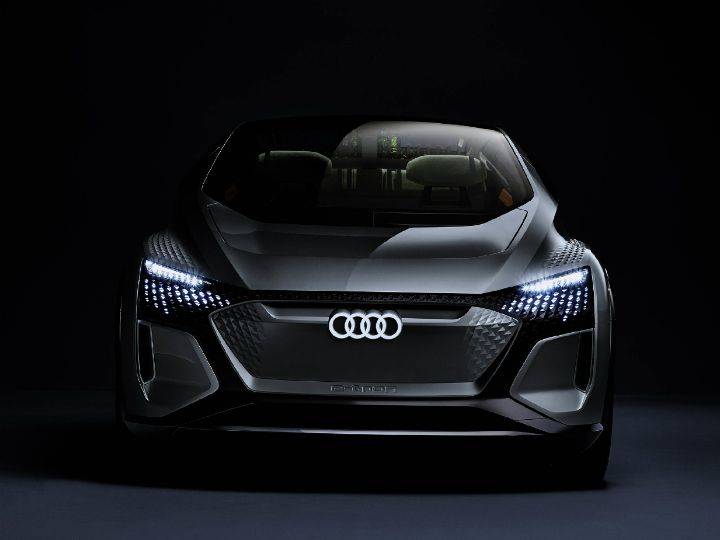 Self-driving car with emphasis on rich cabin experience.

Comes with a pergola glass roof and live plants.

Gets design cues from the Audi AIcon concept that was unvieled in 2017.

An electric motor makes 170PS with a battery rated at 65kWh.
Audi has unveiled the AI:ME, a self driving car for megacities, at the ongoing Auto Shanghai 2019. The concept offers ample space in a small footprint along with a futuristic cabin right out of sci-fi movies. It also comes with autonomous driving and a host of features for communication and entertainment. The AI:ME basically is a intra-city mobility solution with focus on an immersive cabin experience.
AI to Audi is what I.D. is to Volkswagen. It's the autonomous sub-division of Audi which stuns us with out of the world concepts every once in a while, like the Audi AIcon concept for example. The AIcon was unveiled in 2017 with an astonishing range figure of 800 km on a single charge.
The design ethos of the AI:ME strictly follows the AIcon. Similar to the AIcon, conventional headlights are absent from both the front and rear. Instead, it uses fully digital display surfaces comprising hundreds of triangular pixel segments which can display animations and visualizations in any colour. There are also LED lights that can project images onto the road or surrounding walls. Did someone say Tron? The concept also features Rolls-Royce like suicide doors.
As for the size, the AI:ME is bigger than an Audi A3, but with the same footprint as it saves the space taken up by a conventional engine and transmission tunnel. The concept is a 2 plus-x-seater with a variety of configurations for seat positions and storage space. It also features enormous 23-inch wheels that, coupled with the overall dimensions, lend it a crossover stance.
Audi

is planning to relieve occupants' stress with some quirky innovations. The interiors are "traffic-proof," filtering out unwanted noise. It looks futuristic with soft textures, wooden accents and a pergola glass roof with real plants growing freely.


It also has cup holders and plate holders so you can enjoy a meal on the move along with a set of VR goggles on board for entertainment. The concept also makes use of eye tracking, voice input, and touch-sensitive fields for doors, navigation, and infotainment. There is also a three-dimensional OLED display which runs across the whole length of the windshield, which can be controlled with eye-tracking.
Power is sent to the rear wheels from an all-electric motor with a 65kWh battery churning out 170PS. The concept also features level 4 autonomy, which means the car can drive itself in city limits while the passengers can indulge themselves in other activities. It also uses little energy, thanks to brake regeneration, low weight and low energy consumption.
Audi is focusing more on enriching the mobility experience rather than oozing out maximum range from the AI:ME. It is also designed for megacity commutes rather than long journeys. The carmaker is yet to shed more light on the range or the official timelines for the concept. The AI:ME is what the future looks like, but are we really ready for it?
Share your thoughts in the comments section.
Add Your Comments