10 Cool Features In the 2021 Ford Bronco That'll Make You Want To Own One!
---
Stunning looks aside, the all-new Ford Bronco will dazzle you with multiple party tricks and thoughtful innovations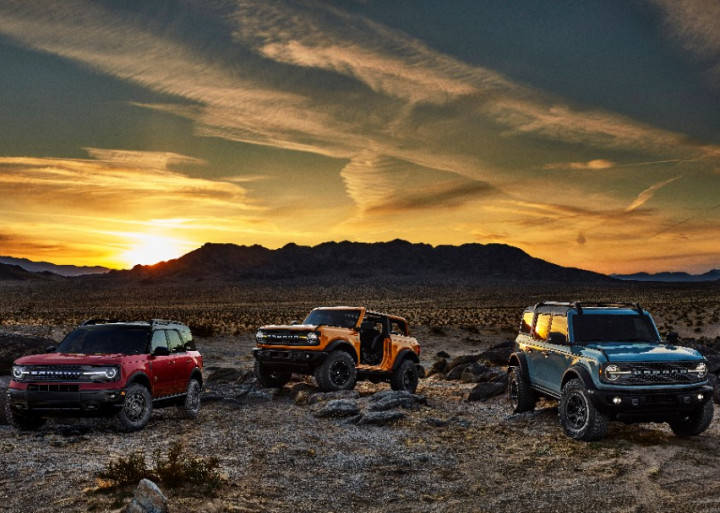 Enough has already been written about the new Ford Bronco's specs and off-road chops post its recent unveil, but initial reports had relegated some of the coolest bits about this iconic off-roader to only a sentence. For instance, you may think that driving the Bronco with its doors and the roof removed would look badass but imagine being able to toss them over into the boot to reattach whenever you feel like. That's next-level convenience!

You wouldn't even have to worry about driving without mirrors as in the Jeep Wrangler. Clever designing from Ford engineers means that the outside rearview mirrors are slapped on to the SUV's A-pillars and not the doors. On the Jeep, you'd probably have to leave the doors (along with the mirrors) at home or chain them to trees along the trail, as many off-roaders are known to do since they won't fit inside its boot.

Detachable doors meant placing power window buttons on them was not feasible. So Ford decided to move the entire switch panel to the centre console behind the gear lever.

We really dig these funky see-through cut-out doors in the yellow two-door Bronco. Unfortunately, this particular Bronco is only a prototype, though Ford just might offer these doors as an official accessory.

The Bronco's dashboard in itself will leave you in awe with its genius design elements. For starters, it has a railing to mount your phone and GoPro to record your off-road adventures.

For extra convenience, there's a 12V charging port located right over the dashboard to juice up your devices without messy cords dangling over the centre fascia. At the front of the dashboard, there are buttons covered in silicone rubber to protect against dirt and water, and for easy cleaning. Right behind the rails are scooped-out trays that run along almost the entire length of the dashboard. That's an awesome amount of space to keep your wallet, coins and other small belongings.

Didn't take a spotter along on your drive? Not a problem, with the Bronco's optional 360-degree camera system, you won't be missing one at all. Mounted above the front wheels, the cameras give the driver a better view of obstacles by relaying the feed to the 12-inch LCD touchscreen display paired to Ford's latest SYNC4 infotainment system.

At the back the cargo hold has a slide-out tray which can be pulled out to serve snacks to your trail buddies. Or, it could simply serve as a handy space to sit on in breaks between taming rainforests.

Certain trims also come with marine-grade vinyl seats that can be washed off easily after a day of mucking about. Even the floor on these trims is rubberised with removable holes to drain out the water without much sweat.

The Bronco also promises an easy and stress-free drive to newbie off-roaders thanks to an onboard driver assistance suite. Called Trail Toolbox, the system lets drivers tap into a myriad of tech features that claim to elevate the off-road experience. The trail control, for example, is sort of a cruise control setting for low-speed trail driving. Another setting lets you take tight turns while off-roading by locking the inside rear wheel. Then there's the one-pedal drive feature that applies the brakes automatically when you lift your foot off the throttle -- useful especially while making slow manoeuvers crawling over rocks.

The SYNC-based tool also features a digital trail-mapping system which practically ensures that you won't ever lose your way no matter how deep within the woods or desert you are. It lets you record your route and find your way back home even without a GPS device or map. You can also create your own trails and share it with fellow Bronco owners aside from gaining access to thousands of curated trail maps.

Ford says that there will be over 200 accessories to personalise your Bronco with once shipments to dealerships in the US begin around spring 2021. And sure, it is unlikely to make its way to India but that hasn't stopped us from aspiring for one.
Add Your Comments