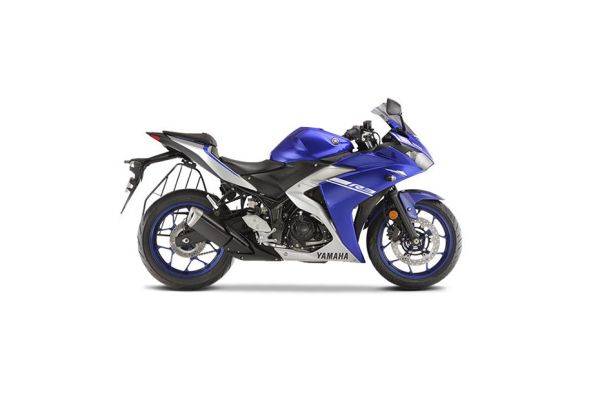 Yamaha YZF R3
Rs. 3.51 Lakh
Discontinued Model since 21 Apr 2020
---
Yamaha YZF R3 Overview
Yamaha has discontinued the YZF-R3 in India since it does not meet the upcoming BS6 emission norms. The brand launched the 2019 R3 overseas but it is not BS6-compliant and has not made its way to India.The bike is expected to be introduced later this year or early next year once it internationally receives a Euro5/BS6 update.
The international motorcycle gets new design updates that included an LED headlight, new fairing and taller windscreen. It also gets a full-digital instrument console. The new motorcycle's riding position is even more sportier thanks to the clip-on handlebars being 22mm lower. It ispowered by the same 321cc, parallel-twin, liquid-cooled motor that puts out 42PS and 29.6Nm of torque as seen on the older bike. Yamaha claims that new R3 is 8kmph faster.Also, the 2019 Yamaha R3 features a KYB 37mm USD fork, replacing the telescopic unit on its predecessor.
Must Read Questions & Answers Before Buying YZF R3
Q. What is the price of Yamaha YZF R3?
Yamaha 2021 R3 is expected to launch with a price tag of Rs. 3.50 Lakh (ex-showroom). For more details, we'd suggest you to wait for the launch. Stay hooked for further updates.
3.99L
View More Questions
Q. Is it a comfortable bike for the height 5.4 ft - YZF R3?
Its is very comfortable for riding but you will face a major problem that is to move the bike during not seated because of its weight and height. I am 5.10" (athlete body type 😋) but sometimes I also fell difficulty to move the bike. I suggest you for a test ride before you buy. Good luck
Seat height has never been a problem regarding R3 Riders of different sizes feel quite comfortable on it.
Yes you can i am also the same hieght 5.3 something you can and your also 5.4
View All Answers
Q. Is it a better to buy R3 or RR310?
Don't compare with 2 cylinder engine with 1 cylinder vehicle.Always 2 cylinders engine is best in performance.I am using R3 for Daily commute around 30kms daily.And it's maintenance cost is also low..his will be your maintenance cost till your free labor cost upto 3 service. After 3 service add 2200+18% GST for Labour charge only. After 5000 kms Engine oil 1 liter = 425 for yamalube u will need 3 liters if you go for motul u will need approx 1800 After 10,000 kms Engine oil 1 liter = 425 for yamalube u will need 3 liters if you go for motul u will need approx 1800 Oil filter 440 Air filter 550
How can compare twing with single..Both machines are entirely diff..Can't compare. I don:t recomment Apache. Go for f3. You won't be disappointed that I can assure you. F3 can be used for both touring nd daily purposed. If you're a tourer don't think tooooo much go and get it...
Apache is an affordable bike and it is kind of sports toures(r3 is better in touring). If you compare maintanence cost i think there wont be any much of a difference but in terms of price r3 is double the amount compare to apache
View All Answers
Q. Which is the better bike between Yamaha R3 and ninja 300?
It depends on what type of sitting posture you like , comfortable or riding stance, i noticed that if you r sitting in r3 which i like a lot. doesnt give you a big bike feel and has more relaxed position (the moment you hop on you will feel that something is wrong with its gear positioning - but its built like that to not give much pain for long rides) and in ninja iyts more of a city sport bike..riding stance is good have a bigger fuel tank which really looks good and you can grab the tank properly with your legs.exhaust note is more of a 650 cc category more bassy.Thanks
Both r good but if you need R3 is wonderful machine which has a raw power it gives a thrill for riders if you go to nija300 it is also a good machine with very smooth engine if you hv more budget you can go for a R3 but as now in India it is discontinued for a while mite be in this year Yamaha gona launch BS6
Both having all the qualities of an entry level sports bike with top end performance....both lack usd forks ..I will suggest ninja performance for the slipperclutch ..and service networks...
View All Answers
View More Questions
All YZF R3 Questions and Answers
5.0

Just bought it second hand a month back. Due to lockdown haven't ridden much, but from how much I have ridden, it's an awesome bike.

5.0

I really like my wife would even mad than a tha ka ti hle mai hahahansmc c snsk😅😁😁😆😢😢😁usususi

4.6

Wow, This is no sports bike it is a sports tourer.Take it out on a highway and it will gobble miles like no other in superb comfort.It has power to shame some so called 650s or even bigger capacity motorcycles.Unfortunately not available in india as ofnow but if it is available again go buy one you will love it, Sorry him.

4.6

bad mileage, very nice performance and looks
All User Reviews
4.2

Hey I am Robisankar. I am a businessman. For 5 year's i go toLindsay Street, just off Chowringhee Road to maintain my business whice is stay from my house about 22 Km. This is not so close to me. I am now 32 years old & i have one 9 year's Son. Now I tell you about here my 3 rd Bike. Even this bike i use personally two bike at all. Firstly i use Honda CG 125 , Secondly I use Bajaj Pulser 150 for two years.As a maintainer of a business i am busy for maximum time & the distance between my house & my office so far. Bike is a vechile where no need to wait for anyone. So i have to crying needeed a bike. So the maintain my time & root use of my time i buy my Motorcycle. When i sell my last bike my friend & my cute son tell me to buy a big bike. Accedentis the main cause of my slling this bike. I wan to know firstly that i don't buy another bike. But situation have forced me to buy a bike. So few days later I go some brand's showroom & Finally I bought amaha YZF-R3 motorcycle. I choose this bike for ABS braking system. I think it gives me very safety & speedy also. I bought this bike with Rs 3,45,000. This day is very memorable for me. It is so biggi for me. Firstly I drive my Bike & i can realize the difference between my previous Motorcycle.When i reached my home i feel much better to ride this bike. It has so speed though i can't take the top speed. I am worried about it's mileage because only 20 kmpl mileage of it's. It is not unusal also cz it has 321 cc very powerfull engine.As a describer on my bike. It's so nice, big & styling. Braking system is just owsome. Relax seat system i very enjoy to seat here & ride experience. When i bought this bike it gives me 25 kmpl mileage now after 4,000 km it gives me 20 kmpl mileage. I am sure about that it gives me this mileage a long time because i concern about this mileage with a specialist. This mileage is not a matter for me. I make a long tour about 600 km per one day when I & my friend make a journey by Motorcycle. I notice one think that i have not suffer from my neck pain for riding a long drive. It's 2 chanel Abs system is so working i just trial about this Abs syestem with my safety dress. But good news it's work just super for the result I observe my experience without any injury .For the long time with this bike i want to tell all of bike rider that it is really a nice bike. I don't tell to claim it mine as a rider i enjoy it & it gives me speedy ,comfort , abs safety & most of popular ause it gives me Styling bike riding Experience. My son also enjoy this bike to seat behind me .The young man tell me pappa more speed, more speed. But all time i ride my bike with a fresh sence & secure. I change gear oil regularly & service for a month regular. I have no more big cost in behind this bike . It is so free for me now at all. At the last I tell one think I really enjoy this bike & I also love my this Yamaha YZF-R3 Bike.

5.0

Got this as my first bike and put 11,000 miles on it in 6 months. City miles. Got it with 0 miles and it is now just under 30,000. I had some recall work done pertaining to oil pan or something? I've laid it down twice and I've dropped it 3 or 4 times. Only maintenance cost was a new battery after around 4.5yrs, brake pads, and a new chain. AND a new low beam headlight kit from my accident at 50mph (internal structure, not outside), new shift lever which could have probably been bent back with heat if needed)and then changing my oil a little too often.She's been good to me and when I started driving semi's, she was ready to ride after sitting for weeks at a time without a battery tender. Flaws: if I let off electric start too soon on a bad startup it occasionally putters a little trying attempt 2(perhaps mild flooding?) This only happens if I turn off very briefly after a rigorous ride where she's pretty hot still. This has been an issue that I noticed before probably 3-5,000 miles. When I was around 150lbs I let off of it at 125mph, yet google states top speed is 118... People think it's a 600 and I think it's a 150 😅 but it was just what I was looking for and more! Great buy!

5.0

Absolutely perfect & One of the least offensive stock exhaust which has a deep throaty roar as revs climbs. Power delivery is very smooth & linear, so no sudden burst of power at lower rpm, however past 7000rpm punch increases all the up to red line. Though on a bit expensive side still best bang for your buck. Though brakes could have been better, front brakes feel bit spongy but a steel braided brake line should take care of it.

4.6

Wow, This is no sports bike it is a sports tourer.Take it out on a highway and it will gobble miles like no other in superb comfort.It has power to shame some so called 650s or even bigger capacity motorcycles.Unfortunately not available in india as ofnow but if it is available again go buy one you will love it, Sorry him.

4.2

Yzf r3 is the besk bike but it is kinda problem also.1) Starting issue always even after showing it to the yamaha service center 3 times.2)Recalling of the bikes after paying a rich amount of money on this bike.3)No option for old bikes to go for abs while ktm 390 has the same.
All User Reviews