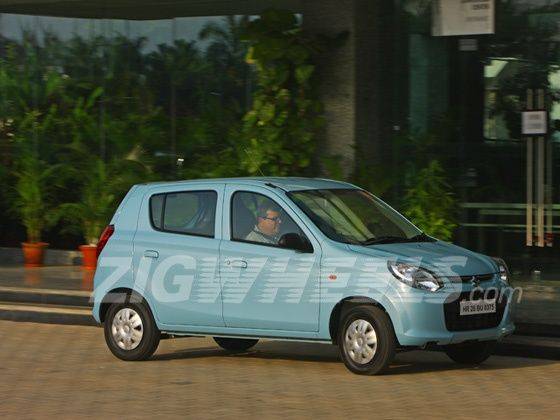 Maruti Suzuki has taken a rather evolutionary approach in remodelling its best selling entry level hatchback, the Alto 800, which still accounts for over 2,000 units of monthly sales for Maruti Suzuki in the domestic market.
The smooth transition to the smartly refurbished small car is an all-India development and should once again see the Alto 800 turn into the quintessential pint sized city car that it has been all through its six long and glorious generations, only to return once again in a fresh new look packed with basic amenities expected the from automobiles of the present day big or small and more importantly provide basic motoring to the Indian masses at an encouraging price point.
27 years into existence, the new Maruti 800 (View: New Maruti Alto Gallery) has improved for the better, or we hope and straight up one can expect noteworthy changes on the new car including a reworked floorplan for enhanced torsional rigidity, a recalibrated suspension setup better suited for unimpressive city roads, an improved power-to-weight equation and an ARAI acclaimed improvement in mileage over the older version, which not stands at 22.7kmpl.
Petal shaped headlamps, larger tail lights, 12-inch tubeless tyres are among many revision made to the new Alto 800, which incidentally is now shorter as compared to the outgoing model, but then again is now wider and taller than ever before. A tiny yet punchy 796cc three-pot 12-valve engine stay comes under the hood of the new Alto and this revised motor will now produce 49PS at 6000rpm as compared to the original F8D's 47PS made at 6200rpm.
Expect newer accents and plastics all through the cabin area where the interiors of this new age city car from Maruti Suzuki is concerned. An enhanced roof line would mean more headroom for occupants, while leg room and shoulder space also move a notch up on the 2012 model.
With bookings already open for the new Maruti Alto 800, the company will commence delivery post the cars official pan India launch scheduled for the 16th of October this year. Be sure to catch our updates on the new Alto then, and in the meantime if you haven't already taken a closer look at the next gen Alto headed your way later this month, swing by our detailed first drive report (Read : New Martui Alto 800 First Drive) that has been updated with very revealing imagery of the actual series production model that will hit showrooms later this month.
NEW MARUTI ALTO 800 INTERIORS
Related Maruti Suzuki Alto 800 Stories
New Maruti Alto 800 : Special Coverage
New Maruti Alto 800 launched at a price of Rs 2.44 lakh

New Maruti Alto 800 : First Drive [w/updated images]
Maruti Suzuki Prices and Technical Specifications
Maruti Alto 800 Drive Photos : Exclusive!
New Maruti Alto 800 Interior Photos
Altos and 800s - Through the years
Maruti all set to roll out new Alto Video