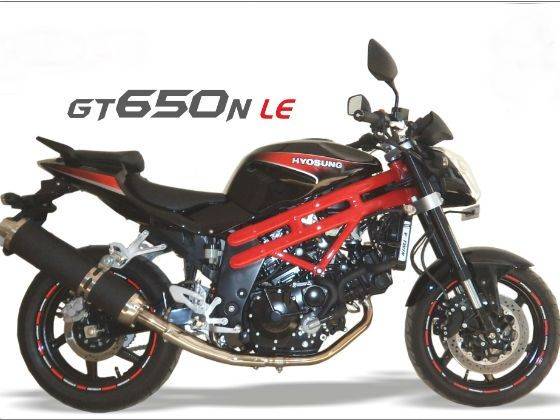 In a bid to refresh one of the most potent and practical offerings from its line-up of middleweight superbikes, the Garware-Hyosung tie-up will soon be launching a limited edition of its naked superbike, the GT650N. Complete with a special colour scheme and new graphics, the bike sure looks stunning than ever with the tubular frame doused in sporty red paint while the new graphics adorn the bike with added chutzpah. Always a stunner to look at, the GT650N in its special livery looks even more ravishing and does stand out amongst its rivals.
There is pin-stripping on the wheels with Hyosung branding that doesn't exactly look great but is in sync with the special edition red and black colour scheme of the Hyosung GT650N. According to the company officials from Garware-Hyosung, the company also plans to bring in accessories for the motorcycle including after-market exhaust systems as well as some cosmetic equipment for interested buyers.
It's a nice effort to keep the model updated and refresh the line-up while the Korean company prepares to launch its quarter-litre offering, the GT250R – next step of the top-down strategic adopted by Garware-Hyosung. The total number of units for this special model is not disclosed yet but the limited edition will cost approximately Rs. 15,000 more over the standard model. The premium is certain as this model will be available only in limited numbers and for a limited period of time, increasing its exclusivity. A looker in its new form, it sure is to get heads turning!