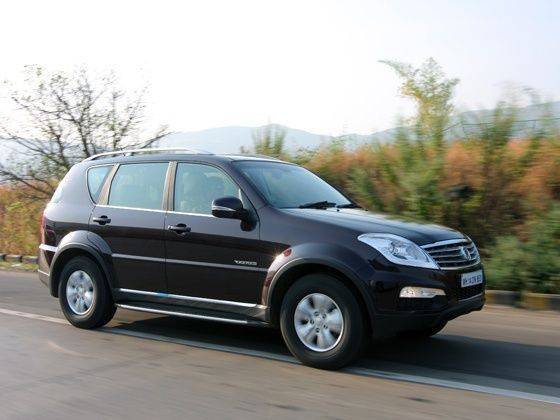 There are two types of vehicles in this world. There are some that don't really deliver much but make their debut kicking and screaming, promising a lot more to the buyer than they were ever designed to achieve. And then there's the quiet kind that is superiorly capable but chooses to let its abilities speak for itself. The Ssangyong Rexton then, belongs to the latter – how many times have you seen it in a television spot? Or in a print ad? Or on a roadside hoarding?
Well, I haven't seen any. Yet, there is this weird sort of inquisitiveness that automatically surrounds the Rexton – even from people who've never even heard of the car ever before. Understandably so – it's Korean and the Koreans are surely the next big thing in the automotive race at the moment. It's built by Mahindra – which again, automatically gives that bit of belonging and oneness with a product that was conceived in Korea. It's big – and the bigger it is, the more desirable it is. It's butch – almost like it's straight out of rugged Western action flick. And it's loaded – not just with badges, but with gadgets as well. That seems like the perfect mantra to rope in the Indian buyer then.
Remind you of someone?
The previous generation Rexton wasn't much to look at and that's obvious considering it belonged to an older race of Korean products that were just only beginning to get a grasp of what was needed to make it big in the global battle for automotive supremacy. What we get though is the latest gen version and though we always say that looks are subjective and all that, but this one is sure to appeal to everyone who lays eyes on it! Part of that has to actually do with another SUV – bigger and way more expensive than the Rexton. It's not just us folks at ZigWheels but a whole bunch of passersby including a small troupe of children en route to school who thought the Rexton looks pretty similar to an M-Class.
Imitation or not, that's a good compliment in itself and one that is brought about thanks to those swooping headlamps and the new Ssangyong logo as well. That said, the Rexton isn't really a car that is aggressive and intimidating for anyone who spots it in their rear-view mirrors. Instead of the 'move over or I'll drive over you' image most SUVs have, the Rexton has a rather docile gentlemanly demeanour that you can't help but give in to. And that's where you really begin to unravel the Rexton's character – in a nutshell, it's soft.
That whole theme very seamlessly flows into the cabin as well with its soft, plush seats and its very easy-going two-tone dash layout. The centre console itself has a slightly retro thing going on with the semi-circular button array backed up with very tastefully done wood finish inserts around.
But the first thing you're going to notice in there isn't the dash itself but the abundance of buttons on the steering wheel which actually look like there's another set of hands gripping it already and that can be a little freaky till you get used to it! There are a lot of gadgets to play around with though – electrically adjustable driver's seat with a 3-preset memory function, lots of settings in the music system, electrically adjustable mirrors, a nice sunroof to pop your head out of when you want to unravel that ever-present dog-mystery and of course, extremely plush leather seats all round.
There's also lots of room to fit anyone in any of the seats and that's great news as far as travelling at full capacity is concerned. All's not perfectly well with the Rexton's cabin though – especially if you love coffee. The cup holders seem like they were designed to hold only espresso shot cups. Then there's also the little issue of the buttons on the audio system touch screen being too small – like it was designed for little girls. The best part though is that these issues can easily be ignored thanks to some really awesome touches that over-rule the negative points – two charging points in the front and the brilliant Map My India navigation system that came pre-fitted in our test vehicle.
Bounce baby, bounce!
So we like the way it looks and quite frankly, we've grown to love the way it feels. Build quality on the Rexton is nothing like we've seen from Mahindra yet – including the XUV5OO and that's a great sign from a manufacturer that is making big steps in the right direction. These are undoubtedly one of the plushest cars we've seen in its segment and it isn't too much of an overstatement if we said the Rexton is a luxury car on a budget. It is focused towards comfort more than being a rugged mud-plugger and that it does extremely well – perfect way to target a big audience that is looking for an SUV just for its size and road presence mostly in the urban jungle.
There's no confusion in what Ssangyong wanted to do when they designed it and that shows not only in the superb cushioning on the seats but also in the suspension. Everything is pretty much soaked up before it reaches the occupants and it makes short work of not just rotten tarmac but also of insulating the inside from the outside. The moment the windows are rolled up, it's like a cocoon that you can just snuggle into and drive in peace. The only problem with the suspension being so soft though is that it leaves the ride a bit wallowy and handling isn't really a big forte of the Rexton. Taking corners at high speeds is better left to the brave of heart in a Rexton, but that's okay because this isn't a car you're supposed to be pushing hard anyway – it's best enjoyed on a chilled out drive.
Power, but held back
The Rexton's 2.7-litre diesel engine is actually a gem of a motor – 162PS of smooth power delivery and 340Nm of torque. It's not too clanky either and more or less in line with most of the diesel powerplants you find on oil burners today. In fact it even gives out that hint of a turbo whistle when you power on and all's great till the time you're chugging along at a smooth pace. The moment you put your foot down though – say, when you're planning to overtake the lane-hogger in front of you, the Rexton takes a pause, thinks about it and then shifts a gear down to thrust you forward.
All that while, it makes you wonder about the espresso shot you could have had in the meantime and that you should have probably stepped down on that gas pedal a little earlier. That's because the 5-speed automatic transmission hasn't really been able to keep up with the Rexton W RX7's engine in terms of its performance and that holds the big car back by a bit. This also takes its toll on driving in choc-o-bloc traffic conditions and in turn on the car's fuel efficiency though the shifts themselves are super-smooth and you'll barely feel it when it happens.
While it managed an extremely rewarding 14kmpl in our highway runs, it disappointed us in the city with just about 8kmpl. This is obviously with the car in fully automatic mode and that could improve driver to driver and if constantly controlled using the manual mode on the transmission.
The manual mode itself is an engaging gadget to play around with and it could just border on the being fun thanks to three choices of shifting up and down the gearbox. You could either use the very Porsche-style buttons on the steering wheel, or the buttons on the side of the shift lever or even the more ordinary lever itself and that's the first time we've seen so many options to shift gears with in one car!
Is all well then?
As long as you're on the lookout for an urban SUV that will give you a lot of bang for your buck, the Rexton fits the bill perfectly. But that doesn't mean the vehicle itself is perfect – like all things on this planet we do not live in an ideal world and this Ssangyong does have its weak points. While the seats themselves are plush and comfortable, and there's lots of room all round, the seat height may be an issue for tall occupants in the middle row.
The bench is mounted a tad low and that means you sit with your knees sticking ever so slightly up and that leaves a little under-thigh support to long for. It gets even more accentuated in the third row which is pretty much mounted like a mughal-style sofa more than a car seat. Then there's that issue with the gearbox that we spoke about earlier and one thing that started to irritate us a bit was the windscreen wiper doing a quick swipe every time you turn the ignition on – without spraying any water.
All that can be ignored though because what the Rexton W RX7 gives you in under Rs 20 lakh is a great car for the tarmac with features you won't tire boasting about to your mates. It may not be the greatest off-roader on the planet but that isn't what the Rexton was conceived to be in the first place. This is a car for urban swank and that it has plenty of.