2020 Range Rover Evoque: Road Test Review
---
New platform, more space on the inside and styling borrowed from the gorgeous Velar. The 2020 Evoque can't go wrong, can it?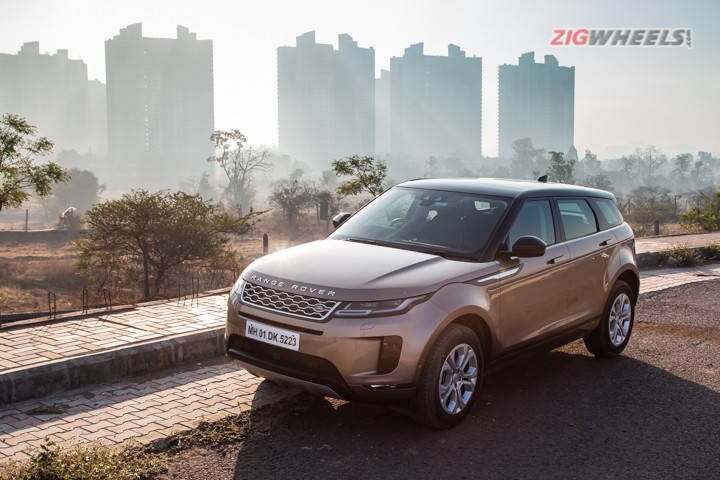 This drive here is sort of a half step really, because the Evoque you see in these images is the BS4 version of the 2020 Evoque. Yes, we will have a new BS6-compliant powerplant under the hood and of course another proper road test scheduled. So this essentially is a sort of a first drive experience with some performance figures thrown in. We'll still be able to tell you how it looks on the road, feels on the inside and how it drives out in the real world while being able to give you an insight into how it will perform once that powertrain is updated to meet the new BS6 norms.

Looking fab
Kicking off with the looks, the new Evoque draws heavily from the Velar and it's honestly all the better for it. The tighter, cleaner lines are not a big departure from the old Evoque ethos but still make a big impact visually. Standout bits are the sleek headlights and that wraparound bonnet effect that runs all the way under the A-pillar.

The profile is dominated by that sloping roofline and rising shoulder while the hidden door handles are delightful, especially from the driver's seat where they catch your eye in the right rear view mirror everytime you lock and unlock the car when you come to a stop.

The 18-inch alloys on this S variant deserve special mention because in our opinion they are much better looking than those on the higher spec R-Dynamic SE variant that we saw at the launch event. What the R-Dynamic did have was a much more aggressively styled set of bumpers that we like more than these rather plain ones on the Sport. The new Evoque is also 11mm longer, 6mm wider, 14mm taller and sits on a 21mm longer wheelbase than before.

Feels fab
On the inside there have been some changes but it's still unmistakably Land Rover. There's a lot of soft-touch materials and it feels solid and well put together too. There's an elegant minimalism to the dash and this is highlighted more with the all-black upholstery in this S variant. The dash slopes forward and this gives the impression of a lot of space in the dark cabin This does mean that you have to reach forward a little to get to the air con vents. The slope and the all-black treatment make the two screens on the dash pop though. Well, at least they give the appearance of being two screens.

The 10-inch Touch Pro unit on the top is the main infotainment unit that is packed with all the essentials including Android Auto and Apple CarPlay. The lower unit is built to mimic the touchscreen on the higher spec R-Design model but is actually a sort of a hybrid mishmash of touch areas and knobs and actual buttons as well.

There is some interesting functionality here and the two circular knobs that otherwise control the dual zone climate control, turn into the fan speed controllers (left knob) and drive mode selectors (right knob) at the touch of a button. Personally it's something I like and it somewhat makes up for the drama of that rotary drive select knob that the new JLR models have lost.

This Sport variant gets a 180W unbranded six-speaker sound system compared to the Meridian 11-speaker 380W unit on the R-Dynamic top spec model. It still sounds top notch and very crisp though some more bass would be welcome if you're a lover of pop or dance tunes.

The front seats have 10-way electric adjustment (14-way for the R-Dynamic) and are quite comfortable though on a summer's day in Pune the black grained leather can get a little hot. The second row is nice and comfortable with plenty of legroom and good support all around but fitting three abreast would be a bit of a squeeze.

Other tech highlights include ambient lighting, phone app connected car features and sim-based WiFi hotspot with an emergency services call and helpline function. It also has smartwatch compatibility and this will allow you to lock and unlock, remote climate conditioning and check the vehicle health remotely. So while the S variant does miss out on some creature comforts compared to the higher spec R -Dynamic, it in no way feels less premium. Both in terms of materials, gadgets and that massive panoramic glass roof, you should never feel that your money wasn't well spent. Range Rover Evoque Price

Drives well
Now this car was equipped with a BS4-compliant 2.0-litre diesel motor making 180PS and 430Nm. There's also the option of a more powerful 250PS petrol. We do expect the new BS6 versions to come in for a test soon so keep an eye out for an update to this story as well as a comparison with its rivals.

Like most JLR cars it's paired with a 9-speed automatic that's quick shifting and responsive in the city. Out on the highway the additional cogs allow for a gentle 1600rpm at 100kmph, which means that the engine is barely audible in the cabin. But like before, it is still possible to confuse the gearbox sometimes. A quick prod on the throttle causes it to pause for just a second before driving forward, something we have complained about before. That said, the remaining 90 percent of the time, the shifts are smooth and undetectable and chances are you won't even notice this.

Being a Land Rover it of course comes with an AWD system with Terrain Response 2 with Hill launch, Hill descent and host of other off-road features to play with should you decide to venture off tramac. Or like the majority of buyers likely do, you could just leave it in 'General Driving' mode and let the systems do the work for you.

In terms of tested numbers the Evoque managed the sprint to 100kmph in 9.8s and returned a very respectable 14.13kmpl on the highway but a slightly thirsty 9.47kmpl in the city.

Rides great
There's little to criticize in the way this Evoque handles. It darts very nicely into corners and stays very flat through them with surprisingly little body roll for its size. The wheel is firmly weighted in the city and weighs up nicely as speeds increase. We would have liked more in terms of feeling through.

And for a good handler it rides admirably well too. The suspension tends to soak up soft-edged bumps of any size without them being felt or heard in the cabin. It's the sharper bumps like level changes in the pavement and the harsh metal speed breakers that catch the suspension out a bit. But even the effect of those can be lessened to some extent by picking up speed just a little. So, overall, the Evoque is quite the comfortable ride.


Safe too
In terms of safety the Evoque is fairly feature rich as standard with 6 airbags, stability control, traction control, roll stability control and ABS, EBD. There're also rear parking cameras, front and rear parking sensors and a driver's condition monitoring system and lane keep assist. There's even Land Rover assistance and SOS emergency call feature that's part of the connected car features of the new Evoque.

Ok to buy one then?
The Evoque always drew crowds because of the presence and accessibility it brought to the Range Rover brand. The 2020 version has grown both in size and features and now balances its accessibility with a more comfortable and feature rich interior. Sure it's not the most spacious SUV nor were we blown away by its performance. But there's literally no deal breakers that we see in this package and neither are there any glaring misses. Even in this standard S variant. And so, overall, in our books it's now more desirable than ever and will be even more so when the BS6 variant comes out.
Land Rover Range Rover Evoque Video Review
More on Land Rover Range Rover Evoque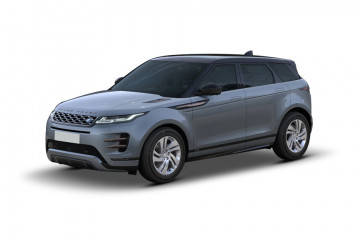 Rs. 59.04 Lakh Onwards
Ex-showroom, Delhi
Range Rover Evoque Alternatives
See what our community has to say!
NEW
India's largest automotive community