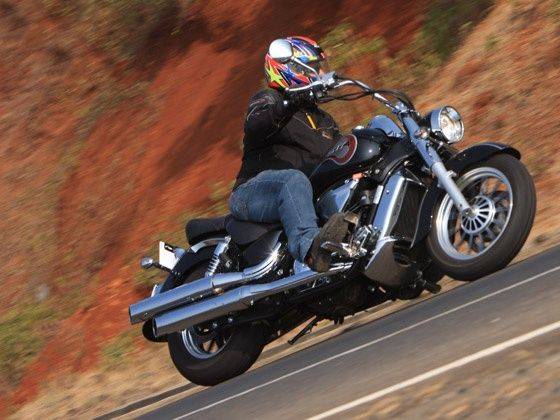 Given the situation, I should be hearing Steppenwolf singing "Born to be wild" in my helmet. Granted the bike I'm riding is not an original Harley Davidson, instead more like a replica that has come out of Korea. Technically, all the elements are there. Medium capacity V-twin engine, that typical low seating with arms outstretched posture, the highway stretching out for miles ahead of me. But something still doesn't click. I don't quite feel like 'the wild one', ready to tear up the next town I come across, and I'm pretty sure it has to do with the bike.
The bike I'm on is none other than the much anticipated cruiser offering from the largest motorcycle manufacturer in Korea - the Hyosung ST7. At first glance, it would be very easy for the untrained eye to differentiate it from its real-deal cruiser brethren from the Americas. But look closely enough, and the two are as different as chalk and cheese. But before I say any more, I am having quite a lot of fun riding the ST7. So what is it lacking that's not giving me any 'cruiser jollies'? Is it at par with the cruisers that have made their way over here recently from Japan and America? Let's find out shall we…
We've of course seen a cruiser from Hyosung before, though not exactly in this form mind you. Way back in 2003, the Korean motorcycle manufacturer had tied up with Kinetic Engineering to sell a few of its 250cc V-twin Aquila cruisers here. While it was a pretty decent bike, its then exorbitant cost and iffy service network didn't see it quite take off. But the Hyosung brand, which is now owned by S&T Motors in Korea, is back with a more serious commitment to the Indian market. A joint venture with newly formed Garware Motors has given the Korean bike maker a means to assembly its motorcycles on Indian soil, while keeping costs as low as possible.
Visually, the Hyosung ST7 carries all the classic cruiser design features. The fuel tank is a massive 18-litre curvaceous affair, which even comes adorned with an analogue speedometer on top of it surrounded by oodles of chrome. The ultra-wide handlebars scream "cruiser" more than any other element on the bike, and they're kept clean, free of any meters or console, to accentuate their classic styling. Even the split seat, with the pillion section mounted on the rear fender, a fair amount higher up than the rider's seat also adds to the overall design aesthetic of the ST7. The twin exhaust pipes that emanate separately from the engine and run parallel from the mid-section onwards feel strangely reminiscent of the first international cruiser to hit the Indian market - the Suzuki Intruder, and surprisingly, so does the big radiator that sits on the frame, astern of the forks. With its overall proportions, one can even say that the ST7 looks like a mini-Intruder, but any further comparison would be irrelevant. But by far, the element that adds the most old-school charm to this bike has to be the belt drive system which feeds engine power to the rear wheels.
And speaking about the engine, nestled under that massive tank is a 678cc V-twin with its two cylinders offset at 90-degrees to each other. While that engine might seem a tad low in capacity, one needs to remember that this is meant as a middle-weight cruiser, not a full blown Harley-Davidson Fat Boy replica, though it might have the visual DNA of one. Armed with Hyosung's latest generation fuel injection system and an 8-valve double overhead cam valve train, it manages to produce a rather respectable 63 PS of power. But rather surprisingly, this engine is extremely high strung for a cruiser. It makes that power figure at a stratospheric 8000rpm, when most cruisers redline much below that number. Even its maximum torque figure of about 64 Nm comes at an almost equally high 7500rpm. Though it might make its maximum power and torque rather up the rpm scale, one doesn't really feel the need to rev the bike to make it go. The presence of a fair amount of low end torque is apparent from the get-go and the short gearing ensures that the ST7 can handle most road and traffic conditions without the need to change gears continuously or making unwarranted use of the clutch. In terms of straight line grunt, the ST7 packs a fair bit of it and it can comfortably hit speeds of about 150-160km/h. But don't actually expect to hit such speeds regularly as the bike doesn't feel too planted after about 130km/h. Another let down in the top speed department is the gearbox. It's notchy and offers relatively precise gear changes, but Hyosung chose to go with a 5-speed unit instead of a 6-speed. Add to that the short gear ratios, and it becomes clear that it was never meant to sustain very high speed burst. This engine's real forte is of course the fact that it can happily sing along at 100km/h all day long without so much as a hint of stress, making it perfectly suited to the bike's primary purpose - eating up miles and miles of highway without breaking a sweat. That being said though, the bike we tested did show a similar fuelling glitch as its sport bike sibling, the GT650R. throttle response is a bit jerky, with a slight, but rather irritating delay, between the throttle being opened and the engine responding.
Apart from the jerky throttle response issue, riding the ST7 is rather good fun. In the few days we had the bike with us, we managed to put it through a couple of hundred kilometers of open highways, twisty mountain roads and crazy city traffic. And through all of this, the ST7 never put even one step wrong. Though it weighs a fairly hefty 244kg, with all fluids in place that is, it almost never shows its weight. Now while riding, that can be attributed to the longish 33-degree rake of its forks, which make the steering feel quite light at all times. But the bike's weight distribution is so well balanced that even picking it off its side stand manages to feel easier than some of our smaller, local bikes. While the long front rake combined with the wide handlebars does make for a relaxed riding position, the light front-end feel doesn't always inspire confidence through the corners. The conventional 41mm front forks do a fairly good job of soaking up any bumps in a straight line, but there is a slight tendency of the front to suddenly deflect when encountering a bump when the bike is even a bit leaned over, making the front feel a little flimsy overall. But for the most part, it doesn't kill the experience even one bit. The 120/80 rubber at the front and 170/80 rubber at the back shod on 16 and 15 inch rims respectively which comes from Shinko was quite commendable in terms of grip and inspired even more confidence than the weather hardened Bridgestone BattleAx tyres that came on the GT650R. A single 300mm rotor with a 4-piston caliper and a 270mm rotor with a 2-piston caliper provide the braking forces necessary to slow down the ST7 from speed, and needless to say, do a reasonably good job at that.
The fit and finish on the ST7 is surprisingly good. Not that anyone doubts the Korean bike maker's ability to make well finished motorcycles. It's just that GT650R sports bike which the company is launching along with this cruiser doesn't really hold up too well in this department upon close scrutiny. But the ST7 manages quality levels which are at least at par with those from any Japanese or American cruisers. And they better be as well. While no official price has been declared as of yet, all things point to the ST7 being priced at approximately Rs. 5.5 to Rs. 6.0 lakh. This puts it in the directly in the firing line of the world's most recognizable cruiser brand, Harley Davidson. For its 2011 lineup, Harley Davidson has announced two variants of the 883 Sportster, the Super Low and the Iron which will be priced at Rs. 5.5 lakh and Rs. 6.5 lakh ex-showroom respectively. But one thing that Hyosung has working in their favour is that neither of those Harley's are what you may call proper cruisers. So as of yet, there is no mid-to-high capacity cruiser available in India which is priced anywhere near the ST7. It is a great recipe - it rides well, looks stunning, attracts a lot of attention wherever it goes and is well-priced at that.
But somehow, at least in my case, it didn't manage to push the right buttons. It failed at one quintessential quality that I believe all cruisers should have - they must make you feel cool when you ride them. And for some reason that is something the ST7 didn't quite manage to do too well. Blame it on its rather silent, no nonsense exhaust note or its somewhat generic styling, it's difficult to pinpoint the issue. But as much as I hate to admit it, I think it has a lot to do with the bike's Korean aura. Think of it this way then - the Samsung Galaxy is a fantastic smart phone. Works well, has great features and offers great value for money. But it's just not as cool as an iPhone. Of course, Hyosung is definitely on the right track with the ST7. It is fast becoming popular in advanced motorcycle markets such as North America and Europe, and given a couple of years, it'll have no problem establishing itself on the same level as anything from Japan or the US. So if you are looking for a relaxed, comfortable cruisin' machine on which you can effortlessly do several hundred kilometers of highway riding in a day, then by all means, the ST7 is the bike for you.