Datsun Redi-GO 1.0: First Drive Review
Jul 12, 2017
Views : 25983
---
Does a bigger engine turn a need based car into something you'd want?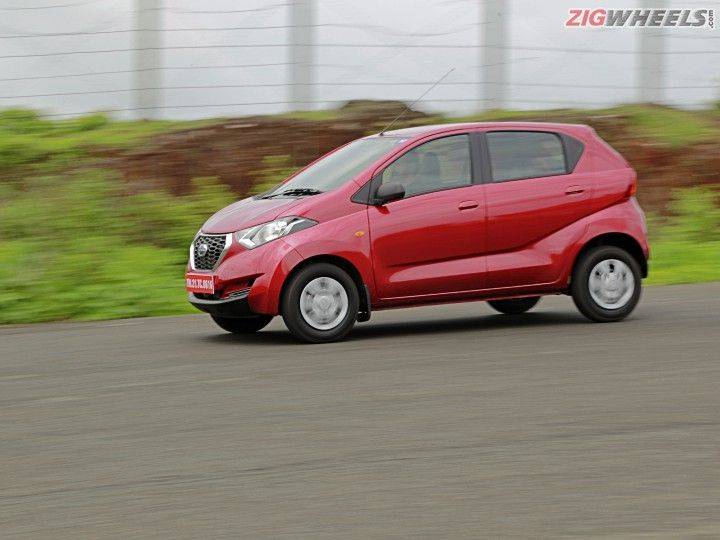 The Datsun redi-GO is a petite and stylish budget car. It's proven itself as a machine that's small but fairly practical, uniquely designed but not over the top, and, with 185mm of ground clearance, it's game for a fair amount of punishment as well.

But one of the things lacking was power, and, at least in theory, it's been fixed with this - the 1.0-litre redi-GO. It's a good hand-me-down from the Renault Kwid and one that's come just in time to give the redi-GO something refreshing. So, does this engine take a car that's been designed to meet needs and needs alone, and make you want it?
Distinction In Design?

If you thought the Kwid 1.0's body graphics and contrast-coloured wing mirrors were too subtle, this takes it a notch further. Literally, the only way to identify the big redi-GO is a '1.0' badge at the rear. I mean, we weren't expecting racing stripes or red brake calipers to make it look unique, but at least it should have got body-coloured wing mirrors!

You still get the DRLs, faux front skid plate and chrome nose. The 13-inch rims remain and alloy wheels still aren't offered on any variant. So it'll take a particularly keen eye to point the two versions apart, but that doesn't change the fact that the redi-GO is a quirky and attractive car.
Sporty Persuasions

The job's a little more extensive on the inside. For starters, you now get keyless entry and central locking to make the car move with the times. The biggest and most welcome change, though, would be the all-black interior. It's a job well done and befitting of the more powerful engine. Importantly, it looks nicer than the grey-ish interior of the Redi Go 0.8, which is about as interesting as a documentary about bath salts.

Since it's available only in the T (O) and S variants, power steering, an AC and a head unit with AUX/USB and FM come as standard. Datsun could have used this opportunity to add Bluetooth, to the mix. Also internally adjustable wing mirrors, ABS and an airbag for the front passenger! Even the driver's seat has a limited travel range, so tall drivers beware. The Datsun redi-GO with dual airbags has scored one star in the Global NCAP crash test, under the #SaferCarsForIndia initiative.

That said, it's still accommodating for four average-sized adults, with the seats offering surprisingly good under-thigh and decent back support. Overall, a good job on adding some distinction, but pre-existing misses remain. Now let's get to the big change, shall we?
Bone Of Contention

The engine here is essentially the same one you get in the Kwid 1.0 and the output figures are identical – 68PS (14PS more than the 0.8) and 91Nm (19Nm more than 0.8). With just a 200cc bump up, the increment is genuinely impressive.
Has Datsun made a new budget enthusiast car then? Well, no. The increased performance is spread out across the rev range to improve driveability. So even if you go whole hog on the throttle, expect no excitement. Even the handling package remains neutral. The steering is light in the city but could do with more weight at speed. It's also bereft of feedback, so when our photographer asked for a hard cornering shot, for once, I wasn't keen to oblige.

However, under normal driving conditions, the benefits are apparent. From the second you fire up the engine, you notice that the noise and vibration levels are managed better. You can still feel a fair amount of vibes from the steering and doorpads but it's definitely better than the 0.8.
Recommended Read: Datsun redi-GO 0.8: Review
Another improvement is the relative off-the-line smoothness. The 0.8 has an inherent jerkiness under light throttle but the 1.0 smoothens things out to a large extent and makes the throttle response finer. This, in my book, is the biggest gain from this engine as it makes the in-city driveability a lot better. It's a benefit you will notice every day.

There's also the improved mid-range performance. Not only does this motor make more torque, it also delivers it a few hundred revs earlier. So overtakes at cruising speeds won't necessarily warrant a downshift like they would in the redi-GO 0.8. In fact, with two heavy adults on board, the car managed some sharp inclines in 3rd gear with no signs of strain from the engine.
It's also a light sipper with a rated fuel economy of 22.5kmpl – just 0.2kmpl less than its smaller engined counterpart. That number seemed odd to us and Datsun stated it's as per the government's new test method. It's why the redi-GO had a claimed fuel efficiency of 25.17kmpl at launch but the brochures now read 22.7kmpl.
Also Read: Renault Kwid 1.0 MT: Review
Need Made Desirable Then?

Not exactly. It's still a need-based car and I can't think of the redi-GO as anything else. But that's not a bad thing, since it now meets that need better. I'd put it like this: If you are buying the redi-GO, get the 1.0-litre version. It's smoother to drive, more competent in hilly areas, more mature to use in the city, and will do a better job of ferrying a full passenger load. With an expected price premium of just Rs 25-30k, for all its subtleties, the bigger redi-GO justifies the added cost and then some.
Datsun redi-GO 2016-2020 Video Review
Recommended Variant :
redi-GO Sport