2015 Toyota Camry Hybrid : Detailed Review
Jun 5, 2015
Views : 63290
---
We drive the all-new Toyota Camry Hybrid, one of the most overlooked and under rated cars in the country to see if this green car is just a mere showcase of technology or if it is something much more.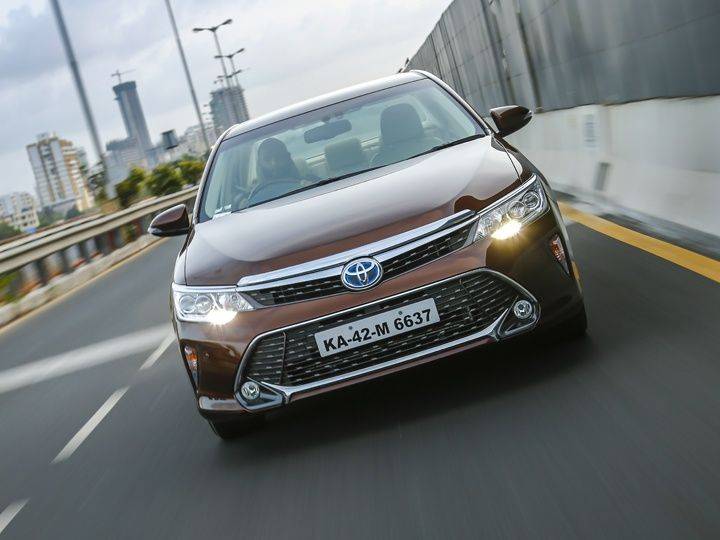 There are cars in the Indian market available today that are stylish, powerful, luxurious, macho, etc etc etc... But there are also a select few cars available here today that are on the cutting edge of technology. The Toyota Camry Hybrid here is one such car. So is if merely a showcase of technology or is it something every luxury car buyer in India should consider? Well, since this review is going up on World Environment Day, read on to know more...
Exterior styling rating_3.5_rating
At first glance, the new Camry facelift looks pretty much the same, especially when viewed from the side or the back. The real updates though have been made to the front of the car. And boy are we glad! Where the older Camry wasn't exactly bad looking, it wasn't very exciting either. This one, with its larger and much more pronounced reverse mesh grille (inspired by the one available on the Mercedes-Benz A-Class) combined with the sportier bumper looks much better. Toyota's X-Design philosophy is quite obvious here and so are the design elements that have stemmed out of the likes of the GT86. We particularly like the scooped out fog-lamp area which has been painted in a shade of matte grey and the blue halo Toyota Badge that indicated its hybrid powerplant.
Interior & space rating_3.0_rating
The Camry might appear here to be just a normal sized executive saloon, but in fact, it is quite large. The interior design though is very safe in terms of design and not what you would expect on a Rs 32 lakh car. The large touchscreen and the array of buttons too look a tad bit boring but are of very high quality. Even though the Camry doesn't have the luxury feel that something like a Skoda Superb demonstrates, the simplistic design will appeal to older customers who usually end up being driven to work instead of driving themselves.
Coming to the seats, the Camry, with its cooled seats up front, which coincidentally are also ridiculously comfortable is a joy to be in. The rear seats are even more comfortable with its almost sofa like proportions and soft to the touch leather that allows you to sink in and enjoy being driven home after a hard day at work.
There is no doubt in our minds that the designers of the Camry were thinking about the rear seat passengers as much as the ones in the front seat which is why the rear armrest reveals a whole host of buttons and controls for the air conditioning along with backrest adjustment for the rear seats too.
Features & Equipment rating_4.0_rating
The Toyota Camry Hybrid is loaded with features as expected from a car of this price. It gets a three zone climate control, (two for the front and one for the rear), cooled seats and of course, standard gadgetry like a reversing camera and parking sensors. It also gets a pretty interesting readout about where the power from your two powerplants i.e. the internal combustion engine and the electric motor is going and when the batteries are getting charged by the kinetic energy that is formed when the car is coasting or by the petrol engine itself.
Engines & performance rating_4.5_rating
This department is where the Toyota Camry Hybrid is truly heads and shoulders over everything else in its category. The 2.5-litre engine making a healthy 160PS of peak power is boosted by an electric motor that makes 143PS of peak power all by itself. Working in tandem, the Camry makes 205PS of peak power enough to propel it to unmentionable speeds with more urgency than you can imagine.
The electric motor or rather the part of the Hybrid Synergy Drive system in Toyota-speak makes it possible for the car to be driven in certain situations and for limited duration on battery power alone while at the same time the battery can be brought into play when added push is needed to overtake or accelerate depending on the driver's inputs. The Camry Hybrid comes equipped with a 6.5 Amp/hr nickel-metal hydride battery and the electronic management system for the motor has the built-in regenerative capability to capture and store the energy required to work the motor. Although all this might sound complicated to the normal person, what it effectively means that over the last two decades, since the first generation Prius Hybrid debuted (in 1997 to be precise), Toyota's engineers have made massive strides in the way the petrol and electric motors come together to power the likes of this brand new Camry.
It does take a bit of getting used to when you punch the starter button there is no sound from under the bonnet for the simple reason that you can get going using the battery power alone! With the electric motor getting the car moving in the EV mode, the battery can keep it moving as long as one doesn't exceed. And although it does seem a little weird or eerie at first, it works and works really well. In fact, in stop and go traffic, this EV mode is absolutely perfect. The engine is mated to a CVT gearbox that offers absolutely seamless shifts and unlike other CVTs, this one does not scream and shout about at higher speeds but in turn maintains its composure really well.
Ride and ease of driving rating_4.5_rating
The Toyota Camry is comfortable. In fact it is as comfortable as the likes of a Jaguar XJ that we drove last week, which is quite impressive considering it costs about three times less. We particularly love how the Camry is also extremely well damped and showcases really high levels of build quality which in turn reduces fatigue. The Camry might be large in terms of its overall size but in fact it is quite easy to drive due to the fact that it is easy to look out of and park. We also like how comfortable the Camry feels in the back seat as the well damped suspension works overtime to make sure the occupants remain as comfortable as possible.
Handling & braking rating_3.0_rating
The Toyota Camry is one of those cars that hates to be driven fast or handled by the scruff of its neck. In fact, asking it to handle and corner like a BMW 3 Series or even an Audi A3 is like asking a Chess grandmaster to get into a wrestling ring. That said, the Camry isn't as soft as a biscuit dropped in a glass of hot tea. It does feel quite composed for most part and only feels uncomfortable if you really push it beyond legally allowed speeds. The steering too, like most Toyotas is really light at city speeds but does weigh up as you get faster. That said, it is nowhere as responsive or precise as other cars that are priced similarly. The brakes though are quite responsive and do offer an adequate amount of bite both at city and highway speeds.
Price and Fuel efficiency rating_2.5_rating
The Toyota Camry Hybrid is priced at Rs 31.92 lakhs (ex-showroom, Delhi), which, when compared to other cars in its category is certainly a costly proposition. But then, the Camry Hybrid does offer you the chance of being good to mother Earth for all the freedoms she has offered us. That said, the Camry, even with its large 2.5-litre motor offers 19.16kmpl which is quite staggering and proves that adding an electric motor to a car to work in tandem with the petrol engine always results in massive fuel savings.
Verdict rating_3.5_rating
It is difficult to rate the Camry Hybrid. On one side, it does look quite nice in its new avatar, especially in the color that we have here but on the other side, it does have an interior that is quite drab and simple. Where it does offer exemplary ride comfort, it does falter when it comes to sheer handling prowess. But there is a BIG positive – the Camry Hybrid is one of those cars that is too far into the future for a market like India. It does offer some really cutting edge technology to us today...but at a cost. Just like the Mahindra e2o then, the Camry Hybrid is certainly a car that deserves much more. Sadly, until the government does not think straight and starts to offer huge excise benefits and other concessions to electric and hybrid cars, cars like the Camry Hybrid will continue to suffer.
Recommended Variant :
Camry 2.5 Hybrid