2015 Jaguar XJ 2.0-litre Petrol Review
Apr 23, 2015
Views : 70966
---
Jaguar's flagship XJ is now available with a 2.0-litre engine making a heathy 240PS of power and a competitive price tag to go up against the likes of the Mercedes-Benz S-Class, BMW 7 Series and Audi A8. Should you consider it? Read on to find more.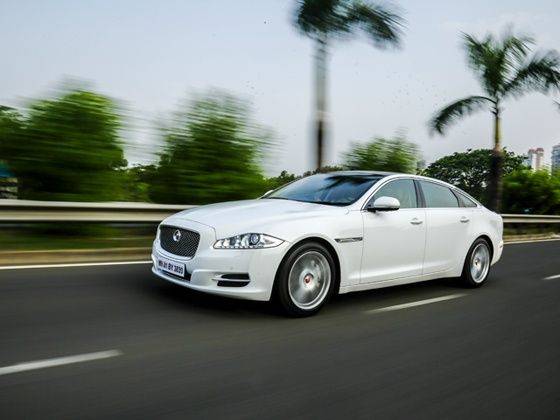 Not too many months ago, our new government's Make In India campaign was front page news. And of course, all automotive manufacturers seemed to get on board without much of a fuss, putting out press releases about future plans to make some rather interesting cars in India. Jaguar, owned of course by Tata Motors has also gotten on board with the make in India campaign and makes their flagship XJ in India along with their XF. What makes this particular version of the XJ interesting though is the fact that it gets the 2.0-litre 4-cylinder petrol engine making it the cheapest petrol powered luxury limousine you can buy. Read on to know more..
Exterior Styling rating_4.5_rating
The XJ is without a shadow of a doubt one the prettiest luxury cars in the world today. From its large grille reminiscent of Jaguars rich heritage to its aggressively designed headlamps, the XJ is a certified head turner.
And it gets even better around the back with its wraparound windscreen design that flows flawlessly into the blackened out c-pillar. And then there are the vertical tail lamps and the sheer scale of the thing to contend with. Throw in some large split 5-spoke wheels and a blacked out panoramic roof and what you get is a luxury limousine with enough street presence to put even a gold wrapped Bugatti to shame.
And even on this entry level version, there are no signs of cut corners or missing features which is something we really like about the XJ. Of course, if you are feeling generous, you could always add exterior trinkets like the leaping Jaguar hood ornament, chrome plated split exhaust tips and even a lip spoiler for the bootlid.
Interior & Space rating_4.5_rating
The XJ is one of the few cars that manages to have a classic feel and design while still looking modern enough to make it as desirable as the latest Apple gadget. The wraparound dashboard with its wooden inset combined with the raised centre console and large round AC vents almost makes you feel like the captain of a classic speed boat. And then there is the gear selector knob that raises out from the aluminum centre console and the Tron inspired lighting around it. All in all, the XJ's interior is just an absolutely fantastic showcase of design and quality.
Most people who buy one of these wont really ever bother driving it though. Which is where the rear really comes into play. Although this might not be as spacious as some of its German competitors, it certainly feels and looks as luxurious. With individually adjustable seats that come equipped with heating, cooling and of course a back massager, the XJ is certainly a very good place to be in. And of course, the fancy gadgetry continues at the rear with individual entertainment screens that will play your favorite movie two a two zone climate control.
Features & Equipment rating_4.0_rating
As expected, the Jaguar XJ 2.0-litre comes filled to the brim with features. As we mentioned earlier, the seats in the front and the rear get cooling, heating and an inbuilt massager. We particularly love the Meridian audio system which rated at over 800 watts is certainly good enough to kick start a concert with. Being the base model variant, one would have expected the XJ to not have an infotainment package for the rear seats. However, Jaguar has not skimped anywhere and even the rear passengers can enjoy their movies or music as they see fit.
There are some negative too though, the biggest being the age old and slightly complicated touch screen infotainment system but we guess most of this will soon change once Jaguar integrates apple's new carplay into the XJ. We do however like the large LCD screen that replaces the traditional speedometer dials and the fact that they change colour when you use the XJ's dynamic mode.

Engines & Performance rating_4.0_rating
Jaguars have always been really good drivers cars. Now although this XJ only has a 2.0-litre engine, it feels just about adequate. The Jaguar XJ makes only 240PS of peak power and 320Nm of torque, but since when is that not enough? Yes, it doesn't have the kind of throttle response you expect from a Jaguar but shift the gearbox into sport and even the sportiest driver would feel quite content. And in any case, most XJs will be driven by a driver and the gearbox in the normal or sensible D mode is amazingly smooth and seamless. Infact, Jaguar has played it really smart here by offering the quieter and cleaner petrol engine as the cheapest and most affordable version of the XJ compared to the competition that offers the petrol as the more expensive and more powerful alternative.
Ride and Ease of Driving rating_4.0_rating
As expected, the Jaguar's ride quality can be much likened to that expected out of Alladin's magic carpet. Although there is a sense of stiffness inbuilt into the XJ's chassis it still manages to ride extremely well. The XJ also handles speed bumps and potholes with surprising ease. Even with such a long wheelbase, the large luxo barge does not bottom out making it easier to use in cities like Mumbai. The ride comfort in the back in particular is extraordinary with an almost pin drop quiet cabin and the large comfy seats encouraging you to fall asleep.
That said, the Jaguar is a slightly tricky car to look out of as it does have quite a few blind spots. The rear windscreen too is quite heavily raked and thus almost impossible to look out of which makes parking almost impossible without relying heavily on the park assist systems and the reverse camera.
Handling & Braking rating_4.5_rating
Like all jaguars, the XJ is a really balanced handler. In fact, the XJ is one of the best combinations of smooth and comfortable ride quality and sharp pinpoint steering and handling feel all enveloped into such a large car. We particularly like the way the steering weighs up as the speed builds up offering the best combination of a light and nimble steering feel in traffic conditions to a heavier and more precise feel while at higher speeds. Chuck the car into a corner and you cant believe how nimble 1800 kilos can get. In fact, the XJ is most certainly the best handling luxury barge between its fierce competitors. The XJ gets all round disc brakes with multi piston calipers that offers a great response at all speeds.
Price and Fuel Efficiency rating_3.0_rating
The 2.0-litre XJ in India is priced at Rs 95.97 lakh. Comparatively, the cheapest petrol powered Mercedes-Benz S-Class is priced at a rather staggering Rs 1.44 crore while the cheapest petrol powered Audi A8 and BMW 7 Series are priced at Rs 1.25 Crore and Rs 1.18 Crore (ex-showroom, Delhi) respectively. Considering the fact that there are still a considerable part of the luxury car buying audience that would like a petrol engine in their car, the XJ does make a lot of sense. And, being a small 2.0-litre motor, the Jaguar XJ returns a respectable 9.4kmpl if driven sedately.
Verdict rating_4.5_rating
There is no doubt in our minds that the Jaguar XJ is an excellent car. It is really pretty, has an excellent interior, is quite spacious and drives well. Essentially it ticks off all the boxes. Of course, it does have rivals like the Mercedes S Class, the current generation of which has really taken things up a notch when it comes to automotive design and technology but the XJ appeals to us on a more emotional level the way nothing else does. Is it the best car is its class, no. But, would I buy one if I had just about a crore to spend and was looking for a luxurious limousine? Absolutely.
Recommended Variant :
XF 2.0