2015 Audi A6 Test Drive Review
Aug 25, 2015
Views : 65628
---
The new 2015 Audi A6 gets a few new updates. We drive it to find out what it now brings to the battlefield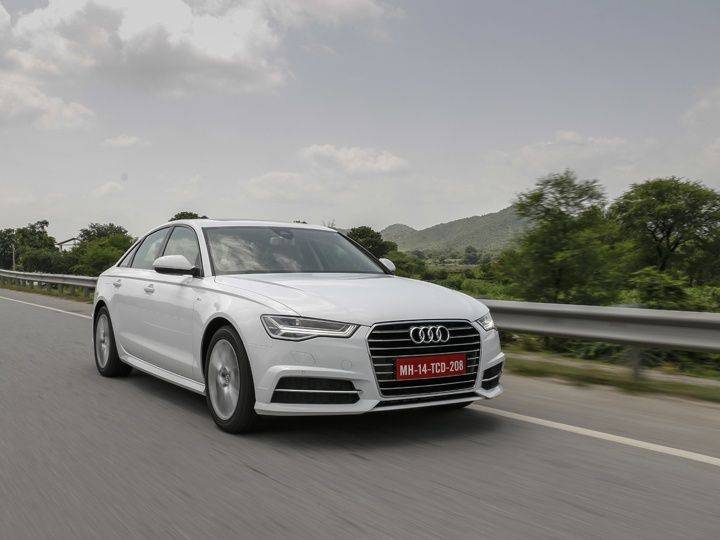 The Audi A6 has always been the underdog in its segment in India. While some prefer the heritage of the Mercedes-Benz E-Class and some prefer the sportier appeal of the BMW 5 Series, the Audi A6 has always appealed to the slightly more understated individual who likes the car for its modernity over almost everything else. And now, the new A6 gets even sharper with more gadgetry and features than it has ever had before. So what's new? Well read on...

Exterior styling rating_4.0_rating
As is quite obvious, the new 2015 Audi A6 is not a brand new car but a mid life facelift of the previous generation. The new A6 of course is just as sharp, just as taught and just as muscular as it was but incorporates several new changes that brigs it up to date. Lets start with the obvious, the new Matrix headlamps. The new Headlamps combined with the new daytime running light fibre optic LED patters brings about a sense of immediate change in the way the A6 presents itself.
From a very aggressive lighting pattern as it used to be to a more modern split design, the new running lights are the biggest change on the A6. The same split pattern lighting also lends itself to the tail lamps tying the theme up nicely. The new A6 also gets the dynamic turn signals that were introduced on the A8 last year. You also get a new set of wheels which we personally prefer over the older ones and a slightly redesigned front grille with sharper edges and more pronounced chromework. All in all, the new A6 is certainly a better looking car than it ever was.

Interior & space rating_4.0_rating
On the interior, it is business as usual with Audi's high quality plastics and metals making their expected appearance on the new A6. As we have mentioned in the past though, there does seem to be a sense of drama lacking in the overall design but it does make that up by being intuitive and excellent in terms of ergonomic placements. We guess the design team at Audi has always had more of a function over form philosophy when it comes to their interiors. That said, we do approve highly of the new wood texture that Audi has used on the new A6 as it makes the interior come alive a tad bit more than before.
Of course, being an Audi you do get a sense of utter luxury as you sink into the large seats both up front and at the rear. Some might have found the rear seats slightly lacking in support from earlier Audi's but the new A6 certainly does not have that issue. And as most A6's will end up being chauffer driven, rear passengers can also enjoy their own climate control setup. That said, Audi should seriously consider a cooled seat option especially for a hot and humid country like India as we think that that one feature could swing quite a few customers their way.

Features & Equipment rating_4.0_rating
The new Audi A6 still comes with the touch sensitive pad on the centre transmission tunnel that lets you feed in GPS locations or scroll through your radio channels. As a bonus and you also get Audi's new voice command system which syncs to your Apple or Android device and can activate your phone's voice command system if the user desires. The new retractable 8-inch central infotainment screen also gets a new multimedia interface that makes things even more easier in terms of usability. And for the audiophile in you, you get a state of the art Bose setup that does sound pretty spectacular if set up correctly.
Sadly though, the A6 still doesn't get the large screen based instrument cluster that you get in the Audi TT. This one is still equipped with a set of analogue gauges but also come with a central LCD screen that integrates well into the console and can also be used to show GPS and other car related information. The new Audi A6 also gets electronic adjustment for the steering wheel as compared to the older lever system.

Ride and Handling rating_4.0_rating
As with most modern Audis, the A6 is a very easy car to drive. Yes, the steering does feel very light at high speeds but since these cars will be mainly used to doddle around town in, a lighter steering is indeed a boon. That said, it could certainly do with a bit more weight after a certain speed. The A6 is also a surprisingly easy car to look out of both in normal driving conditions and while parking. Of course, the rear parking camera and parking sensors are still pretty necessary in a car this big.
Thankfully, the Audi A6 rides quite well too. On most uneven roads, the A6 does tend to absorb bumps and uneven surfaces really well to a certain limit when it then tends to feel uncomfortable. The Audi A6 isnt a corner carving handling machine either. In fact, this large sedan does tend to feel a little leary around the bends and when combined with the light steering does feel a little floaty too. That said, we are grateful for the fact that the A6 comes with the more durable 245/45 R18 Bridgestone Turanza tyres as compared to the gripper but delicate Pirelli ones that you get on the A3.

Engines & performance rating_4.0_rating
Audi has updated the engine and the gearbox on the new Audi A6 and the added performance bonus is immediately relevant if like us you have driven the older A6 for a considerable amount. The Audi A6 as of today is available in India only with a 2.0-litre diesel engine with the petrol coming soon. The new engine though is more fuel-efficient and emits less pollutants than ever before. This 2.0-litre, 4-cylinder, turbocharged engine makes 190Ps of peak power and 400Nm of pea torque. This is enough to propel the Audi A6 from a 0-100kmph sprint in just above 8 seconds and on to a top speed of a smudge over 230kmph. Audi has also finally updated is gearbox to the quick shifting 7-Speed S-Tronic gearbox coupled with paddle shifters. The A6 of course also comes with the drive select modes that let the driver select various different facets of the car making it best suited for the end user.

Price and Fuel efficiency rating_3.5_rating
Priced at an exciting Rs 49.55 lakh (ex-showroom), the Audi A6 does feature on the slightly higher side as compared to most of its competitors, but it also offers a lot more standard kit than some of its rivals. And the fact that it returns 18.53kmpl (according to ARAI) is even more surprising. Of course, although India is still predominantly a diesel market, there is still a large demand for petrol powered luxury cars and since there isn't an A6 petrol yet, Audi will most certainly loose a slice of the market.

Verdict rating_4.0_rating
It is very hard to go wrong with the Audi A6. With all its additional gadgetry, it is genuinely a good luxury car especially if you are going to be chauffeured around in one. Is it a good driver's car? Not really. What it is though is a good package for the affluent Indian customer who wants one part style, one part flashiness, one part badge and one part luxury all embodies in a sensible package. Yes, the interior could have certainly been a lot more dramatic and the drive experience a bit more engaging, but again, as a whole, the new Audi A6 isnt poorly placed at all. So how does it compare to the Jaguar XF, BMW 5 Series and of course, the Mercedes-Benz E-Class? Well, stay tuned to zigwheels.com for that answer soon.
Recommended Variant :
A6 35 TFSI Matrix Edition