2014 Ford Fiesta Long Term Review Fleet Introduction
Jan 9, 2015
Views : 11931
---
The 2014 Ford Fiesta joins our long-term fleet and throws up quite a few pleasant surprises.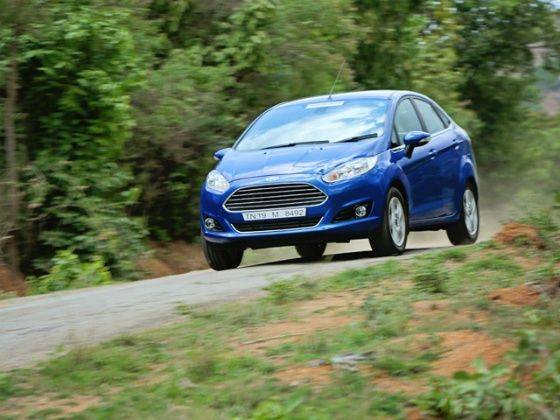 The Ford Fiesta is a great looking car, especially with the new chrome festooned grille. And in the traditional Ford blue, it looks even better combined with the five spoke 15-inch wheels. But the Fiesta has always been known for one trait in particular. They way it handles. And of course, this one is no different.
Although we haven't had the chance to really put it through its paces on a racetrack, the Fiesta does seem to put a smile on my face every time we take it near a twisty road. What does disappoint us though is the lack of overall power in the 1.5-litre diesel mill. The Fiesta does get going eventually and can easily cruise the highways at triple digit speeds all day but just doesn't feel as comfortable as some of the other cars in its segment.
Now for some positives, the Ford Fiesta has some of the best seats in the sub Rs 10 lakh segment. Not only are they well contoured and snug, if it wasn't for the beige seat upholstery, they could be easily confused with a set of Recaro or Sparco race seats. Ford should also consider equipping the Fiesta with a leather interior option, especially on the top of the line version.
We were also impressed by how versatile and easy to use the infotainment system is in the new Fiesta. The Bluetooth sync is almost intuitive, instantaneous and easy to use. And the standard speakers that the car comes with are great too. In fact, just like the seats, the speakers are probably the best you can get in under the Rs 10 lakh category.
All in all, the Fiesta is an excellent car for someone who is looking for an alternative to the likes of the Honda City, Hyundai Verna and the Volkswagen Vento. In fact, at the price point that it is at now, combined with the fact that is looks nice, is spacious and drives well, we wonder why more people don't bother buying one.
Recommended Variant :
Fiesta Titanium