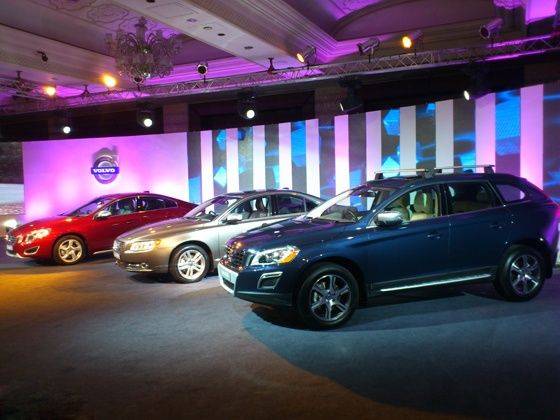 Volvo's current three model range for India includes an entry level sports luxury sedan, a high-end prestige sedan and a rugged all-wheel drive SUV. Even collectively the Swedish car maker's "super safe" and highly efficient passenger vehicle trio have barely managed to make a dent in overall sales figures of their respective segments.
Volvo's 2.5-litre D5 diesel models offer the car maker's globally successful safety and driver comfort technologies with a decent return to the litre. However, Volvo's hefty price tags for these models coupled with its nascent stature as a luxury car maker in India has limited the sale of its cars. Putting things into perspective driven by consumer demand, Volvo has now introduced its entire model range with an all new 5-cylinder turbo D3 diesel engine, bringing down the prices of its models significantly.
The new D3 engines with their reduced displacement and a shorter stroke are designed to achieve maximum fuel efficiency. What differentiates the D3 from its larger D5 power train is its injection system that has a different type of piezoelectric fuel injector that minimizes consumption with exceptionally rapid and precise injection pulses under high pressure. Delivering 165PS of power and an impressive 400Nm of torque, the new D3 variants of the S60, S80 and XC60 according to the company will deliver a mileage of 18.5kmpl, 17.8kmpl and 14.7kmpl respectively.
Commenting on the launch of the D3 variants that further strengthen Volvo's model offensive for India, Tomas Ernberg, Managing Director, Volvo Auto India, said, "Launch of D3 variants reiterates our long-term commitment of a more human-oriented approach called 'Designed Around You', where we continue making safe, technologically-advanced and Scandinavian designed cars around customers."
Lower displacement and prices for the D3 variants however, has not resulted in a major hack of standard Volvo safety and multimedia equipment. Top-of-the-line safety technologies like Laser Assisted Automatic Braking, Whiplash Protection, Active Bending Lights, Dynamic Stability Traction Control and interior luxury features such as Electronic Climate Control, an Interior Air Quality System and plush leather seats will continue to be offered as standard on these entry-level diesel models.
The new D3 variants of the Volvo S60, S80 and XC60 models will be priced at Rs 23.99 lakh, Rs 31.99 lakh and Rs 33.99 lakh (ex-showroom Delhi) respectively and will be available for retail at Volvo dealerships across India with immediate effect.
Model

Kinetic

Summum

Special Introductory Prices

Volvo S60

INR 23.99L

INR 26.99L

Kinetic

Summum

Volvo S80

INR 31.99L

INR 34.99L

INR 23.2L

INR 25.9L

Volvo XC60

INR 33.99L

INR 36.99L

INR 31.2L

INR 33.9L

INR 33.2L

INR 35.9L