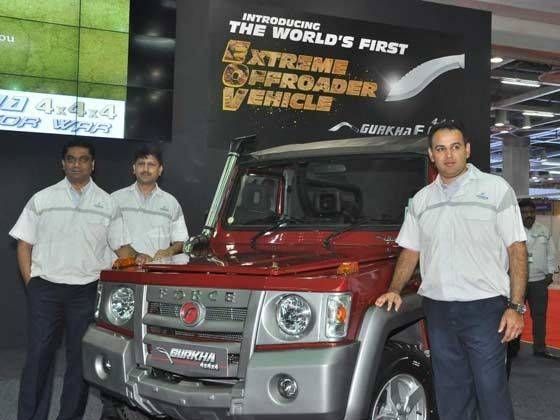 From L-R - Mr. Aniruddha Kulkarni, CTO, Mr. Naresh Kumar Rattan, President and COO and
Mr. Prasan Firodia, Managing Director Force Motors Ltd with newly launched Gurkha 4x4x4
So, understandably you don't have a crore to spend in order to satiate your rather extreme appetite for off-roading. Well, unlike some globally renowned all-terrain vehicles that come in as CBU imports carrying a colossal price tag, home grown UV makers tend to build their machines more frugal yet robust, thereby making them more affordable to the regular masses with a genuine spirit for adventure.
The folks at Force Motors have done just that with the new 4x4x4 Gurkha, which was introduced to enthusiasts at the International Bus and Utility Vehicle Show 2013 in New Delhi. On sale from a starting price of Rs 6.25 lakh (ex-showroom Delhi), the Gurkha is a BS III compliant rugged off-roader that now makes added room for new age comforts and conveniences like a sporty and sturdy instrument cluster, dual toned interiors, an ergonomically designed dashboard and front facing luxurious reclining seats.
Powered by the 2.6 liter Mercedes OM 616 derived turbo charged intercooled engine that produces 82PS @ 3200rpm and 230Nm of torque @ 1800-2000rpm the Gurkha's newly designed engine compartment ensures lower NVH levels.
"The Gurkha", the world's first Extreme Off-Roader (E.O.V.) 4x4x4 was launched
by Mr. Prasan Firodia, MD Force Motors
210 mm of ground clearance, a 5 speed synchromesh transmission, differential locks on both front and rear axles, a reinforced tubular chassis and its sparkling "Snorkel" air intake all come together to make the Gurkha a pure-bred off-roader. Even the improved independent front suspension with a solid torsion bar has been further fine tuned to enhance the riding comfort.
Speaking at the launch of the Gurkha, Prasan Firodia, MD Force Motors stated, "The vastly superior gradeability and its ability to negotiate undulating terrain makes the Gurkha an ideal vehicle for 'off road' conditions. The macho looking Gurkha has timeless classic appeal that would interest off-road enthusiasts across the nation."
Tubeless off road tyres, alloy wheels, a factory fitted air conditioner and power steering add to the overall style and comfort factor on the Grukha 4x4x4, which will be available in 3 attractive colours with distinct and attractive graphics. Going up against the formidable Mahindra Thar, the Force Motors Gurkha will sell in a total of three variants, prices for which are listed below.
Force Motors Gurkha variant wise pricing
4x2 soft top Rs 6.25 lakh*
4x4 hard top Rs 8.50 lakh*
4x4 soft top Rs 8.35 lakh*
*all prices are ex-showroom Delhi